The message was broadcast to university campuses around Australia: the people of Gondwana need help! And teams of engineering students answered the call, designing robots to help save the imperilled planet from a water and food crisis.
At least, that's the premise of the Warman Design and Build Competition, held at Sydney's Powerhouse Museum. The annual competition asks teams of second-year engineering students to design, build and demonstrate a robotics system capable of performing tasks to save the lives of Gondwana's residents.
The planet's inhabitants are no stranger to danger – they've faced no less than 30 crises in as many years. This year's challenge was to collect and place new power packs to save the colony's water pumps.
A team of mechatronics and mechanical engineering students from Monash University – Clayton took home the top spot with a unique two-armed robot that delivered the power packs in under five seconds.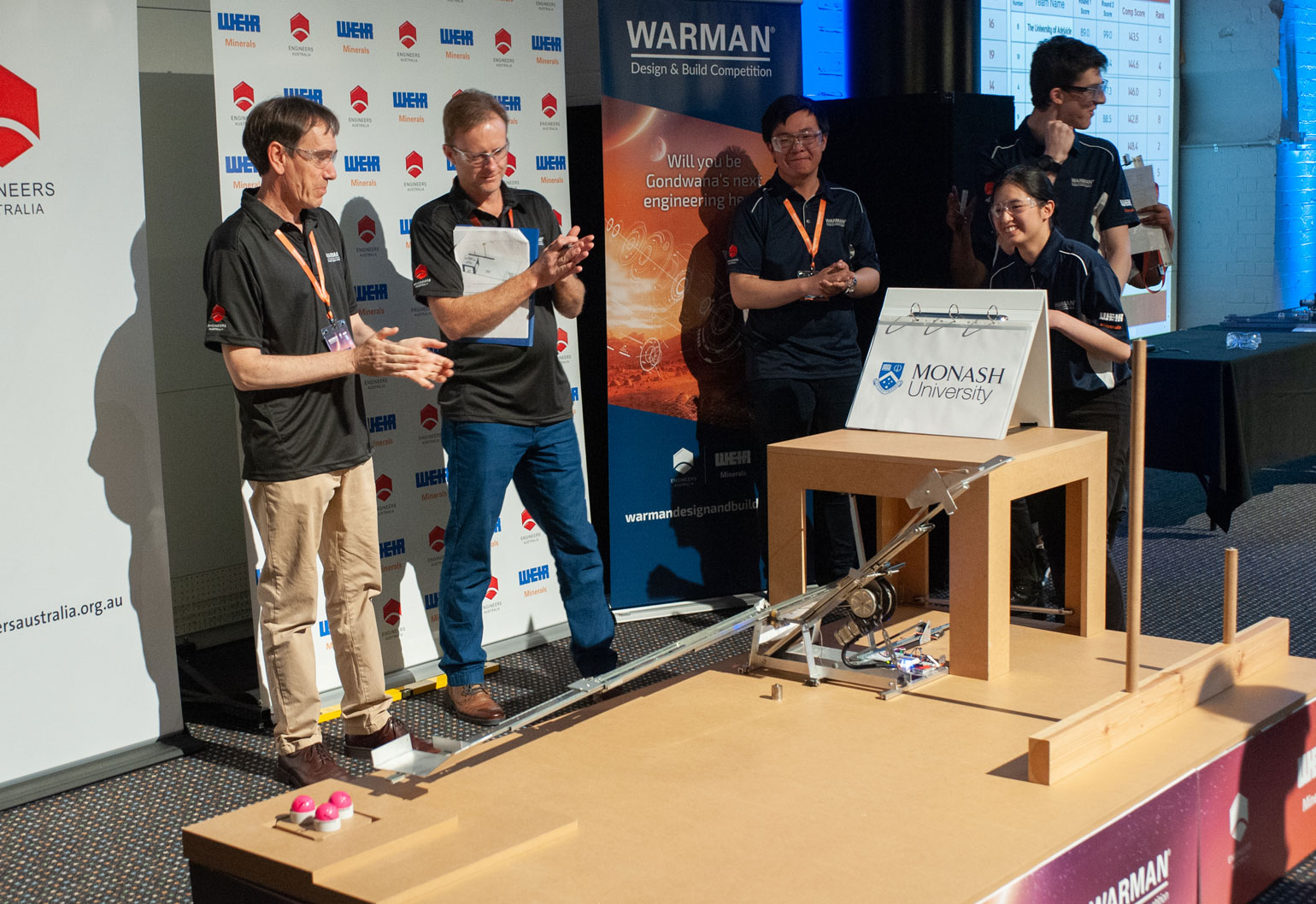 Strength and speed
According to Monash University team lead Ben Jessett, their success can be attributed to designing a robot that relied on two arms – and no wheels – to move around.
Many teams had designs with two or more wheels, however these robots took a longer path and had to change direction, which increased the overall run time.
"Our direct approach with the sliding arms allowed our device to move a very short distance, and move the payload along a very short path," said Jessett, a second-year mechatronics student.
Their original designs incorporated wheels, but they found that increased the robot's run time to almost 10 seconds.
"That's good, but we knew if we went to the national competition, we'd have to improve that time significantly. We couldn't see our current design going any faster than it was without compromising repeatability," Jessett said.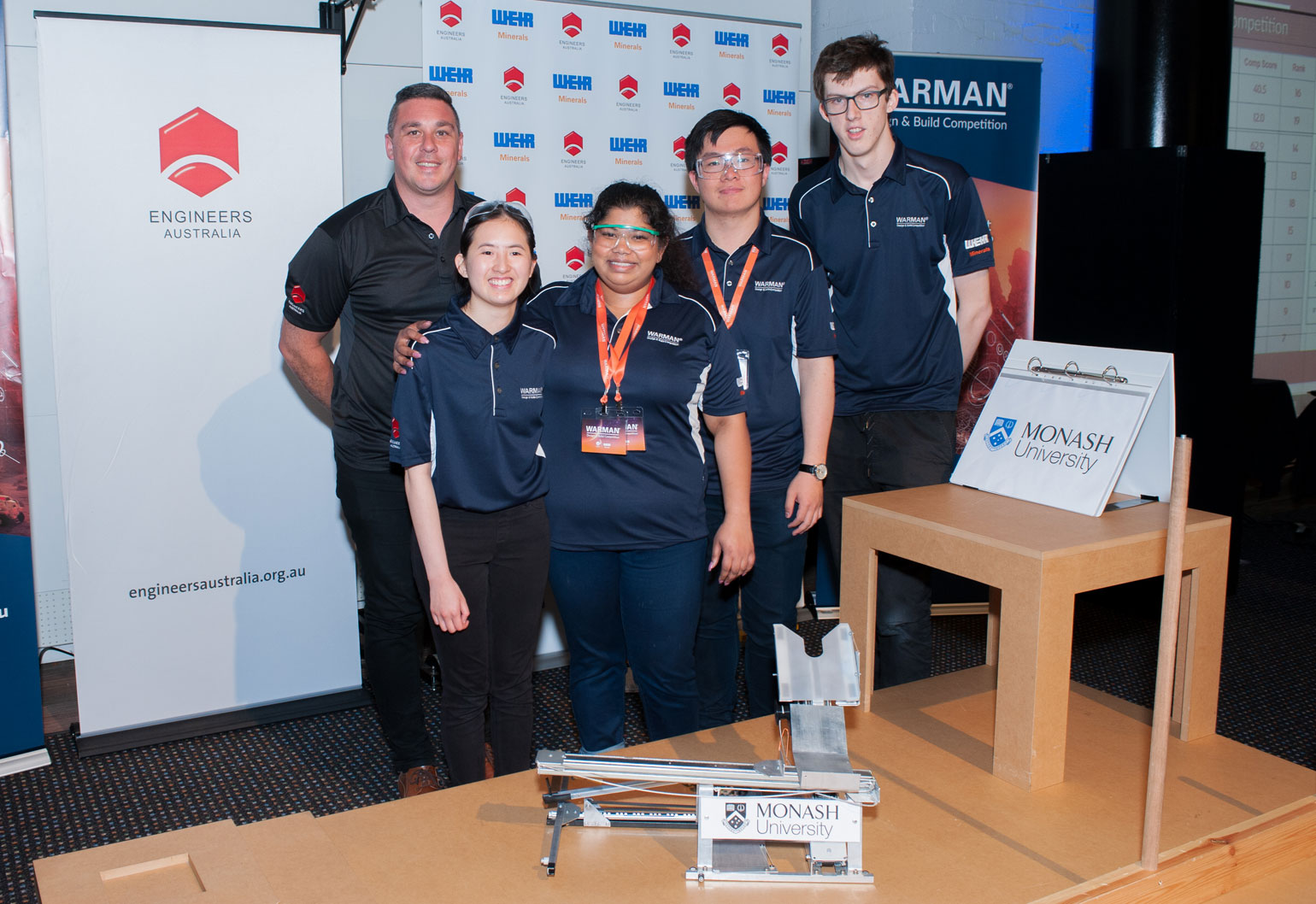 To successfully complete the required trial runs, they decided on a solution that could provide consistent performance.
"We took a risk when we decided to try a new concept without wheels," Jessett said.
"We decided to move the robot forward using a fixed length arm; this way it was able to move much faster and get the same motion every time."
Another major challenge was keeping the robot's weight under the 6 kg limit. The team used aluminium and plastic, two fairly light materials that would still lend strength and stiffness. They were also able to 3D print some hollow parts.
The robot's programming was Arduino based, with switches and motor controls – "pretty simple stuff", according to Jessett. He added the design's simplicity and creativity contributed to the team also winning the NCED Judges Best Design Award.
"That was really meaningful. I think it was down to how our design was able to achieve consistent results in a mechanical way, almost like clockwork, which didn't rely on the surface condition of the field," he said.
"Ours was also a cheap robot, made out of readily available materials, and it managed to do the job reliably – most of the materials we used can be sourced from local stores. I think they liked the simplicity of it."
Skills for the future
The Warman Design and Build Competition is part of the course curriculum for engineering schools around the country. Jessett said this experience was important for seeing how engineering theory can be applied.
"In your first year you learn a lot of academic theory, but it's really great to apply that and see how it's used in the real world," he said.
"It forces you to go through an engineering process where you have to design, prototype, test and reiterate."
Jessett's future plans include a career in robotics, and he's set his sights on becoming part of Australia's growing space industry, designing rovers and other craft. This is sure to be one experience that will help get him there.