Engineers have pioneered an innovative water treatment method that captures and breaks down BPA, commonly found in plastic containers.
Bisphenol A (BPA) is commonly used in the manufacture of water bottles and food packaging, such as the lining of canned goods. It has also been used to line water supply lines and bottle tops. If the plastic is damaged, BPA can be released and consumed.
Civil and Environmental Engineer Professor Pedro Alvarez from Rice University in the US led a research team that has pioneered a new method of removing BPA from water.
Alvarez and his team created micron-sized spheres that trap BPA molecules and degrade them into harmless components using reactive oxygen species (ROS) released when the spheres are triggered with ultraviolet light.
"This is an example of how advanced materials can help convert academic hypes into feasible processes that enhance water security," said researcher Danning Zhang.
While BPA is considered to be safe for human consumption in small concentrations, the US and Europe have banned BPA-based plastics in baby bottles, sippy cups and infant formula packaging. And the European Commission has recently introduced tighter restrictions on the use of BPA in food packaging.
In Australia, a voluntary phase-out of BPA in baby bottles has been in place since 2010.
Bigger is better
Alvarez's research, recently published in Environmental Science & Technology, described the spheres as constructed from collections of titanium dioxide 'petals' that were assembled from nanosheets of the same material.
The spheres' large surface area allowed the researchers to anchor cyclodextrin molecules to the petals' surface. These cyclodextrin molecules have a cavity that repels water (hydrophobic), while the outer surface attracts water (hydrophilic). Hydrophobic BPA molecules were attracted to the cavities, trapping them and allowing them to be attacked by the ROS produced by the titanium dioxide spheres.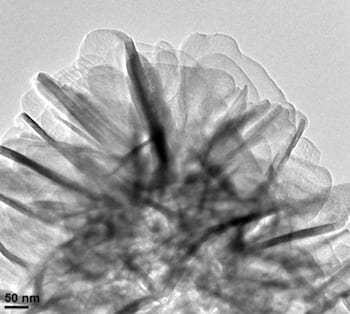 Trapping the target made a big difference. The researchers found that at a concentration of 200 mg/L, the spheres broke down 90 per cent of BPA in one hour – half the time it would take for pure titanium dioxide to do the job.
According to the researchers, their new material helps overcome two barriers to photocatalytic water treatment. Firstly, trapping BPA on the spheres means that the ROS, which degrade quickly, are not used up on non-target contaminants.
Secondly, the particles are between three and five microns, much larger than the nanoparticles used in other processes, allowing them to be recovered and reused.
"We can use low-pressure microfiltration with a membrane to get these particles back for reuse. It saves a lot of energy," Zhang explained.
A different team of Rice University researchers has designed another method for novel water treatment. Dr Qilin Li led the development of a system based on resin-coated electrodes that can be tailored to selectively remove ionic toxins, which she said could be cheaper and more energy efficient than non-selective methods such as reverse osmosis.
Caution over BPA replacements
The controversy over BPA started two decades ago, when US researcher Patricia Hunt linked egg chromosome abnormalities in lab mice to BPA released from their plastic cages after washing with a harsh detergent.
Later studies suggested the chemical could affect immune response and development of young children, resulting in some countries banning its use in baby bottles, and infant and toddler food packaging – although some experts called this an overreaction.
Hunt, now a Professor at Washington State University, recently published a study that found some of the chemicals used to replace BPA – including bisphenol S (BPS) – have similar effects on rodents to BPA.
"There's growing evidence that many of these common replacements are not safe," Hunt said.
"We stumbled on an effect yet again. This is a more stable plastic but it induced similar effects on the process of making eggs and sperm. Importantly, when we tested the chemicals in controlled experiments, we got similar results for each of them."
Alvarez's research paper stated his method removed BPS, as well as other pollutants including 2-naphthol and 2,4-dichlorophenol.