The theme for this year's International Women in Engineering Day (23 June) is inventors and innovators. Five women in STEM reflect on the significance of the theme, and share how we can achieve greater female representation in engineering.
Madeleine Page
Health, Safety and Wellbeing Business Partner for Victoria and South Australia, Aurecon
What does International Women in Engineering Day mean to you?
When I think about the significance of International Women in Engineering Day, I think about creating designs that represent everybody. If we're creating a world that is representative of one type of person, it's never going to be a fully functioning world.
I hope this day inspires women to join the engineering industry … The more women we get into engineering, [the more we'll be able to] design things for everybody, not just for a certain type of person … It will mean we have designs going into the future that we won't have to redesign 10 years down the road.
What needs to change to encourage more women to pursue an engineering career?
We need to create an environment that supports [diversity]. When we are thinking about women joining the industry, we need to think about young women, women with families and women later in their career who might've had a career change. We need to be supportive, we need to be flexible, but most importantly, we need to create a space for women to have their voices listened to [so] they feel like their opinion is really valued, and they can visibly see the change their work is making.
Why are you passionate about innovation?
Without thinking about innovation, we revert back to old ways of doing things. We've done that for a long time and we've been able to create good standards for ways of doing things, but we'll never improve or see change if we don't think about innovation.
Innovation doesn't have to be a big design change or a big digital innovation. It can be the small things throughout our day. Being able to create small innovative changes means we will always be aiming for better and we will be improving processes for everybody.
Penny Stewart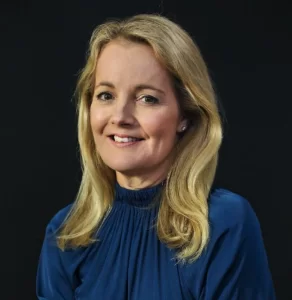 Mining engineer, CEO of PETRA, a company that extracts value from mining data
What does International Women in Engineering Day mean to you?
[It] is a really good chance to celebrate different career paths that women in engineering have taken. [It's also an opportunity for me] to share some of the experiences I've had over the years and to hopefully inspire people to look at different career options that they may not otherwise have thought of.
What would you say to young women considering a career in engineering?
I would certainly [encourage them to] look at the breadth of engineering career options out there. So often, when people think about engineering, there are two main roles [that come to mind]: they think of consulting or they may think of a site-based engineering job, but there are a lot of other engineering careers — for example, in research and development or in software companies. [Engineering] is broader than most people imagine it to be.
There is a very strong supportive ecosystem around women in engineering so you can meet other women in engineering, you can join societies, and [there's greater] flexibility around work.
Which women in STEM are your biggest inspiration?
Michelle Ash is a fellow mining engineer. What's inspiring about Michelle is how she articulates a vision and what she sees as the future of the mining industry, and she does it without fear.
Women who have gone into engineering are often happy to do something that's not seen as conventional for their gender, so these women will often be more likely to speak about an industry in a way that hasn't been thought of before … I think Michelle, in how she sees things in the mining industry, has been an inspiration to many people.

Mariam Darestani
Senior Lecturer in Mechanical Engineering, Western Sydney University 
Why is it important to recognise International Women in Engineering Day?
We need to highlight the need for more girls and women to enter engineering because we need them [in our field].
We also need to show and talk about women who are already in this profession, so girls can see what women in engineering do and decide if they want to go down that path. 
How can women in STEM be powerful role models for younger engineers and scientists?
As the saying goes, you can't be what you can't see. Often, especially in engineering disciplines, we [tend to steer away from] public speaking and being visible, but I think women in engineering roles need to be more visible and talk to women, even younger girls at a primary school level. They can see if others are [in this line of work], that they can also be an engineer if they want to… It's our role to show that you can be a woman in this discipline.
What are some of the most inventive engineering innovations by women?
There have been many incredible inventions by women. One that I really like is the security cameras that we use on a daily basis. These were invented by Marie Brown with assistance from her husband, who was an electrical technician.
The other invention [was created] by a chemist, Stephanie Kwolek, who was a first generation Polish immigrant in the United States… She invented Kevler, one of the strongest fibres today that has been invented.
Veena Sahajwalla HonFIEAust CPEng
Director of the Sustainable Materials Research and Technology Centre, University of NSW
What is the significance of International Women in Engineering Day?
Women bring diversity of thinking and passion into engineering. They think holistically about solutions and about how we might be able to improve the lives of people on our planet. There are so many ways in which women have a huge impact and the day is also about celebrating the impact that women in engineering have made and will continue to make into the future. 
What would you say to young women about pursuing a career in engineering?
Engineering as a profession creates so many pathways to develop and shape not only a career for yourself in engineering, but it allows you to shape a whole new future. You can use your imagination to deliver a better planet and a better future for all people.
Why are you passionate about innovation?
For me, innovation is all about delivering on impact, and improving people's lives. It's about collaborative partnerships that allow us to take that invention and deliver outcomes.
In my case, when I'm talking about developing environmentally friendly solutions, [I've developed] Polymer Injection Technology and green steel technology and that's great. That's me being an engineer and inventing, but there is more to it than just [creating] the invention.
The best part about inventing is that you get to innovate, and innovation is about taking the invention and working with industry and communities and showing that the invention can be brought to life so that you can actually improve on outcomes for our people, for our planet, for our environment. 
Dharmica Mistry
Director Diagnostics Industry Engagement, MTPConnect
What is the significance of International Women in Engineering Day?
We know there is an underrepresentation of women in certain sectors and engineering is one one of those.
Role models [are so important]. It means [aspiring engineers] can see what people are doing in these amazing disciplines and what sort of impact they are having on the world. For young women and women that are mid-career, it also opens up the doors of understanding career choices and where these sorts of educational disciplines can take you.
How do we attract more young women into STEM?
It's all about awareness, support and nurturing. We need to be encouraging women to enter these disciplines. We should be building them up. We should be raising their profiles… and giving them opportunities. When you see something that you think someone can do, maybe they don't think they can do it themselves, you should absolutely push and stretch them and encourage them to reach out and do something different.
What does the theme, Inventors and Innovators, mean to you? 
For me, [it's] about building the world you wish to see. That philosophy can sound fluffy, but it's actually possible when you're doing a STEM degree, to make the changes that you want to see in the world.
We have to also remember that innovation and inventorship are creative disciplines… They allow you to keep learning, keep evolving and most of all, keep trying. If you're in these disciplines, you're usually a fairly persistent, resilient person. And for that reason, you have the ability to do something really cool.