A four-year collaboration between Coates and Monash University has resulted in a world-first innovation that will improve performance, safety, cost and sustainability of propping systems.
During a recent residential development project in Perth, engineering piling contractor Belpile faced a challenge in erecting temporary works. A neighbour had denied access to temporarily anchor the concrete piles beneath the property, and the site was long and narrow, bordered by suburban roads and another property.
The shoring solution for the problematic corner of the property's eight-metre basement and car stacker excavation was a 17 m, single-span hydraulic strut supported by mechanical props.
"It was a good solution to the design at the time, but the large hydraulic props were also very heavy and difficult to install with a large mobile crane due to access issues," says Julia Li, Senior Project Engineer at Belpile.
"So, when I was told that an alternative design method is on the way, one that is much lighter, easier to transport and install, and has a higher load carrying capacity, it struck me as a solution that would likely have economic and safety benefits."
Quadshore: The future of temporary works
Quadshore is said to be the world's lightest structural support system for temporary works and has the potential to chart a new path forward in construction. Completed and certified in January 2022, Quadshore has been named a finalist in Victoria for the 2022 Engineers Australia's Excellence Awards.
The result of a research agreement between Coates and Monash University, Associate Professor Amin Heidarpour FIEAust CPEng, Head of Monash Structural Engineering who started working with Coates in 2018, says Quadshore is a "strong example of how collaboration between academia and industry can result in tangible outcomes for the benefit of society and economy".
"The importance of research commercialisation is being discussed extensively at the government level right now. As an academic, it's always a goal of mine to see my research finds its place in the real world."
Real-world benefits
As a significantly lighter propping system, Quadshore is able to enter smaller, more congested construction sites and manage tighter maneuvering.
Its high-strength steel reduces the weight of the support system, while at the same time increasing its capacity.
The heavy-duty Quadshore 150's working load limit (WLL) is up to 170 tonnes and its WLL to weight ratio is at least 1.7 times higher than conventional propping systems. The medium-duty Quadshore 50's working load limit (WLL) is up to 60 tonnes and its WLL to weight ratio is at least 1.4 times higher than conventional propping systems.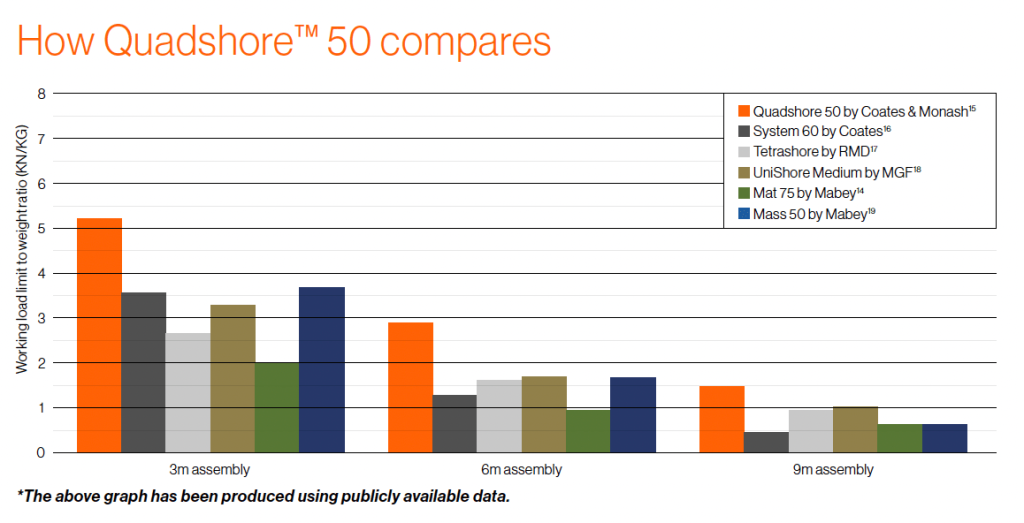 Source: Coates and Monash whitepaper.
"A higher working load limit to weight ratio reduces the number of workers needed on a site," says Heidarpour. In the current labour shortage, that's a significant benefit to employers.
Lighter weight and higher capacity can also result in lower transport costs.
"Transporting construction elements from the yard to the site and vice versa contributes to the carbon emission of each project. The value of that emission is in proportion to the weight of the elements, so when we reduce the weight, we significantly reduce the carbon emission associated with the manufacturing and transportation."
To measure this in real terms, the energy consumed for manufacturing Quadshore 150 is 35 per cent lower than the required energy for manufacturing conventional products.
Describing the product as "revolutionary", Sudhir Raina CPEng, Engineering Product Manager at Coates, says the ease of installation, lower transport needs and reduced carbon footprint will enable Quadshore 150 to "set a new industry benchmark". 
A safer and cost-effective solution
Research indicates that 38 per cent of infrastructure incidents are related to the construction phase where temporary works are utilised, according to a Coates and Monash University whitepaper.
It's one of the major problems that Coates and Monash sought to address. 
The development of Quadshore, which included input from 12 PhD students (a few of whom are now employed at Coates), has led to a solution that doesn't require any bolts in assembling modules.
This means lifting, repetitive tightening and awkward maneuvering to access the bolts is no longer required. As a result, Coates expects Quadshore to reduce the number of injuries.
The boltless connection also means assembly and disassembly time of Quadshore is at least 40 per cent faster than conventional systems with the same capacity.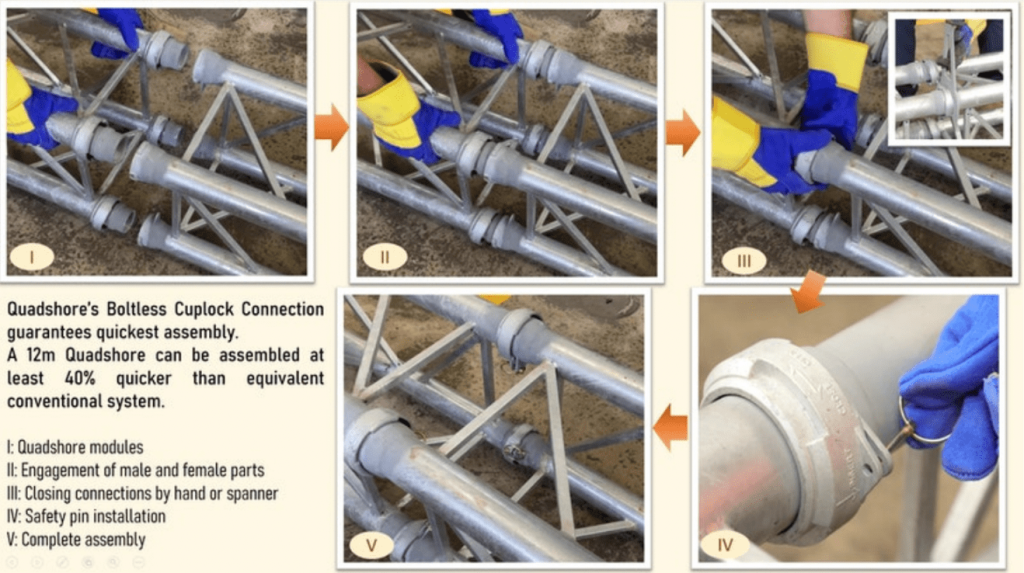 Source: Coates and Monash University
"We did a bridge project a little while ago for Sydney Metro," Raina says. "We designed and installed the temporary works safely, ticking all the boxes. But if this product had been available, I would have only needed half the stock.
"It would have taken half the time and required zero consumables. Time of construction would have been cut by eight weeks. Imagine the cost savings on consumables alone, and then on entire project costs. The Quadshore solution has real, tangible benefits. That's why we're so excited about it."
Sign up for the Quadshore webinar, hosted by Coates and Engineers Australia, on February 22, 2023. Contact [email protected] to register your interest.