Billions of people around the world rely on an infrastructure network of satellites, signals and receivers to stay connected. The technology's creators have just been awarded one of engineering's most prestigious awards: the Queen Elizabeth Prize for Engineering.
A quartet of American engineers has won the prestigious Queen Elizabeth Prize for Engineering (QE Prize) for their role in developing the first truly global, satellite-based positioning system, better known as GPS.
The annual prize, awarded in London, highlights the global impact of engineering innovation on humanity.
"It is an awesome honour," said Brad Parkinson, who shared the prize with his co-creators James Spilker Jr, Hugo Fruehauf and Richard Schwartz.
"The nice part is that it's a recognition for technology that is good for humanity around the world."
Besides recognition for their years of work, the researchers will receive £1 million (AU$1.8 million) in prize money.
The A-team
An estimated 4 billion people use GPS, and yet for most people it remains a largely invisible system – something we take for granted. But it underpins so many of the services and systems we rely on everyday, like sat-nav, banking and finance, communications, climate monitoring, humanitarian efforts, critical infrastructure and more.
The technology has its origins in the space race of the 1950s and 60s, when radio operators tracked the satellite Sputnik I on its 1957 flight using the Doppler shift, or changes in radio wave frequency in relation to an observer.
Parkinson, often called the 'father of GPS', began tinkering with the idea of a global navigation service using satellites in the early 1970s as part of a US Air Force project for the Space and Missile Systems Center.
He insisted the technology had to be intuitive and inexpensive. Spilker was recruited to design the satellite broadcast signal, which was crucial to the success of GPS: it's robust, allows multiple satellites to broadcast on the same frequency and it's precise.
GPS signal receivers rely on accurate timing to determine their position. Fruehauf, then the chief engineer at Rockwell Industries, provided the solution: miniaturised, radiation-hardened atomic clocks, which are so accurate they are measured to within billionths of a second.
Schwartz was the final piece of the puzzle. Also from Rockwell, he helped ensure each satellite could withstand the intense radiation of space and had a long life span.
Besides the core team, Parkinson also paid tribute to the "scores of engineers" who contributed to and were involved in developing this innovation over the years.
Professor Christopher Snowden, Chair of the QE Prize for Engineering judging panel, said GPS pulls together so many technologies and was "incredibly complicated to develop".
"It even has the Theory of Relativity applied into it. If you're looking for something that spans nearly every aspect of engineering and science – you've got it with GPS."
The global economic engine
In line with the QE Prize's mission to showcase engineering innovations that shape the world, Parkinson said a primary focus of the project was to create a product that would have global impact.
Decades after GPS' initial development, Parkinson reflected on how the technology has now become popular beyond their expectations.
"Back in 1978, I made a few drawings that depicted GPS applications that I could personally foresee … automobile navigation system, semi-automatic air traffic control, and wide-area vehicle monitoring – and seem to be rather accurate. That said, none of us could fathom the sheer breadth of GPS applications," he said.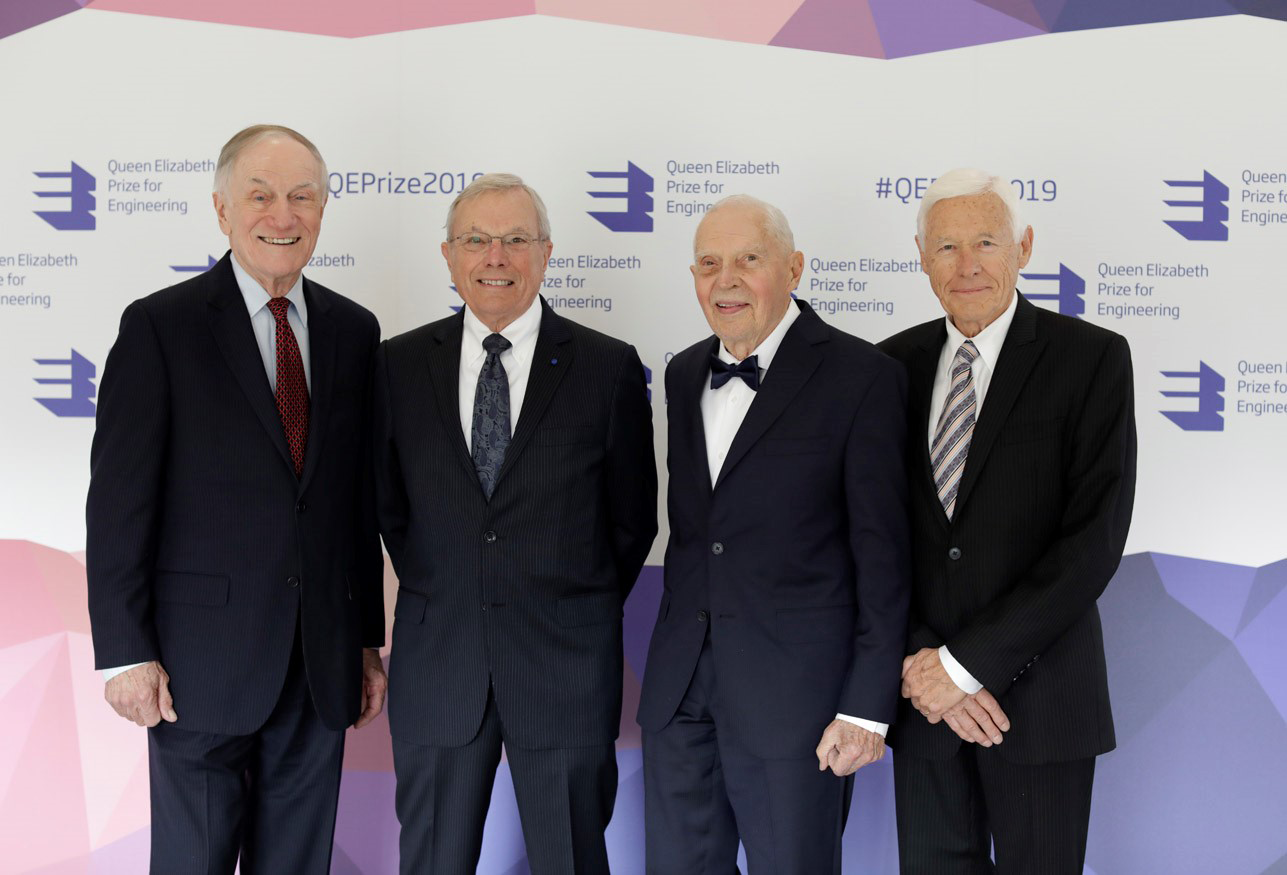 Interest from industry was important for refining the technology and shaping it into something that can fit in a pocket.
"The world's tech industry reduced a 40-pound [18-kilo], $100,000, backpack-sized GPS receiver into a fingernail-sized chip receiver that now costs less than $2," Fruehauf said.
"Because of that, GPS is everywhere – it is part of the global economic engine."
While GPS was years in the making, the developers said they were excited to see where future generations of engineers take the technology. Already this is happening – with engineers working in fields as diverse as autonomous cars, precision agriculture, public health, transport and the new era of the Internet of Things.
Supplements to the basic tech stack are also appearing as the march of innovation continues forward.
"It's hard to imagine what young and creative engineers will come up with next," Schwartz said.
"It's such a rapidly developing world … in the not-too-distant future I think I will be able to step into a driverless car, tell the car where I'd like to go, and then sit back and enjoy the ride."