After acquiring the latest 3D printing facilities, CSIRO's Lab 22 is providing access to metal additive manufacturing, modelling, simulation and testing.
The Australian manufacturing sector recently took a step into the world of 3D printing with a little help from the CSIRO.
Its new $6 million additive manufacturing centre, Lab 22, houses five of the latest 3D printing machines specialising in additive manufacturing, which layers molten metal to create objects from CAD files. Compared with traditional subtractive manufacturing, the additive process is more energy-efficient, more environmentally friendly and capable of more diverse shapes.
Industry partners can take advantage of the expensive equipment with vastly reduced capital investment risk. In return, CSIRO hopes to serve a pivotal role in the future of the foundry industry by providing access to metal additive manufacturing, including modelling, simulation and testing.Technical assistance
There is a lot of hype around 3D printing and, according to CSIRO Innovation Centre Director Alex Kingsbury, misconceptions of what it takes to own and operate a high-value, commercial 3D printer. The machines operate with subtleties that are difficult to comprehend without hands-on experience, so the centre has staff dedicated to each of the five printers.
"Our scientists have really interrogated these machines to understand them fully," Kingsbury said.
"When a participant signs up with us, they're able to leverage our understanding of those machines and get up that learning curve just a little bit quicker."
In addition to help from the centre's 15 direct staff and 30 indirect staff, industry also has access to the CSIRO's modelling research and development team.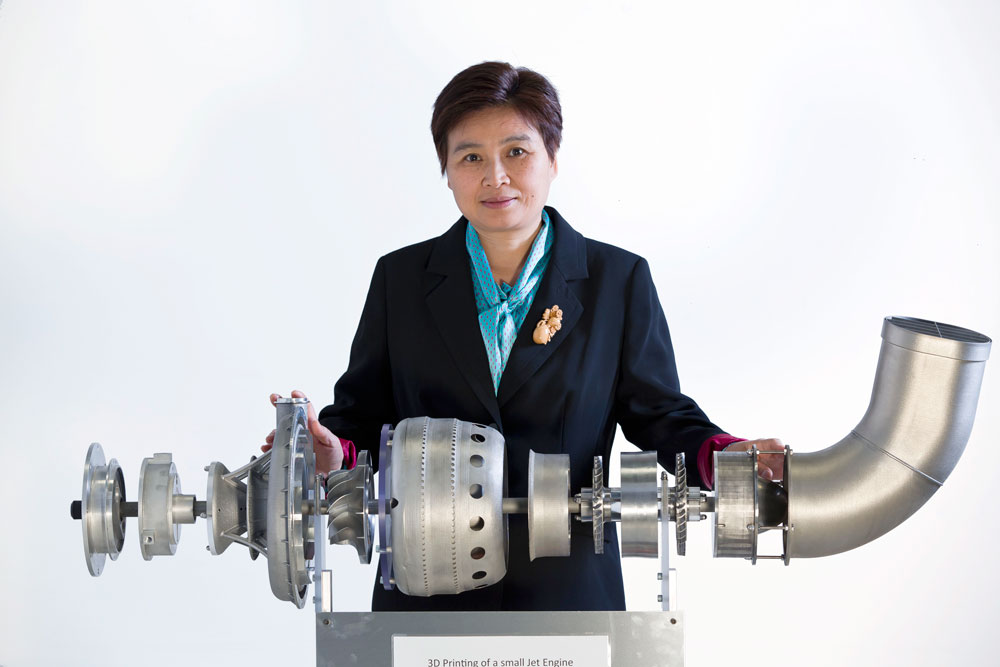 Voxeljet VX1000
Lab 22 sand printing expert, Principal Research Scientist Gary Savage, has a long history in the casting industry, including experience with the former Co-operative Research Centre for Cast Metals Manufacturing.
Savage specialises in the Voxeljet VX1000 3D sand printer, a German machine that produces moulds and cores for metal casting.
Casting metal in sand moulds conventionally requires a pattern made of material such as wood or plastic. Sand is packed around the pattern and then the pattern is removed, leaving the mould.
The 3D sand printer removes the need for a pattern, instead printing the sand mould directly from a 3D CAD image. Not only does this allow for more geometric freedom in design (undercuts, negative drafts), but removing the step of pattern creation reduces machining time and cost. This makes 3D sand printing ideal for small quantity printing, such as prototyping and
design development.
The Voxeljet job box, measuring 1060 x 600 x 500 mm, produces one casting up to 1 m long or a number of smaller castings simultaneously. The Voxeljet's print head is capable of up to 600 dpi, creating parts with 90-250 μm surface roughness.
The printer is compatible with conventional non-proprietary sands and common binders used by foundries. Its fusion system is based on liquid binder jet printing with a sand bed for a powder system: for instance, CSIRO currently uses a Furan binder system with silica sand, though it is capable of printing with an alkaline phenolic resin binder.
"People are starting to grasp how the technology can help their businesses and what they offer to clients," Savage said.
"In the long term, we want to expand the current capability of the Voxeljet so it can do more."
Though it has only been in the CSIRO family since May 2015, the Voxeljet has already made an impact on local industry.
Lab partners
At the time of writing, Lab 22 had 10 industry partners across several industry applications, including automotive, biomedical and aerospace.
"The large range of industries shows there is still a wide variety of Australian industries that would benefit from additive metal manufacturing and haven't explored it yet," Kingsbury said.
She recommended one of Lab 22's free public tours as a first point of contact for parties interested in working with the centre.
"You can engage the CSIRO for anything right up through product development to your final product," she said.
Companies often come to Lab 22 with an open-ended question, Kingsbury explained, whether it's a product they want to improve or an idea for something that can't be made through traditional methods. While they are welcome to come in to discuss ideas, the centre is also open to companies that have already completed research and development and want to run files through the lab on user-pays basis, rather than buy a machine themselves.
A tier one participant with Lab 22, for instance, is a company that has signed an agreement to use the 3D printers for any private or public project. A client can approach the company, which then uses the Lab 22 printers to produce the parts.
The arrangement allows the CSIRO to leverage machine downtime by loaning out its equipment. This helps companies overcome high capital costs that can be a barrier to entry, and lets the CSIRO fulfil its charter to assist Australian industry. CSIRO also won't tell industry what it needs.
"We're happy to help if someone needs input to work up a business case, if they're interested in how much machines cost, how much it takes to operate or inputs costs," Kingsbury said.
"But we take the stance that industry knows best in terms of what the market wants."