Medical robots won't get emotional, they won't get tired, and they won't get distracted. And they're already helping human surgeons perform minimally invasive surgery.
What did one robot say to the other robot? Pass the scalpel please. This very conversation might be coming to an operating theatre near you in the not-too-distant future. Around the world, companies and education partners are exploring the world of medical robots, trying to ascertain how much detail can be programmed into robotics in the area of medicine.
"A machine will be able to do everything that we do only better," Dr Ross Crawford said.
"They won't get emotional, they won't get tired, and they won't get distracted. Humans are fallible and surgeons can do damage putting an instrument into a joint. Machines will make better decisions and be more efficient."
Crawford is a professor of orthopaedic research who consults at the Holy Spirit Northside Hospital, as well having a private clinic at the Prince Charles Hospital and at the Brisbane Orthopaedic Sports Medicine Clinic.
As a surgeon, he deals only with the pathology of the hip and knees and most of his practice is dedicated to the primary hip and knee replacement and knee arthroscopy surgery.
Crawford is working with the Queensland University of Technology, which in turn is working with the Australian Centre for Robotic Vision, to create a new medical and health robotics group.
They are investigating the use of vision-enabled robots to assist surgeons to perform minimally invasive surgery, with the overall aim to investigate how real-time robotic vision systems can monitor the inside of a patient's joint using an arthroscopy.
"I am helping identify problems with surgeries and working on cadavers performing procedures, which we are filming in order to understand problems that occur," Crawford said.
"The reality is that we need innovation in surgery. There are many difficulties in surgery, such as putting straight objects around curved parts of the body.
"The knee and shoulder joints are particularly difficult and you can injure both body parts with an instrument if you make one little mistake or are not particularly careful. It is often very delicate surgery."
So, the question remains, will robots surgeons replace humans in the short term?
"Physical robots will not replace many people in the medical field in the near term," said Jonathan Roberts, professor in robotics, electrical engineering and computer science, from the Queensland University of Technology.
"Instead, they are likely to assist medical and healthcare practitioners do their jobs more easily and efficiently, thus improving the outcomes for patients and giving greater access to medical care to people that do not have it now.
"As our population ages, there will be an increasing need for home helpers. It is in this area that robots may help a great deal. Trials have already been undertaken that show that simple home-based robots can be effective in reminding people to take their medication and can be used to collect medical observation data."
Robots read X-rays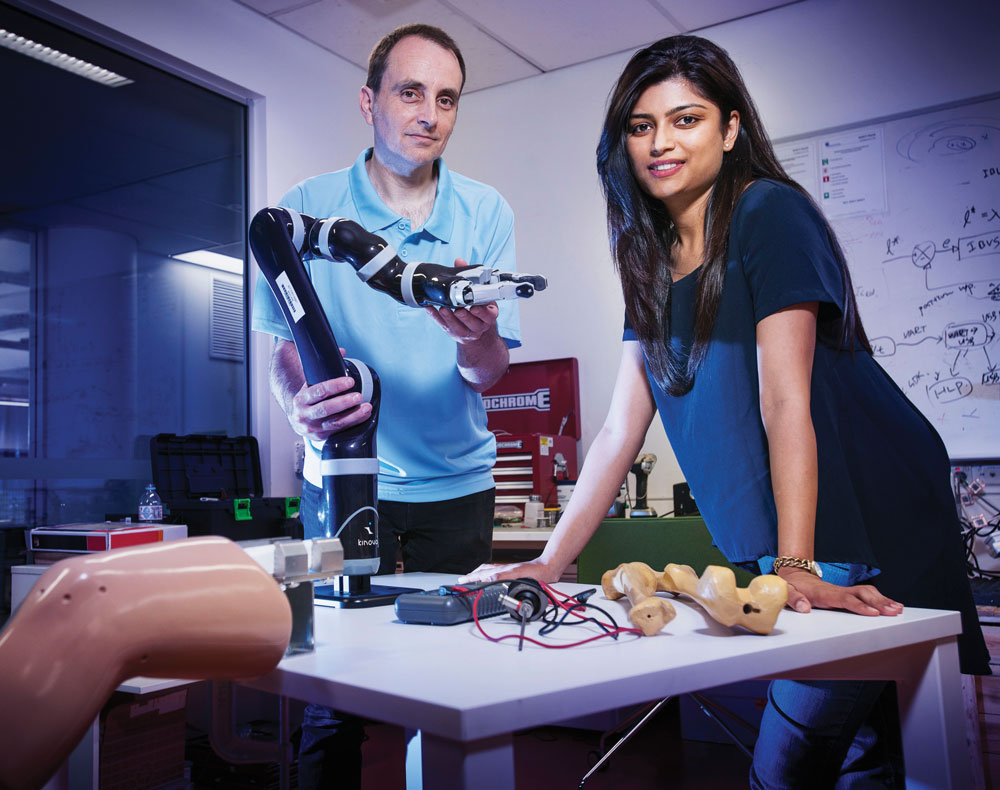 Roberts believes the key change immediately will be in the field of diagnosis, something that Crawford also concurs with, as robots get trained on how to read X-rays, MRI scans and all types of medical images.
Both Roberts and Crawford believe that this will speed up the process.
"It is very likely that non-physical robots, or artificially intelligent machines, will be able to perform diagnosis of blood samples with a far greater speed and accuracy than humans," Roberts said.
He suggests that machines that can learn are already showing promise in these areas and numerous research groups around the world are developing automatic diagnosis systems.
Crawford believes that medical imaging practices, which are very lucrative for the owners, will change drastically in the not-too-distant future.
"Robotic machines will be trained to look for trends and they will be able to identify every type of medical imaging a lot quicker than humans," he said
"They won't need a break, and they won't get tired, and they will be able to operate 24/7, meaning that the hours that medical practices can be open for will be longer."
In the 2011 Review of Funding for Diagnostic Imaging Services: Final Report, it was revealed that radiological tests accounted for more than $2 billion of the annual Medicare spend. And in a 2013 medical report entitled Challenges Faced by Australian Radiologist while Working with Conventional Imaging Workflow Solutions, it was estimated that 33,600,000 radiological investigations would be performed in Australia in 2014-15.
A radiologist would have to study every one of those and write a report, and most of these reports are written based on pattern recognition.
"A robotic machine would be much quicker and, once it has been programmed what to look out for in every possible scenario, the whole process will be simplified," Crawford said.
Teleoperated robots
QUT and the Australian Centre for Robotic Vision are among many institutions forming partnerships around the world in the race to advance medicine technology.
"There are a number of large companies that have either already developed some medical robot products, or have declared that they are working on creating such robots," Roberts said.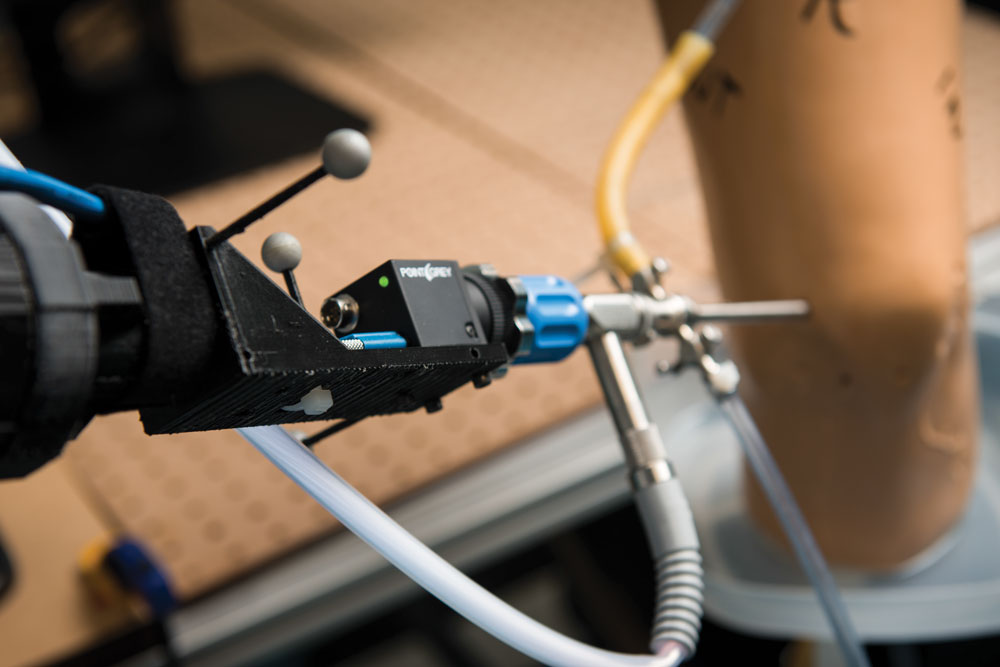 "These robots range from teleoperated surgical assistant robots, such as theIntuitive Surgical's well known da Vinci robot and Stryker's orthopedic Mako robot, to hospital drug delivery robots sold by a number of manufacturers.
"Other companies are developing medical robots to allow trainee doctors to remotely attend ward rounds and robots that can assist porters with moving patients around the hospital."
Another example is Thyrocare Technologies Ltd in Mumbai, India, where more than 100,000 diagnostic tests from around the country are done every evening, and the reports delivered within 24 hours of blood being taken from a patient.
"Surgery in five years will not look too different to how it appears now, as the adoption of robotics is unlikely to be fast," Roberts said.
"This is simply due to new methods requiring new training, as well as acceptance by the medical field. Many surgeons will want to see other surgeons be successful first before they adopt the technology. But surgery in 15 years time might look very different to how it is now."
While the future of medical robots in hospitals is almost guaranteed, what is not is the patients' reaction to them. Medicine is primarily about healthcare and the power of the human touch cannot be underestimated.
"The reality is that no one is ready to be treated by a robot," Crawford said.
"Neither the public, the Federal Government or the AMA are ready for robots to replace human beings when dealing with patients. Medicine is an emotional field. When you are sick you want someone to hold your hand. Even though the technology is imminent, it will require significant cultural change before we see it happening, but make no mistake, change is coming soon.
"My belief is that within two years there will be robotic machines involved in medical diagnosis."
But Roberts believes it will be some time before robots have replaced humans at the operating table.
"We are a long way from replacing surgeons by robots, although for some procedures it is conceivable that technicians might replace surgeons in the operating theatre in the next decade," he said.
"Existing surgeons need not fear being replaced, but there might not be as many jobs for surgeons in the next generation."
Medical costs should become cheaper
Anjali Jaiprakash, postdoctoral research fellow, QUT, believes the medical industry will be able to perform at a more cost effective level once the full effects of robotics have been incorporated.
create: How will robotics bring down the cost of both surgery and day-to-day medical treatment?
Anjali Jaiprakash: Robotics has emerged in many fields allowing tasks to be performed safely and reliably. Medicine has been a late adopter of such technology, but this will rapidly change in the upcoming decades. Initially, like all new technology, it will be expensive. But once surgeons, patients and people in general are educated about the power of automation and AI, healthcare providers will take the leap to preventative care/treatment in a cost effective and seamless manner. As soon as you replace a human by a machine, you save money. If the machine is cheaper than one year's salary you have paid for it in a year.
create: What role would federal and state governments play in this?
AJ: Improved medical and surgical outcomes can only be delivered through collaboration, innovation and translation. This is possible by proving environments for the industry and university/researchers to work closely. The government can play a role by providing:
tax incentives for robotic/robotic-assisted surgery;
funding for research and proving environments for the industry and university/researchers to work closely;
regulating the adoption of robotic surgery and healthcare; and
invest in medical technology for the public sector that is limited to the private sector.
create: Can you give me a practical demonstration of how robotics will be involved in practical medical treatments?
AJ: The aim is to develop techniques and systems to enable surgeons to routinely step out of the control loop of a number of surgical procedures and allow robots to carry out direct actions on patients. It would be a perfect combination of the surgeon's clinical judgement and the more dexterous and highly precise control abilities of the robot.
Robots interacting as humans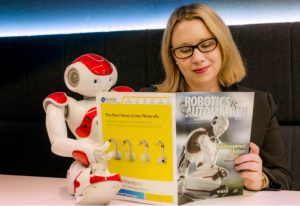 Dr Kate Letheren, postdoctoral research fellow at QUT, believes that robots will be able to somewhat replicate human emotions, but it will never quite be the same as the human touch.
create: Will robots ever be able to mirror human feeling and express themselves digitally?
Kate Letheren: Robots that are programmed to express emotions have already been developed – such as Aldebaran's' Pepper robot can perceive human emotions and adjust its behaviour accordingly. However, this is not the same as truly experiencing emotions. As artificial intelligence develops, we might eventually see robots that are not just programmed to feel, but which actually possess feelings in their own right.
create: How would this work?
KL: Robots can be programed to perceive and display emotions, and researchers are working to create robots that can learn. US researchers are training robots to read children's books in order to learn moral values. Once they are able to perceive and reflect emotions, and learn and develop their own ideas, it might not be so great a leap to morality and empathy.
create: What is the advantage of robots expressing themselves?
KL: It is expected that robots will soon feature in daily human life. Indeed, BBC reported predictions from researchers that indicate robots will soon work in many of our service roles as receptionists, telephone sales people and even surgeons.
This new societal role for robots highlights the increasing importance of understanding human-robot interactions and relationships. Robots being able to express themselves could lead to us being more comfortable during such interactions: while coldly rational behaviour might be prized in some areas, robots with emotions and warmth will likely find themselves more welcome in social environments.
This relatability would also aid in another concern: will we treat robots as second-class citizens simply because we can? To do so not only sets a destructive standard for our treatment of others in general, but also indicates something worrying about the moral development of individuals who would act this way.