Some engineering-related sectors have experienced a renaissance during the COVID-19 crisis. One area it has affected is 3D printing. 
Disaster, famine and war are strong drivers of innovation. Our ability to be inventive seems most powerful when we're under pressure. 
This makes sense. After all, why would we consider change when we're flushed with success?
We can now add pandemics to the list of innovation motivators. During the COVID-19 crisis, we have watched businesses pivot, manufacturers switch lanes and brands innovate at a rapid rate.
One of the leading arenas of innovation has been that of 3D printing. A decade ago, it seemed destined to become the next big thing. Instead, it became a niche industry, servicing low-volume production manufacturing fields such as patient-specific surgical procedures and customisable gifts, one-off parts and small-scale prototypes.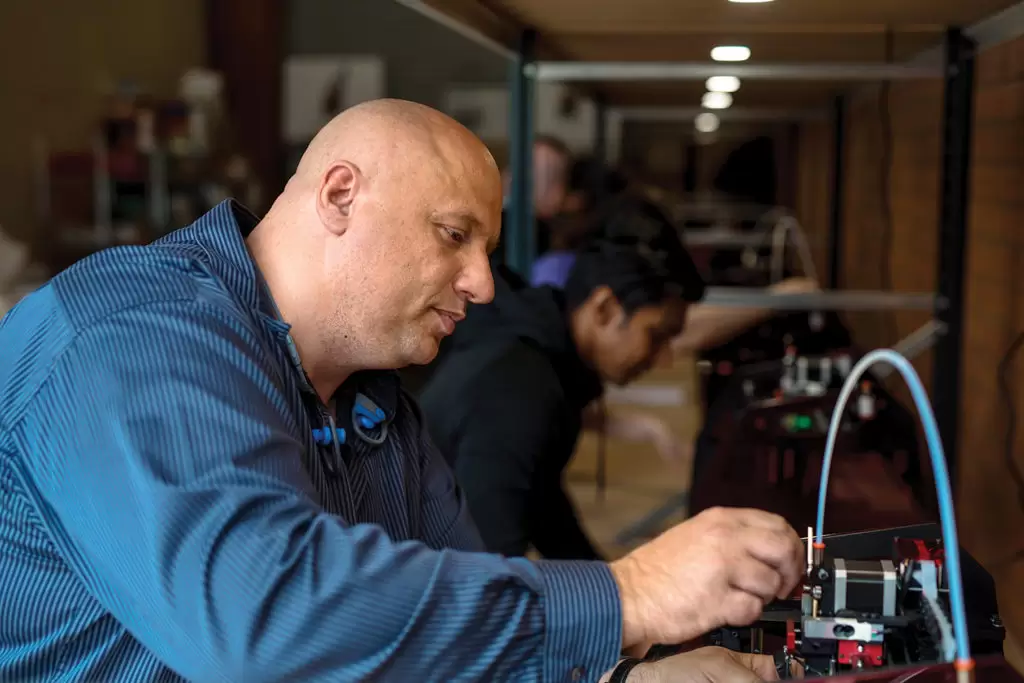 Along the way, the industry has quietly innovated.
"Australia was the first place in the world to develop PVC for 3D printing, and I thought that would take off. But it hasn't, yet," said Neil Sharwood, CEO of the Australian 3D Manufacturing Association. 
"In 3D printing, as long as you have a digital design, you can turn it into an object. There is a range of different types of 3D printers and different materials you can use to fabricate objects. You can build human organs with 3D printers. Obviously, this involves commercial printers and specialist materials, and there has been a big divergence between commercial machines and hobbyist machines."
"In 3D printing, as long as you have a digital design, you can turn it into an object. You can print human organs with 3D printers."
Small scale, big outcome
It was the hobbyists who first earned media coverage during the COVID-19 crisis.
Canberra-based systems engineer Haydn Lowe is one of those small players. His drive to 3D-print personal protective equipment for frontline medical workers came from a deeply personal place.
"I have two sisters in the medical world who were telling me they were about to run out of face shields. One is an anaesthetist and one is a GP," Lowe said. 
"They asked if I was able to make face shields. That was towards the end of March and, at the time, the authorities were anticipating a big increase in COVID-19 cases.
"3D printing enabled us to rapidly find and test existing designs; overnight, we were able to test out five or six from around the world. We were looking for a robust and durable design, but found most were lightweight, using disposable transparency film.
"My design uses a heavy-duty shield which requires a much stronger frame. In this digital era, though, I was quickly able to combine two of the existing designs, adapt them further, and then scale up the wall thickness into a new and stronger design. This heavy-duty design is completely non-porous and can be used again and again, after being disinfected. Each device should easily last through a pandemic, significantly reducing the quantity of PPE required."
Lowe visited local stores, purchasing as many polycarbonate or other transparent sheet products as he could find. 
He cut them into shape, then 3D-printed various frames that could be worn around the head to hold those shields in place. 
"3D printing enabled us to rapidly find and test existing designs; overnight, we were able to test out five or six from around the world."
For this, he used a commonly available printing plastic known as PLA, or polylactic acid.  
His anaesthetist sister tested various versions, then Lowe took her preferred designs to the Therapeutics Goods Administration (TGA) and had them registered.
"At the time, the TGA was fast-tracking COVID applications and was well set up for COVID-19 solutions," he said.
From the initial concept, Lowe took just 14 days to test and register a new design, then produce more than 100 face shields for use in hospitals. 
The design was also shared publicly on a popular 3D-printing website to allow other concerned citizens to do the same.
The commercial future
At the commercial end of the 3D printing spectrum are organisations that work with engineers and other specialists from various industries to provide special, often customised parts.
In the medical world, 3D printers might be responsible for creating a new shoulder joint for a patient, a section of bone to re-attach a jaw to a patient's skull, or an exact replica of a tumour growing on a person's kidney, which surgeons can use to figure out a treatment strategy.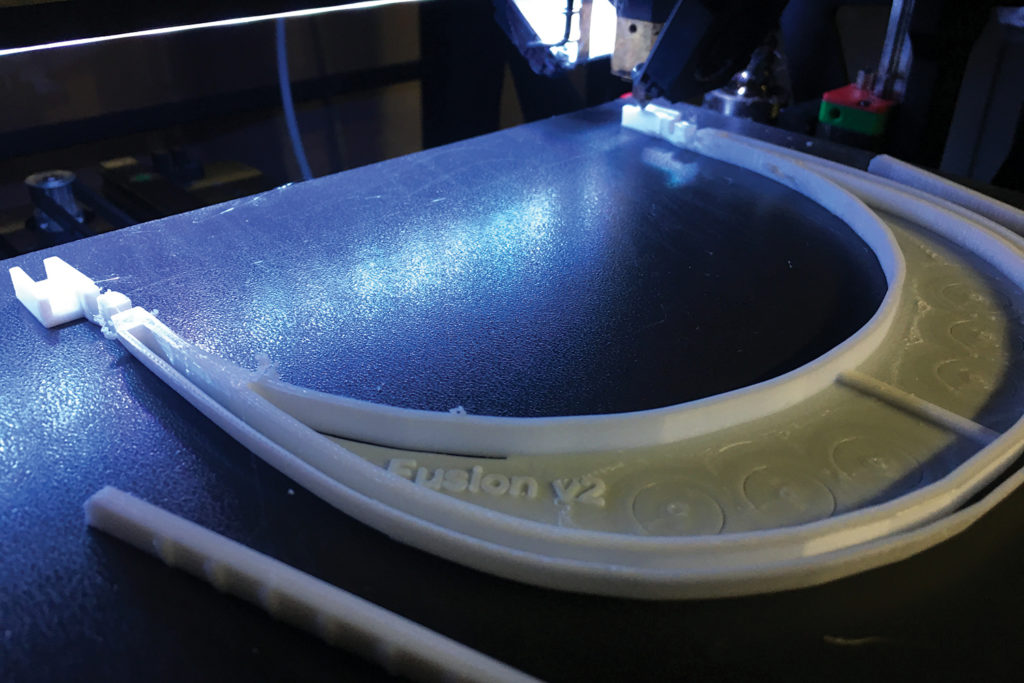 Matt Minio is Managing Director of Objective3D, an advanced manufacturing centre. His business prints with plastic, carbon fibre, metals such as titanium, and selective laser sintering (SLS), which uses high-performance nylon powders. It works with industries such as aerospace and defence, medical, dental, automotive and education.
For products that are required urgently, as was the case with PPE for Australia's medical specialists, 3D printing can be a very good short-term solution, Minio said.
There is great potential for increasing business in the 3D-printing world, he believes, as COVID-19 has brought the industry back into the spotlight. It has particularly raised awareness around the value of 3D printing to the medical industry. 
"What 3D printing is not good for is a $2 iPhone cover that is manufactured in China by the million," he said. 
"What it is good for is mass customisation. You might consider that iPhone cover, which in China costs $2 to produce, then 3D-print a version that will sell for $20 and which has been customised to the purchaser's individual needs. Perhaps it has their family picture on the back, for example, or has a customised attachment added. You're still producing lots of iPhone covers, but you're printing them for specific customers and customer groups to fulfil individual needs.
"Manufacturers of 3D printing machinery are always looking for faster, more accurate ways of doing things with more materials. That constant need to innovate is customer driven. The biggest impact is in the medical space as specialists realise they can do more with 3D printing, but in several sectors there will be an increased demand to focus on innovation in printing capabilities, speed, and in new materials."