On 19 August, the UN celebrates World Humanitarian Day to acknowledge people who have committed their lives to helping others. 
We spoke with four engineers involved in humanitarian engineering about what makes them passionate about this field.
Ian Warren MIEAust CPEng, WASH engineer, Partner Housing Australasia
Civil engineer Ian Warren, Director of not-for-profit Partner Housing Australasia, was first exposed to humanitarian engineering in 2005 after the Boxing Day Tsunami. 
"I travelled up to Sumatra on a surf trip and observed firsthand some of the mop up work after the tsunami," Warren told create. 
"It was pretty bad … I came home but never lost the dream to do something for those communities."
Since 2016, Warren has worked with Partner Housing on water, sanitation and hygiene (WASH) projects in Western Province, Solomon Islands. He also founded his own water engineering consultancy, Stellen Consulting, to enable this pro-bono work.
"One of the reasons I started [Stellen Consulting] was to create that margin — mostly time — so that I could get involved at a pretty low-level in humanitarian work," he said. 
"Now I have a team, and the best thing is that we have enough margin for all of my employees to work on the program too… We mostly do it remotely with our local team on the ground in the Solomon Islands. It's amazing what you can do with a smartphone and a 3G connection."
For Warren, the best part about being involved in humanitarian projects has been the personal journey that has taken place while assisting communities in need. 
"I've learned so many things about myself," he said. 
"Dealing with the personal fears — that's been my biggest and most rewarding experience. Definitely worth it though."
Robert Care HonFIEAust CPEng, Chair of RedR Australia
Chair of RedR Australia, Dr Robert Care started his career as a technically focused structural engineer, but was motivated to contribute to humanitarian engineering after spending time living overseas, including a stint in Papua New Guinea.
"My career trajectory started off as a narrowly focused analyst … no way aligned with the humanitarian field or disaster response," Care told create. 
"However, as my career progressed, I was exposed to the difficulties people face in various countries, and how engineers could and should play a fundamental part in how those people's lives can be improved. As an engineer, I felt an obligation to become involved and do something to assist."
As well as working with RedR Australia since 2006, Care assisted in establishing Engineers Australia's Humanitarian Engineering Community of Practice, which launched last year at the World Engineers Convention in Sydney.
"We'd like to professionalise humanitarian engineering to understand the scope, and allow people to get their Continuing Professional Development (CPD)," he said. 
"It's one of my passions in life — to play a part in humanitarian engineering. I think it's important, because in a way all engineering should be steeped in delivering engineering for humanity."
"As an engineer, I felt an obligation to become involved and do something to assist."
Kieren Davis MIEAust, RedR Australia engineer
An engineer with 10 years' experience in the water industry, Kieren Davis' interest in humanitarian engineering was first sparked in 2010 during an overseas trip where he ended up "in the wrong place at the wrong time". 
"In 2010, while travelling in Central Asia … I witnessed the aftermath of ethnic violence between Kyrgyz and Uzbeks in Osh, Southern Kyrgyzstan," Davis told create. 
"It was a jarring experience that left me looking for ways I could contribute.
"In 2012 and 2013 I was fortunate to volunteer with Engineers Without Borders in Nepal and Sri Lanka. From there I kept on exploring ways to be involved in this sector."
Joining the RedR Australia Humanitarian Roster six years ago, Davis was deployed to Vanuatu in 2018, where he's currently working as part of the Australia Assists program, managed by RedR Australia and funded by the Australian Government. 
"My role has been to support [Vanuatu's] Department of Water Resources to implement a cyclone recovery project, building and rehabilitating water systems in remote locations, and training committees and local governments in operation, maintenance and financial management."
For Davis, the best part about being involved in the humanitarian field is the ability to impact people's lives. 
"A dollar spent in ensuring rural households have safe access to water, or that the government has the tools and resources to respond to disasters, achieves an immeasurably greater impact than similar work I would be doing in Australia," he said. 
"Working with so many motivated and adaptable colleagues makes the abundance of technical, social and governance challenges manageable along all parts of the journey."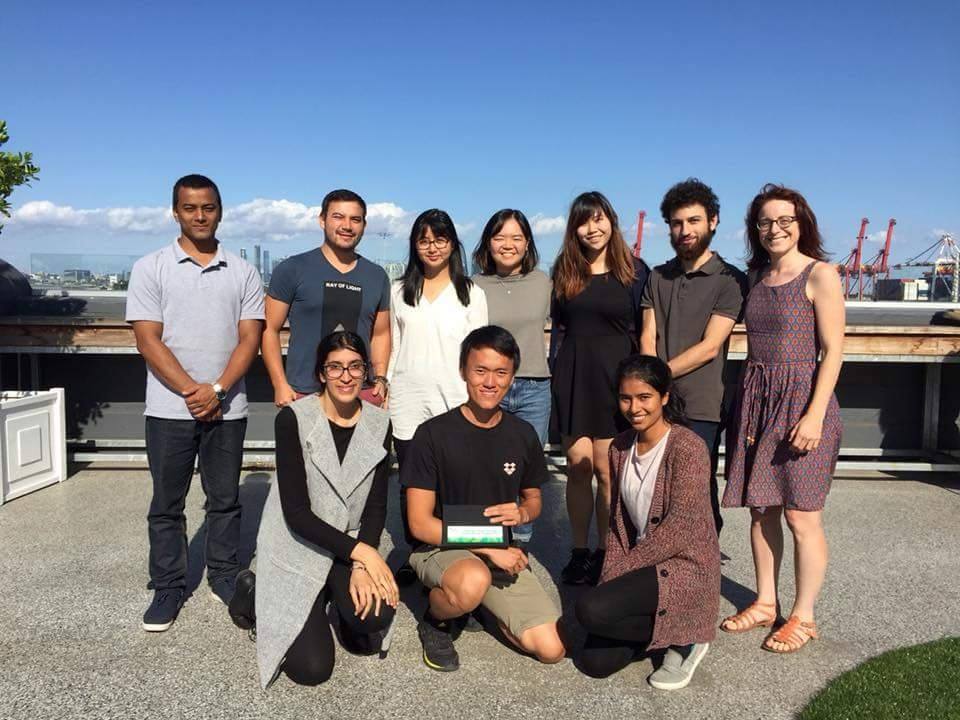 Wenqian Gan, PhD student and EWB volunteer
Mechanical engineering graduate and current PhD student Wenqian Gan is one of the many students across Australia who volunteer each year with Engineers Without Borders (EWB).
"I studied engineering because I was passionate about improving the quality of life of those in need through engineering, and humanitarian engineering was one of the few fields within engineering that enables me to realise that goal," Gan told create.
As well as volunteering at the Asylum Seekers Centre and taking part in EWB's Design Summit, Gan currently serves as Secretary of the EWB New South Wales Chapter. She has also undertaken an EWB Research Project as part of her studies.
"The best part about being involved with EWB's work is knowing that positive change starts with you — whether you are in day one of university or have 30 years of industry experience, you possess valuable skills and perspectives to create positive social impact," Gan said.
Thanks to a partnership between Engineers Australia and Engineers Without Borders, students who participate in EWB courses are automatically offered Engineers Australia student membership and access to a series of co-delivered events.