The combined costs of compressor power consumption and maintenance make up almost 90 per cent of the price of producing compressed air. The good news is there are some simple steps you can take to reduce energy consumption and optimise performance.
While a stable and reliable air supply is essential for productive and safe plant operation, it comes at a price.
According to ExxonMobil research, purchase price, installation, insurance and replacement parts make up only 10 per cent of the total costs. Energy, labour, lubrication and cooling make up the remaining 90 per cent, as indicated in the chart below.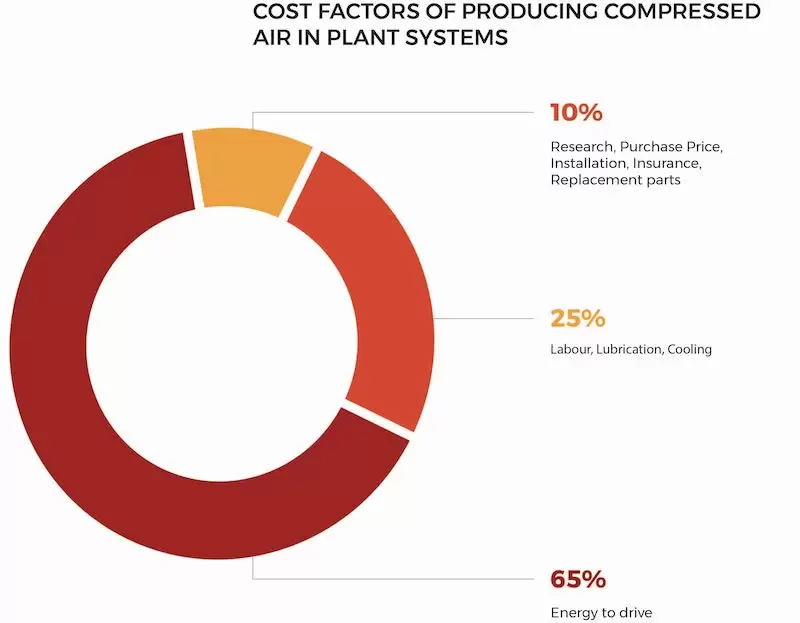 Engineers and plant operators can prevent operating costs and power expenditure from escalating by selecting the right lubricant and optimising compressor operating conditions. Here are five tips recommended by ExxonMobil's experts to keep costs down and maximise performance.
1. Choose the right air filter and inlet location
Reducing running costs starts at the inlet — the cooler the incoming air, the less power required to produce line pressure. For best results, the air intake should be strategically placed. A clean, dry, shaded outside area at least 1.8 m above the ground is recommended. Minimising the pressure drop through intake ducts when running at full capacity will also assist in lowering operating costs.
Using an air filter with the right capacity for the intake and compressor can increase the time between filter changes and reduce load, which is an extra cost saving.
2. Optimise the operating temperature
To ensure optimum operation of reciprocating compressors, keep the cooling water temperature around 5.5ºC above the inlet air temperature. This stops moisture from condensing in the water-cooled cylinders. At the outlet, the temperature should be below 49°C.
Other good practices are to make sure the cooling water is not flowing when a compressor starts up or shuts down, and that water jackets are regularly inspected and cleaned.
For air-cooled compressors, regular checks and cleaning can avoid the problem of dirt clogging the fins of fans and preventing them from operating effectively. Condensed water also needs to be properly drained.
3. Match lubricants to conditions
Compressors will perform best when they are lubricated with products that match their operating conditions. These lubricants must also be properly stored and dispensed in the right quantities.
For reciprocating air compressors, maintaining the right lubricant feed rate is important; a feed rate that is too low or high can increase wear on cylinders and rings, and increase oil consumption and overheating.
Some rotary screw compressors operate with dry screws and need oil to lubricate their bearings. Others run with wet screws, which are flooded with lubricant. Wet screws need cooled oil to absorb heat generated by compression, lubricate rotors and ensure a good seal. Oil-to-air or water-to-air heat exchangers can keep air supply at the right temperature and keep carbon deposits down.
The Mobil SHC Rarus series is designed to minimise downtime for rotary screw air compressors used in harsh industrial operating conditions.
To find your nearest Mobil authorised distributor, click here.
4. Eliminate moisture and maintain equipment efficiency
Fixing the damage caused by unwanted moisture in compressed air systems can make up as much as 5 per cent of plant maintenance costs, so keeping it to a minimum is crucial. One good practice is to use after-coolers and dryers to remove water from the air discharged by compressors. This reduces condensation in the air distribution system.
Another way to reduce costs and increase efficiency is making sure there is no pressure loss between the compressor and point of use. As a general guide, keep the pressure above 620.5 kPa at point of use. Air line lubricators can also increase the efficiency of equipment run by compressed air. A lightweight oil that is easily carried by air is ideal. Oilers should be topped up and dirty or milky oil replaced.
5. Stop leaks and store air reserves safely
Leaks in any part of the air system can increase operating costs, as compressors need to compress more air than in a leak-free system. An ultrasonic leak detector is a good way to detect and eliminate air leaks. It is important to check for leaks or excessive restriction in the suction line between the filter and compressor by taking instrument readings during each shift.
The storage of reserve air should be made safe and efficient. Best practice is to arrange air receivers to completely drain oil or condensed water from the compressor or after-cooler outlet. A spring-loaded safety valve installed at the receiver is an important safety measure, and should be regularly tested to make sure it is in good working condition.
Proper setup, regular maintenance and quality lubrication can help improve the energy efficiency and performance of air compressors and reduce overall operating costs.
ExxonMobil would like to hear feedback on how you manage energy efficiency in your plant. Share with other engineers your experience and insights in air compressor energy efficiency and lubricant challenges. First 20 responses will receive a $50 voucher.