From farm life to developing freeways in Melbourne, Max Lay's road to engineering wasn't always a straightforward one.
Engineers Australia honorary fellow Dr Maxwell Lay AM HonFIEAust said he pursued engineering because he was "good at mathematics and didn't want to become an accountant".
This year, 84-year-old Lay released his most recent book — Paving Our Ways: A History of the World's Roads and Pavements. But this is just the tip of the iceberg in a career spanning six decades.
Growing up on a farm, Lay developed an understanding of how engineering could help whenever the property flooded.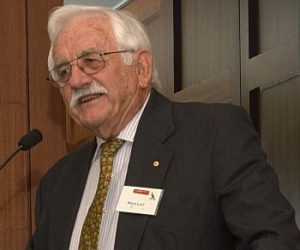 "I thought civil engineering was a pretty obvious choice because of my experiences on the farm," Lay told create. 
"I particularly liked the structural aspects of it because it was stronger in mathematics."
Lay completed undergraduate and masters degrees in civil engineering at the University of Melbourne, before being head hunted by Fritz Laboratory in the United States where he completed his PhD at Lehigh University.
"The lab was fronted by the Bethlehem Steel Company and we mainly tested high strength steel equipment for the navy, mostly for use in submarines," he said.
Lay was drawn back to Australia in 1965 and, after a three-year stint at the State Electricity Commission of Victoria, he took a job at BHP researching the effects of welding on structural steel. But by 1975, Lay realised that to progress in his field he would need to uproot his young family to a remote steelwork town.
"I was complaining to one of my friends and he said, 'Well, the Australian Roads Research Board is advertising for a chief executive officer — why don't you apply for that?'" Lay recalled.
"I did, and they gave me a job, rather surprisingly. It was a major career change."
Paving the way in road research
This career shift sparked a new passion in Lay, who realised that roads weren't just about laying concrete but actually involved a lot of understanding about human nature.
"I really enjoyed the social sciences part of the transport portfolio," he said.
Lay noticed that very few scholars had documented this crossover, and so began keeping detailed notes as he learned the ropes in his new role. He would later use these notes to write a book about designing roads in Australia.
Lay spent the next 20 years working in the Victorian roads and transport sector. Over this time he witnessed road engineering change — not just roads were built, but the whole approach to road design.
"I think there's been a realisation that roads can bring disruption as well as a positive contribution, which has led us to be more socially aware of what we do," he said.
"There's also been a realisation that roads don't have to be ugly. There are increasing examples of well designed roads and freeways that look attractive and actually add to their surroundings."
In 1993, while working for VicRoads, Lay was responsible for the design and appearance of EastLink — a 39-kilometre section of the M3 freeway in Melbourne that links the eastern and south-eastern suburbs of the city. Lay said EastLink, which received a National Commendation for Urban Design at the Australian Institute of Architects' 2010 National Architecture Awards, is one of the projects he's most proud of.
"I built some beautiful roads at VicRoads, but I do think EastLink is one of my favourites," he said.
"It's a beautiful piece of road, it's really great to use and it won national awards for the architecture." 
"Roads don't have to be ugly. There are increasing examples of well-designed roads and freeways that look attractive and add to their surroundings."
If you've driven in Melbourne, it's likely you'll have journeyed on a road Lay was involved in building. He was responsible for the development of the Western Ring Road, as well as acting as an independent reviewer on the Melbourne CityLink project.
In addition to the numerous roads he's had a hand in designing, Lay has also accumulated a trophy cabinet of awards over the years.
In 1995, he received Engineers Australia's Transport Medal and in 2014 he scooped up another Engineers Australia accolade, in the form of the prestigious Peter Nicol Russell Memorial Medal. He was awarded the Order of Australia in 2005.
Since retiring in 2010, Lay hasn't slowed down. His Handbook of Road Technology, first published in the 1980s, is now on it's fourth edition, and most recently he published what he believes is the first international history of roads and pavements. 
Considering this, the advice he has for the next generation of engineers isn't surprising. 
"Keep learning," he said. "The future is always going to be different from today, so the only way we can try to stay on top of everything is to keep learning."
He has one additional pearl of wisdom.
"Be nicer to people! I think that's the mistake I made in my younger years."