As Adrian Spencer readies for a new challenge, create looks at this civil engineer's career of making the complex look straightforward.
Adrian Spencer has built his engineering career in a manner he describes as "counter-intuitive". The moment he finds his comfort zone, he seeks a way out of it. 
"I try to take on roles that I'm not necessarily good at," Spencer told create. 
"That's been a conscious career decision of mine. It may not sound very sensible, but I think it's held me in good stead to become a well-rounded and developed engineer."
Spencer, who is a Chartered engineer and was recognised by Engineers Australia as the South Australian Young Engineer of the Year in 2016, has spent the past 13 years looking for new challenges. His long-term employer, GHD, has been happy to pass them his way. 
He has worked on some of the state's most high-profile buildings and infrastructure projects, such as the $100 million South Australia Aquatic and Leisure Centre and the $840 million South Road Superway. 
He has faced complex geometric challenges during certification on Adelaide's City Tram Extension project and has worked hand-in-glove with architects Grieve Gillett Andersen to make the  engineering behind the city's Anzac Centenary Memorial Walk project seem "invisible".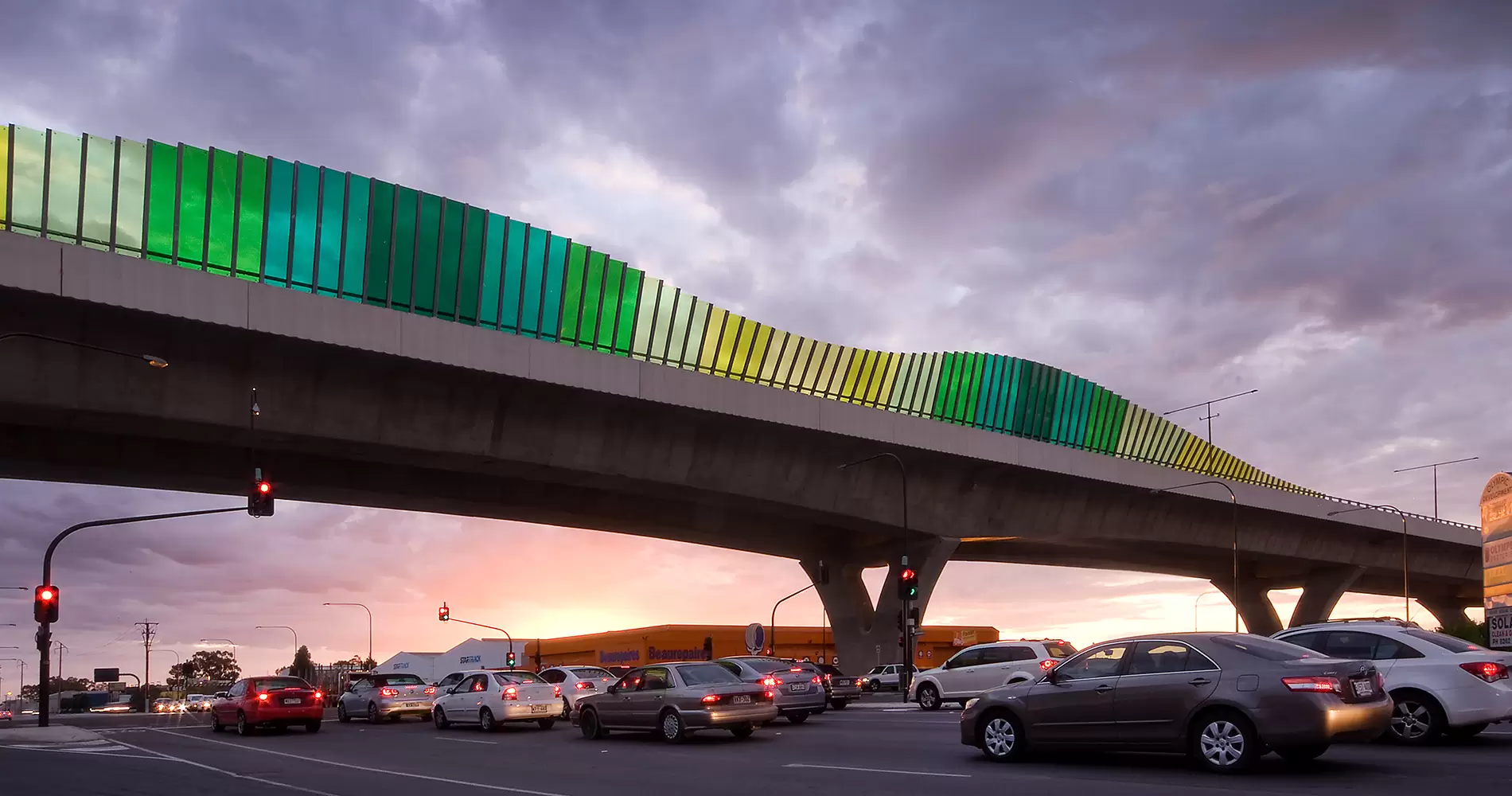 Spencer has also designed a gas platform storage facility in Antarctica and a weather-watch radar tower in Fiji, the country he will soon be calling home when he takes on what is sure to be his greatest challenge to date: Country Manager for GHD, based in Suva.
"This role will be a huge acceleration in Adrian's career," said Carl Willis, a GHD Principal and Market Leader, Asia, who played a role in Spencer's decision to move to Fiji. 
"I've recently returned from the Philippines, where I was operations manager, and I know that when you're working as a country manager in a developing nation you need to be extremely thorough and tenacious. That's why Adrian will do such a good job."
In the deep end
Spencer grew up on a hobby farm and credits this experience with his early interest in engineering. 
"I grew up in an environment where things were always being made fairly intuitively by my dad," he said.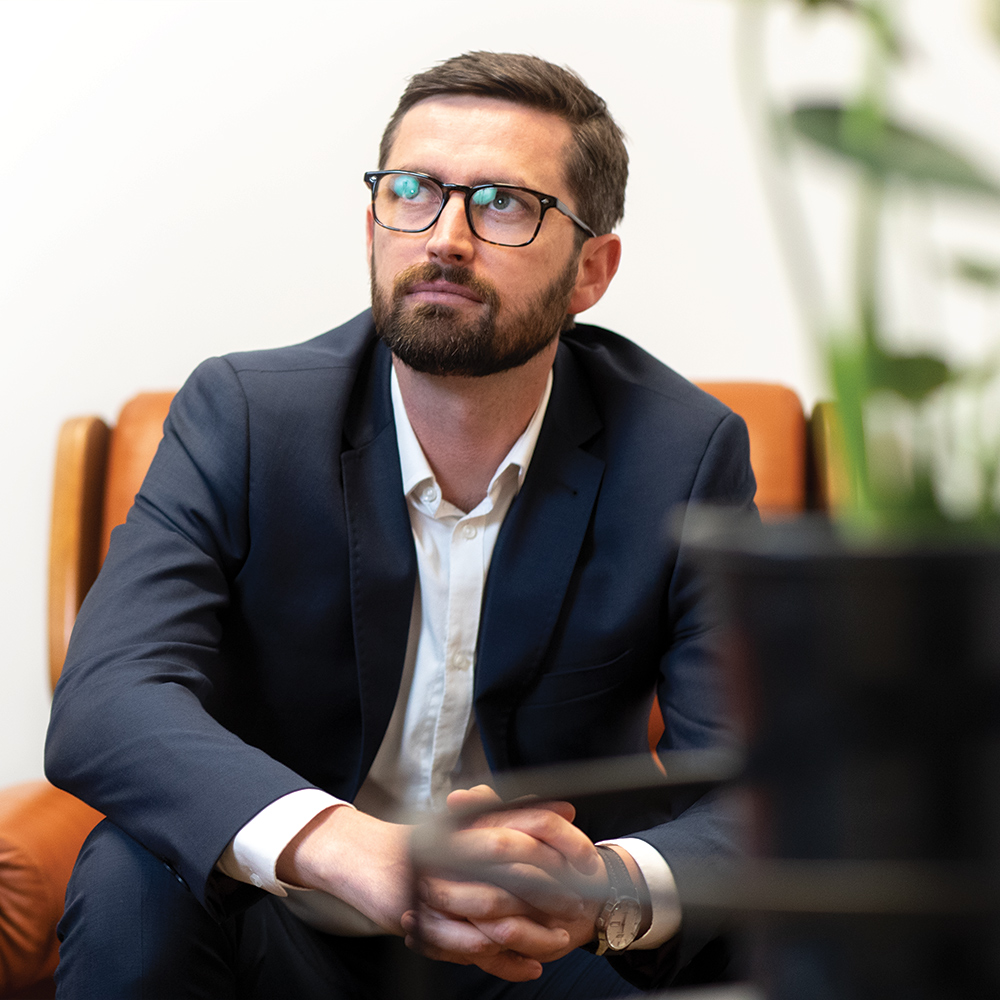 "That's something that sticks with me today — trying to create and come up with solutions to problems."
A desire to watch his work "growing out of the ground" and to create tangible benefits for his community attracted Spencer to civil engineering. He joined GHD as an undergraduate while completing his Bachelor of Civil and Structural Engineering at University of Adelaide. 
He took on a graduate role in 2007 and, within a couple of years, he was appointed to a key technical role on the structural design of the South Australia Aquatic and Leisure Centre. 
Designed by Peddle Thorp Architects, the 10,000 m2 centre features a steel roof with a form that evokes rolling waves. It houses a 10-lane Olympic-class competition pool, a 55 m water polo pool, a series of springboards and diving platforms, and a vast 3460-seat grandstand.
GHD was the civil and structural engineering consultant on the project and was responsible for the design and documentation of elements such as the structural steel framing, precast podium and grandstand seating plats, all in-situ concrete, and site grading and drainage. 
Spencer modelled and designed the structural steel superstructure, including the curved wide-span trussed roof, grandstand framing and other key elements. 
"Most of the structure was exposed, so it was important to get the aesthetic right, and this involved a close collaboration with the architects," he explains. 
"We had to get it right the first time. The project was started and finished within about  13 months, so there wasn't time to be making mistakes."
Spencer describes the project as a "steep learning curve".
"One of the most challenging aspects was the tubular connections," he said. 
"It was such an unusual geometry that required multiple tubular members coming to single points of connection. I worked hard to get an aesthetically pleasing result with all the truss connections of different sizes and orientations and directions."
Michael Tasker, GHD's Technical Director, Structures, was Adrian's first manager at GHD and interviewed him for his undergraduate work experience role in 2003. He also worked with Spencer on the aquatic centre project and describes him as an obvious choice for the project's complex structural work.
"The thing with Adrian is he always provides a well-considered solution," he said. 
"For the superstructure, we needed someone who could really think it through but could also bring some imagination to the task, and that was Adrian."
Building bridges
After rising to the challenge of the aquatic centre's intricate steel structure, Spencer turned his skills to the South Road Superway. 
As lead consultant, GHD provided all engineering design services with major sub-consultants SMEC and IBT.
The project includes a 2.8 km bridge that carries up to eight lanes of traffic. 
It was constructed using the balanced cantilever method and Spencer held a number of technical and project-management roles throughout the four-year design and construction phase. 
"We essentially precast concrete box girder segments and lifted them up, and stressed them on, one by one, alternating between each side of the pier to keep the erected loads in balance," Spencer said. 
"Each segment weighed between 65 t and 90 t, was laterally pre-stressed to achieve a wide deck profile and match cast against the previous so that a perfect fit was achieved when erected."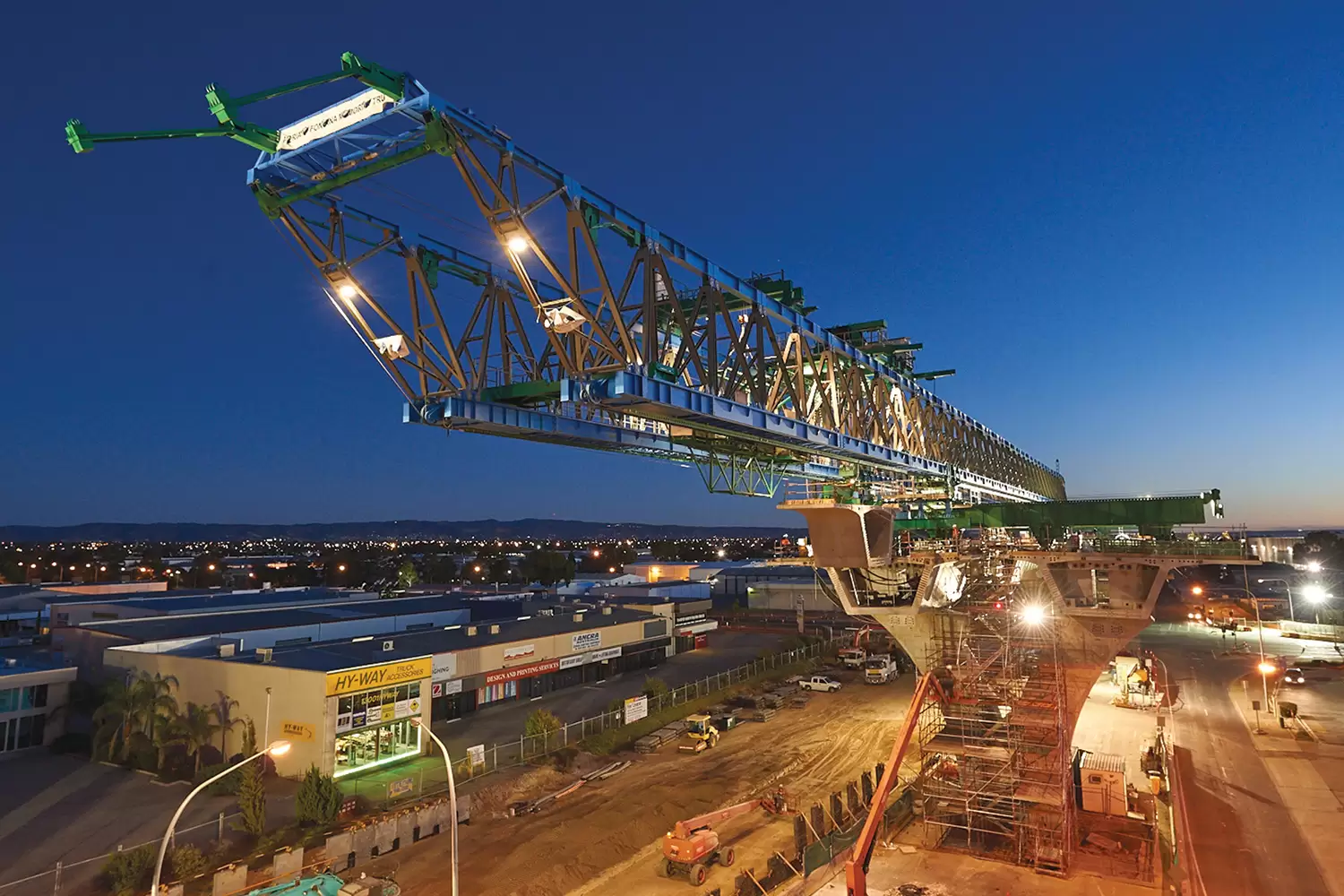 This construction method is not unusual; however, Spencer notes the approach to bridge articulation was a first for Australia.
"An innovative approach to articulation was adopted through the use of mid-span needle beam expansion joints, typically at every four to five spans, with each joint consisting of a pair of 13.5 m long steel beams, and a combination of guided bearings and keeper bearings," he said. 
"Normally you articulate bridges with bearings at piers. There were a lot of positive safety and maintenance outcomes that resulted from this approach."
"We had to get it right the first time. The project was started and finished within about 13 months, so there wasn't time to be making mistakes."
This method also allowed for a reduction in bearings and required less scaffolding or temporary works on the road structure below. 
"It was an incredibly narrow road corridor created with very minimal land acquisition," Spencer said. 
"This meant that we needed to create a tiered structure, like a tree canopy that spreads wide at the top. The shape and form is really quite unusual and I felt really fortunate to work on this project. 
Mason Willis, Asset Manager, Streets Infrastructure Management and Governance, with the City of Adelaide, said Spencer has a knack for distilling complex ideas. 
"You might think that a bridge is just a bridge, but Adrian is able to explain the technicalities in a way that made them really interesting," he said. 
"He doesn't talk down to people who don't share his expertise."
"You might think that a bridge is just a bridge, but Adrian is able to explain the technicalities in a way that made them really interesting."
Extending the city
Another local project that Spencer cites as a career highlight is the City Tram Extension, completed late last year. A key element in the revitalisation of Adelaide's public transport system, the extension is located at the intersection of North Terrace and King William Street. 
"The project initially considered a four-way grand union, which is an incredibly challenging piece of track work," Spencer explained. 
"Left and right movements, as well as straight movements, are permitted in all directions. The real challenge was to come up with a track geometry that could achieve the requirements of the light rail vehicles, and there was a lot of discussion around what was technically feasible."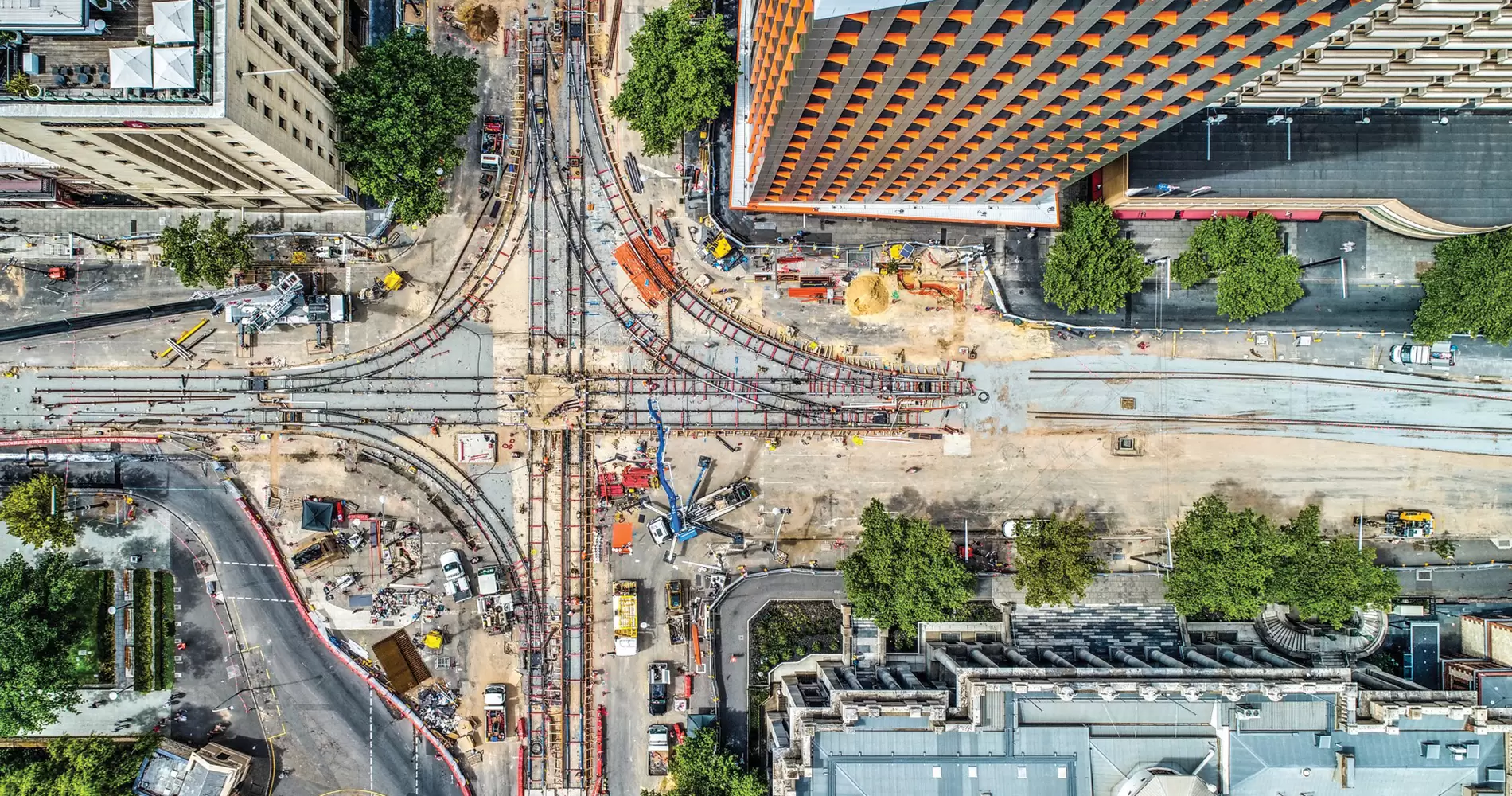 The work was undertaken within an extremely tight timeframe, which added to the challenge.
"There were procurement issues in that the project had a deadline prior to a state government election, but procurement of this special trackwork had to proceed," Spencer said. 
"We had to navigate through that process as the independent design certifier and confirm that the design complied with the State Government's technical requirements. There was a lot of risk management, combined with input from highly skilled technical specialists."
"The real challenge was to come up with a track geometry that could achieve the requirements of the light rail vehicles."
Sink or swim
When Spencer got a call about GHD's Fiji country manager role, he had just returned from paternity leave. His first child, a daughter named Matilda, was born earlier this year.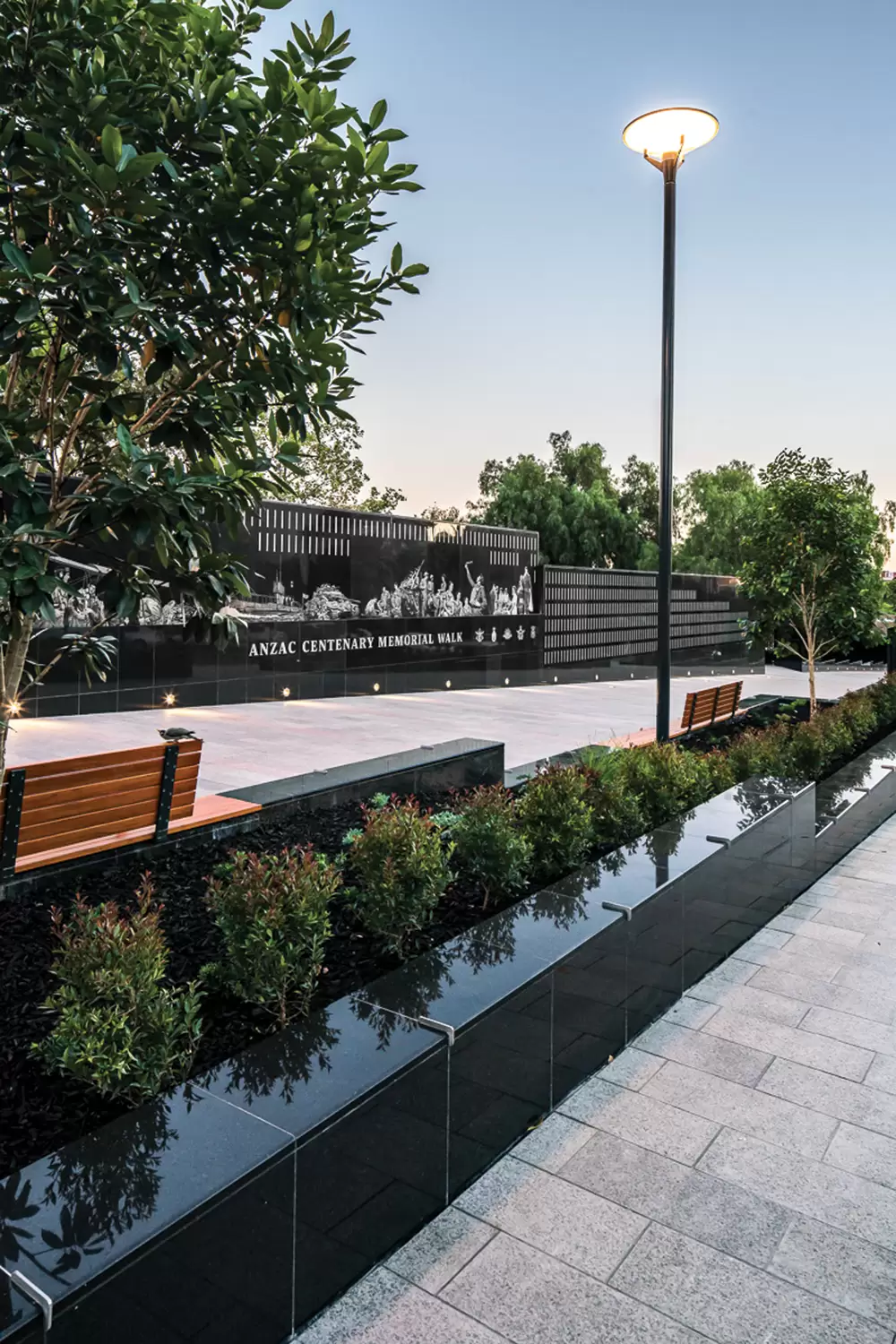 "Carl Willis encouraged me to apply," he said. 
"I guess I'm throwing myself into the deep end again, which I've had a habit of doing over my career, but I know that I'm up for the challenge and I'm going to be supported by a great team."
Spencer says he does not expect his time in Fiji to be all cocktails and palm trees. 
GHD's recent work in Fiji includes the redevelopment of the Blackrock Camp, a regional hub for police and peacekeeping training for the Fiji and Australian Governments, and a Runway Extension at Nausori Airport in Suva to improve Boeing 737 aircraft take-off and landing safety.
"It's going to be a really interesting challenge and I think I'm going to learn a lot from it, both personally and professionally," Spencer said. 
"I can't wait to see where that will lead us."  
This article originally appeared as "Strong foundations" in the December/January 2019 issue of create magazine.