An ingenious device created by Laing O'Rourke has the potential to make Australian workplaces much safer.
Innovation is crucial to long-term business success. It can fuel productivity, improve operations and is fundamental to the future success of many organisations in the engineering and construction sector.
But as international engineering enterprise Laing O'Rourke has recently shown, innovation can also help achieve the most vital of business outcomes: workplace safety.
The engineering and construction giant recently featured in the top 20 of the Australian Financial Review (AFR) Top 100 Most Innovative Companies list, largely due to its development of Toolbox Spotter — a high-tech device that was developed in response to the need for new, improved approaches to hazard detection and making sites safer.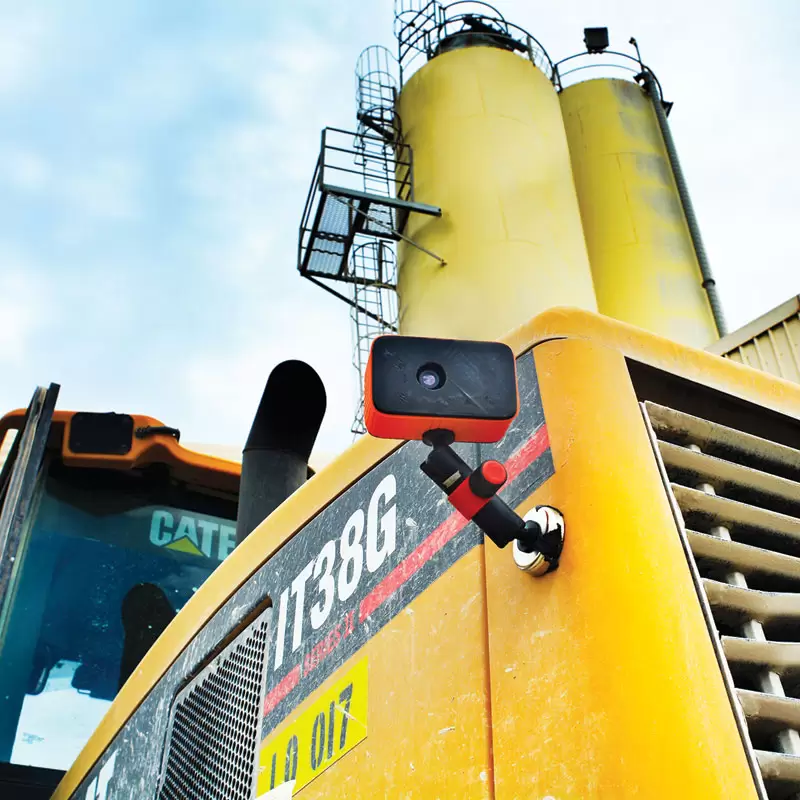 In 2016, 187 Australians were killed and almost 105,000 were seriously harmed as a result of a workplace incident. Safe Work Australia estimates the national impact of these traumatic injuries to be close to $62 billion.
Laing O'Rourke's innovation — referred to in development as the Toolbox Spotter — has the potential to make a large number of Australian workplaces safer, and not just in the construction sector.
The device is a three-legged camera that uses artificial intelligence to detect and alert when a human or object is at risk of harm. It is a collaboration between the company's Engineering Excellence Group (EnExG), and a number of its project delivery teams.
Driving workplace safety
Laing O'Rourke's inclusion among AFR's Top 100 Most Innovative Companies marks the third time it has been nominated and made it to the list. It also achieved a top 20 ranking in 2014 and 2015, when it was one of the first tier-one engineering and construction companies to be recognised.
Such recognition is largely the result of Laing O'Rourke's long-held commitment to disrupt the engineering and construction industry — a goal now formally incorporated in the company's 2025 mission: to be the recognised leader for innovation and excellence in the sector. It's well on the way.
Dr Nathan Kirchner, robotics leader at Laing O'Rourke, directed the development and implementation of the Toolbox Spotter and said the company's cross-functional approach to innovation also helps set its teams apart.
"Laing O'Rourke is quite unique in my experience; our different functions work closely together and, when it comes to innovation, really listen to each other, which accelerates ideas," he said.
Kirchner said the Toolbox Spotter uses artificial intelligence in the form of deep learning to absorb examples of relevant hazards, such as people or objects that might be in blind spots, and then uses a convolutional neural network to identify the objects on site.
Once it has identified something, it sends an alert and site workers can choose how they wish to receive it.
"The idea was to make the communication of the human-machine interface really simple and so natural that it's almost invisible but still very effective," Kirchner said.
"It is designed to recognise humans and objects in the same way that people do, and then alert workers in the same way that a colleague would — a bit like a tap on the shoulder.
"People can also choose to be alerted by an alarm or a flashing light, but the goal is to be intelligent on the front end and invisible on the back end. We put all the complicated tech into the detection."
The power of collaboration
Kirchner said collaboration was vital to the success of the Toolbox Spotter.
"As soon as we developed our prototype, rather than just spending a lot of time on the science to measure its success, we engaged with the professionals who were working in the field," he said.
Peter Zmuda, a health and safety manager at Laing O'Rourke, was involved in testing the Toolbox Spotter on the site of a major rail project in Victoria and said the device has been well received.
"We were particularly focused on using it on excavators, which have a number of blind spots when in operation," he said.
"Traditionally, we would put a person in place to act as a spotter for these machines, but then it's often the spotter who is in a position of risk."
Radmila Zubovic, a project engineering leader who was also involved in the testing of the Toolbox Spotter on site, said its simplicity is key to its effectiveness.
"It's not over-complicated and that's why it's so good," she said.
"It only took us about 15 minutes to set up and the driver can choose how they want to be alerted. We tested it with a sensor wristband, similar to a smart watch. The operator loved it because it gave him more confidence with his operation and it absolutely has potential to prevent dangerous incidents on site."
This is the ultimate aim of the Toolbox Spotter, said Kirchner.
"It helps achieve better operations and boosts productivity, but the real reason we're doing it is because it's the right thing to do. Improving safety is always our ultimate goal, and the other benefits of the Toolbox Spotter are just a bonus," he said.