They may be largely unseen, but the engineers who bring toys to life have a unique set of challenges.
All engineers face two key challenges: to devise solutions that work and that can cope with the rigours of their environment. Their creations must be tough enough, and capable enough, of doing what they need to do.
But for one set of engineers, there's an additional and unique challenge: to make it fun.
And while toy engineers may not be as visible as their colleagues, their creations are some of the most used on a daily basis by a particularly dedicated user base. They strive to apply their maths and engineering skills to making products that are not only durable, but entertaining
and affordable.
This is especially the case with toys that seek to blend engineering and fun into commercial products, such as those of family-owned Australian companies Moose Toys and KidzInc. These companies' engineers and "toyologists" use their skills to build and supply a range of different toys to entertain, educate, and engage children.
Moose is one of Australia's largest toy companies and whose range extends from Shopkins to the worldwide success that is Bluey. Its designers are based in Melbourne, the UK, Germany, France, China, Hong Kong and Los Angeles.
For Carl Budd, Engineering Manager at Moose Toys, it began well outside the world of toys.
"Most of my previous life was spent in the design of medical devices, sometimes at the R&D end and sometimes in the manufacturing side," Budd told create.
"I also spent a few years in the oil and gas industry, and industrial automation — industries where every stage of development has to be performed to the nth-degree, and documented, reviewed and tested.
"This was a great foundation for understanding how to separate what steps must be done, and what steps can be left out in order to arrive at a functional, workable solution as quickly as possible.
"Exposure to various disciplines, such as mechanical design, industrial design, electronics and software design in my earlier career, has given me the skillset to take on the challenges of engineering for toys."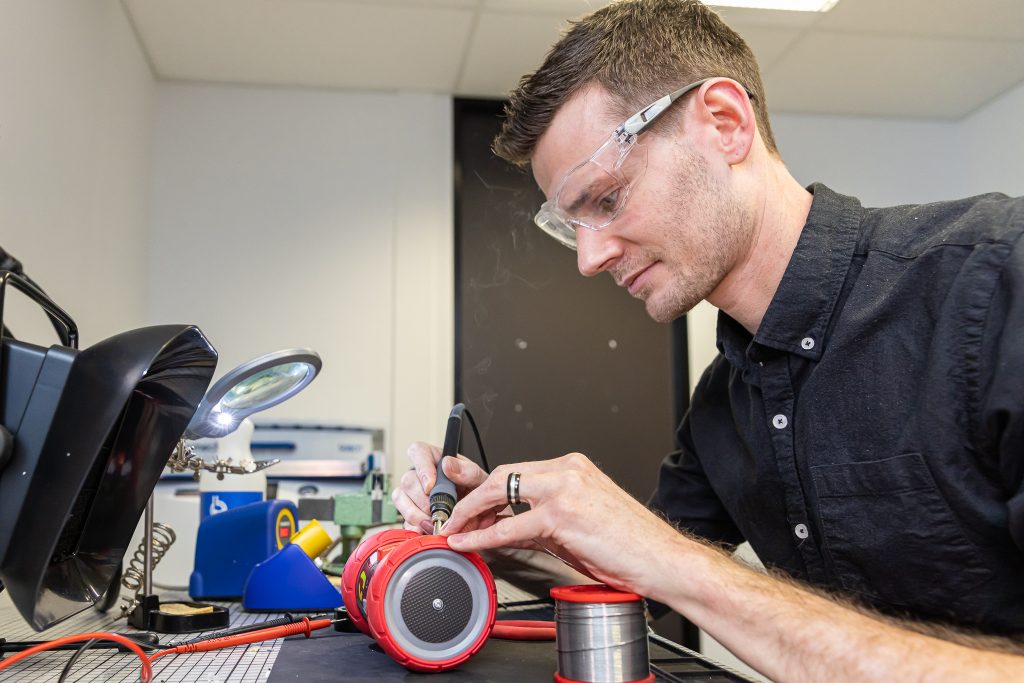 Creativity and play
One skill Budd had to learn on the job was how to make fun. "A toy engineer helps to bring a fun and playful idea into existence," he said. "We take imaginary concepts and turn them into a physical, manufactured product, while doing our utmost not to lose any of the magic along the way."
Magic aside, Budd explains the engineering process is much like regular product development, but on a faster timeline, and with a different testing audience: kids.
"Testing with actual kids along the way is essential," he said. "Durability is a fun challenge; you can spend hours thinking of all the imaginative ways kids might push, pull, step on your design, only to be surprised when they try to give it a bath instead."
New developments typically start with initial brainstorms and sketches. The process then moves to computer-aided design before prototyping, using in-house 3D printing and electronics capabilities.
After that, it goes through a number of iterations to meet the needs of stakeholders, including designers, licensors, retailers and children, all while considering compliance, safety and cost factors.
Budd explained that cost is a major factor in toy engineering, because "anything is possible if you have the budget".
PRACTISE APPROACHING EVERY PROBLEM FROM A FRESH ANGLE, MAKE A HOBBY OF BENG CREATIVE. AND NEVER STOP BEING FUN."
"But any consumer good has to be affordable if you want to sell many of them," he said. 
"Distilling the most fun elements of an idea into an affordable product takes a lot of effort."
He said one of the largest industry shifts he is seeing is towards greater sustainability, which is coming not just from regulatory bodies but also consumers demanding "guilt-free" products that use greener materials, more sustainable packaging and improved manufacturing.
Despite these challenges, Budd said he loves the industry, and if asked for one piece of advice for aspiring toy engineers, suggests: "Don't get comfortable doing only one thing really well". 
"Practise approaching every problem from a fresh angle. Make a hobby of being creative," he said. "And never stop having fun."
Play and inspiration
Lubica Misevski, owner and Chief Toyologist for KidzInc, focuses on providing toys that lay the foundation for the next generation of engineers through early exposure to STEM skills.
Prior to her current role, Misevski had trained as a mathematician and was a business consultant, analysing processes and systems to identify inefficiencies or areas for improvement, and creating strategies to optimise these processes and procedures. 
While Misevski doesn't design the toys herself, she uses her analytical background to discover the best STEM-focused toys to improve children's IQ, EQ and even "FQ" — or financial intelligence.
"Toyology is a multidisciplinary field that combines various areas of expertise, such as child development, psychology, design, engineering, marketing and business," Misevski said.
"Many toy manufacturers and educational organisations have partnered to create programs and resources that promote STEM education, such as coding classes and STEM camps.
"These initiatives are designed to expose children to STEM concepts at an early age and encourage them to pursue STEM fields in the future." This is increasingly important, since it is predicted that workers of the future will spend more than twice as much time on tasks that need STEM skills than they do today. 
Fun and future-focused
Misevski says that when designing toys that stand out, it is essential to strike a balance between aesthetics, function and safety — and to use science and engineering principles to create
toys that promote learning, creativity, and imagination in children.
One of the major shifts Misevski has seen in toy engineering, along with an increasing emphasis on sustainability, is more integration of technology.
Toy engineers are incorporating such advancements as artificial intelligence, augmented reality and robotics to enhance the play experience and provide new learning opportunities.
"Some STEM-focused toys include building sets, coding, robotics and science experiment kits," she said. "These toys allow children to explore STEM concepts in a hands-on and interactive way, which can help them to understand better and retain the information."
Toy engineers may be one of the profession's "hidden" engineers, but their impact and efforts in designing and creating toys that are durable and sustainable enough to not only entertain, but also educate the next generation, plays a special part in shaping a better future.