Sydney University student Anne Bettens is living every young aerospace engineer's dream. In early March, she arrived at NASA's Jet Propulsion Laboratory (JPL) in Pasadena, California to begin a
prestigious ten-week internship, sponsored by Australian Space Research Centre SmartSat CRC.
One of only two Australian PhD students chosen to partake in the program, Bettens' research focuses on vision-based navigation for space exploration – leveraging trained machine learning algorithms for a more accurate estimation of Space Situational Awareness.
"One of the main things I do is look at satellites that are in close proximity to one another to estimate the position and orientation," she said. "That's quite useful for space debris removal or if the satellites come together to do repairs on each other."
But the work she's doing at NASA tackles a different terrain. "This work involves vision-based navigation, but for a lunar rover that will hopefully be on the moon's surface someday," she said.
"I'm [also] looking forward to becoming more familiar with the artificial intelligence and machine learning technologies being developed by JPL for planetary exploration."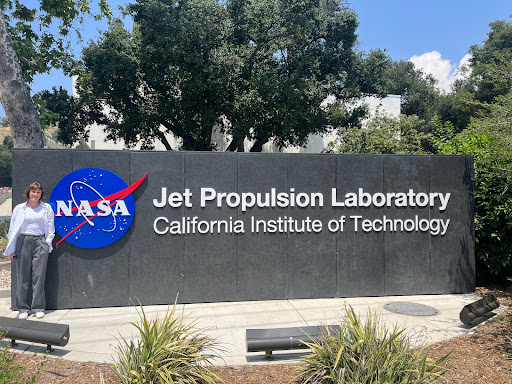 A shift in focus
As a satellite specialist, a lunar rover is a new type of robotic spacecraft that Bettens has had to adjust to.
"They behave a little bit differently and you have to account for different things," she said. "For example, lunar rovers have to navigate around craters, whereas satellites approach each other and can move in any direction without a flat surface to move on."
As part of JPL's robotic perception group, Bettens' research experience led her to a smaller subset of the team that looks at vision localisation on the moon. 
"My team looks at the moon in darkness," she said. "For example, when [the rover] navigates at night or on the dark side of the moon, that presents a whole other set of challenges."
NASA's focus on sustainable space exploration is also of particular interest to Bettens, who is a keen environmentalist.
"There's a lot of policy and procedure around making sure what we send into space is sustainable," she said.
"For example, a rover landing on the moon needs to be clean and sterile, without contributing to the space debris problem."
The benefits are twofold, with JPL's earth observation technology capable of providing data on weather monitoring, allowing us to develop more sustainable solutions on earth. 
"That's very motivating as well, because being ethical as an engineer is very important to me," added Bettens.
While the program is technically a mentorship, Bettens has a bit more free reign as a PhD student who "understands how to conduct research". 
"JPL is halfway between industry and academia. As a PhD student, my work is predominantly done on my own, so it's good to be able to work in a team, learn from them and pick up on things I normally wouldn't get the opportunity to, while validating my own research."
"BEING A LITTLE NERD, ONE REALLY COOL THING FOR ME WAS SEEING JPL'S MISSION CONTROL OPERATIONS CENTER, WHICH IS WHERE ALL THE SATELLITES AND MISSIONS EXPLORING PLANETS ARE ALL CONTROLLED IN ONE ROOM."
Browsing around Nasa
As a curious aerospace engineer, Bettens has her eye on some other cutting-edge robotics projects – including the engineering twin of the Mars 2020 Perseverance Rover which is currently exploring the planet looking for signs of past microbial life.
"The cool thing about the Perseverance mission is that it has the Mars helicopter, Ingenuity, on board which is pretty impressive from an engineering perspective," she said.
"I also recently got to see a demo for the EELS project – an autonomous snake-like robot – which is pretty sci-fi."
The self-propelled Exobiology Extant Life Surveyor – designed to slink around hard-to-reach terrain such as the ocean beneath the surface of Saturn's icy moon, Enceladus – has been tested at JPL's Mars Yard and the snowy Southern California mountains.
But no placement at NASA would be complete without watching a rocket launch or two.
"Being a little nerd, one really cool thing for me was seeing JPL's Mission Control Operations Center, which is where all the satellites and missions exploring planets are all controlled from in one room," she said. 
Future focus
Post internship, Bettens plans to stay on at JPL until the end of September to soak up as much invaluable information as possible, while developing her own fledgling space mobility start-up, Deneb Space.
"We're aiming to develop an autopilot in space to increase the agility of satellites so we can observe earth more accurately and get better, higher resolution images," she said
"Some of the technology we're developing will also hopefully extend the life of robots, which will lead to less debris up there."
While Bettens is unsure whether her aerospace future lies with NASA or back home, a new partnership between the two countries means opportunities abound.
"NASA and the Australian Space Agency just announced more collaboration on their projects, which is pretty exciting," she said.
"It's a really good time because fundamentally, there's a lot of really good deep tech being developed in Australia, but it's just about getting out there and getting to space."
Aside from navigating lunar landscapes, the avid photographer has also taken the opportunity to explore California's unique landscape.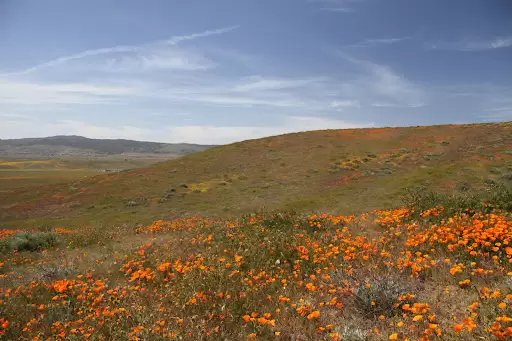 "Because there's been so much rain, we had a superbloom this year, so I got to go out and take some photographs of wildflowers," she said.
A stargazing trip to Joshua Tree in the Mojave Desert is next on the cards for this space enthusiast. "It will be nice to get out of the pollution in LA and see the stars," she added.