A super-efficient CO2 refrigeration solution promises to greatly reduce greenhouse gas emissions for cooling, especially in warmer climates.
The University of South Australia and Glaciem Cooling Technology's Super-efficient CO2 Refrigeration Integrated with Phase Change Energy Storage project has been awarded an an Australian Engineering Excellence Award, and will go on to compete against other regional winners for the national Sir William Hudson Award at the Pinnacles Awards Ceremony on 9 November.
Professor Frank Bruno, Research Professor at the University of South Australia's Future Industries Institute, said the research on phase change materials (PCMs) for cold storage was 15 years in the making.
Engineers set out to solve the challenge of effectively operating commercial refrigeration systems in warmer climates.
"Glaciem Cooling Technologies was spun out of this company to commercialise this cold energy storage technology," Bruno told create.
"They were interested in improving the performance of CO2 refrigeration for Australian conditions by integrating dew point cooling technology."
Conventional refrigerants have phased down in recent years, Bruno said, which led to Glaciem taking an interest in CO2. The high energy efficiency is obtained by cooling the condenser of the CO2 refrigeration system with air that is cooled from a dew point cooler.
"A dew point cooler works on the principle of evaporative cooling, which is a very efficient means of obtaining cooling," Bruno explained.
"However, it differs from conventional evaporative cooling systems in that air flows through a special plate heat exchanger where it is humidified in specific channels so that the temperature of the air leaving is close to the dew point temperature of the air.
"In almost all cases, the temperature from the dew point cooler is below 25˚C, enabling the CO2 refrigeration cycle to operate efficiently."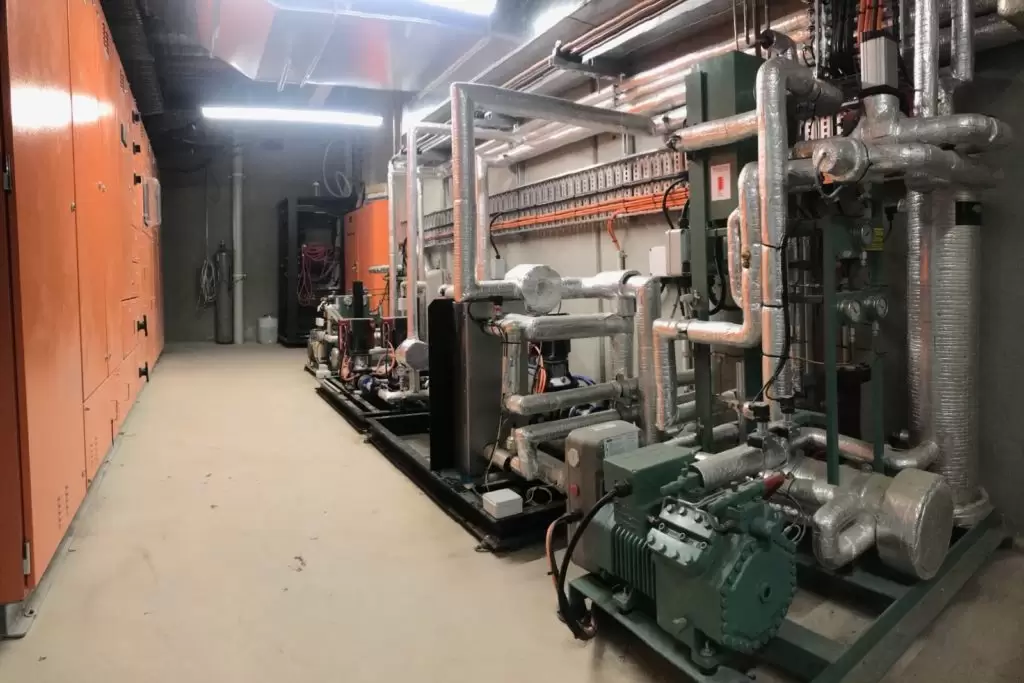 Dynamic melting
Combining the system with thermal energy storage enabled it to store the cool air.
Professor Bruno said the University of South Australia had been developing PCMs for more than 20 years.
"This is stored in a phase change material specifically developed for operation with CO2 refrigeration and cold storage between 2˚C to 4˚C," he said.
"We have been primarily working with salts, as these materials can be very cheap and also they can result in high energy storage density."
However, these salts can be unstable and lead to a short life, which led the team to develop the concept of dynamic melting. This was incorporated into the thermal energy storage system, giving them a lifespan of more than 20 years.
"We have developed a methodology in-house to determine what salts and their composition should be used to tailor a specific storage temperature," Bruno said.
"The PCM developed in this project has a freezing point which enables it to be charged efficiently with CO2 refrigeration."
Cost efficiencies
The cooling system is not suitable for domestic applications, but is ideal for industrial-scale refrigeration systems. The thermal energy storage technology in particular allows businesses to take advantage of cheap or renewable energy to store cooling, reducing their energy costs.
Glaciem Cooling Technology Managing Director Julian Hudson added that the system paves the way to use CO2 refrigeration in warm and hot climates.
"During Adelaide's hottest day on record, when the maximum ambient temperature reached 47.5⁰C, the system was operating around 65 per cent more efficiently than conventional refrigeration systems used today," he said.
"During Adelaide's hottest day on record, the system was operating around 65 per cent more efficiently than conventional refrigeration systems."
With refrigeration taken care of, the engineers are now turning their attention to the other end of the scale.
"We are now developing high temperature CO2 heat pumps for temperatures up to 150˚C, to provide process heat in industry," Bruno said.
"As for the PCM technology, we are currently working on developing thermal energy systems to store heat up to 1500˚C, for applications such as medium to high temperature process heat in industry and next generation solar thermal power plants."
Tune in to the Pinnacles Awards Ceremony on 9 November to find out who will take home the Sir William Hudson Award.