Three Australian university teams have been awarded US$250,000 (AU$338,000) in the Elon Musk-sponsored XPRIZE Carbon Removal Student Competition.
The competition recognises students for their ability to tackle climate change by developing new technical solutions around atmospheric carbon capture and conversion. 
Groups from Monash University, the University of Sydney and the University of Tasmania were among 23 winners and will receive the funds to further develop their research and compete for the larger XPRIZE — a $50 million grant from the Musk Foundation.
Sponsored by the Musk Foundation and the XPRIZE Foundation, XPRIZE seeks to inspire scalable, efficient solutions to collectively achieve the 10 gigatonne per year global carbon removal target by 2050.
The four-year global competition invites innovators from around the world to create a solution that can pull carbon dioxide directly from the atmosphere or oceans and store it away permanently in an environmental way.
To win the grand prize, teams must demonstrate a working solution at a scale of at least 1000 t of CO2 removed per year, model their costs at a scale of 1 million t per year, and show a pathway to achieving a scale of gigatonnes per year in future.
"The ultimate goal is scalable carbon extraction technologies that are measured based on the 'fully considered cost per ton' which includes the environmental impact," Elon Musk said.
"This is not a theoretical competition; we want teams that will build real systems that can make a measurable impact and scale to a gigaton level. Whatever it takes. Time is of the essence."
Turning oil infrastructure into seaweed sites
Blue Symbiosis, from the University of Tasmania, aims to repurpose retired oil and gas infrastructure as seaweed cultivation sites as an alternative to complete removal, under circumstances when it is environmentally positive.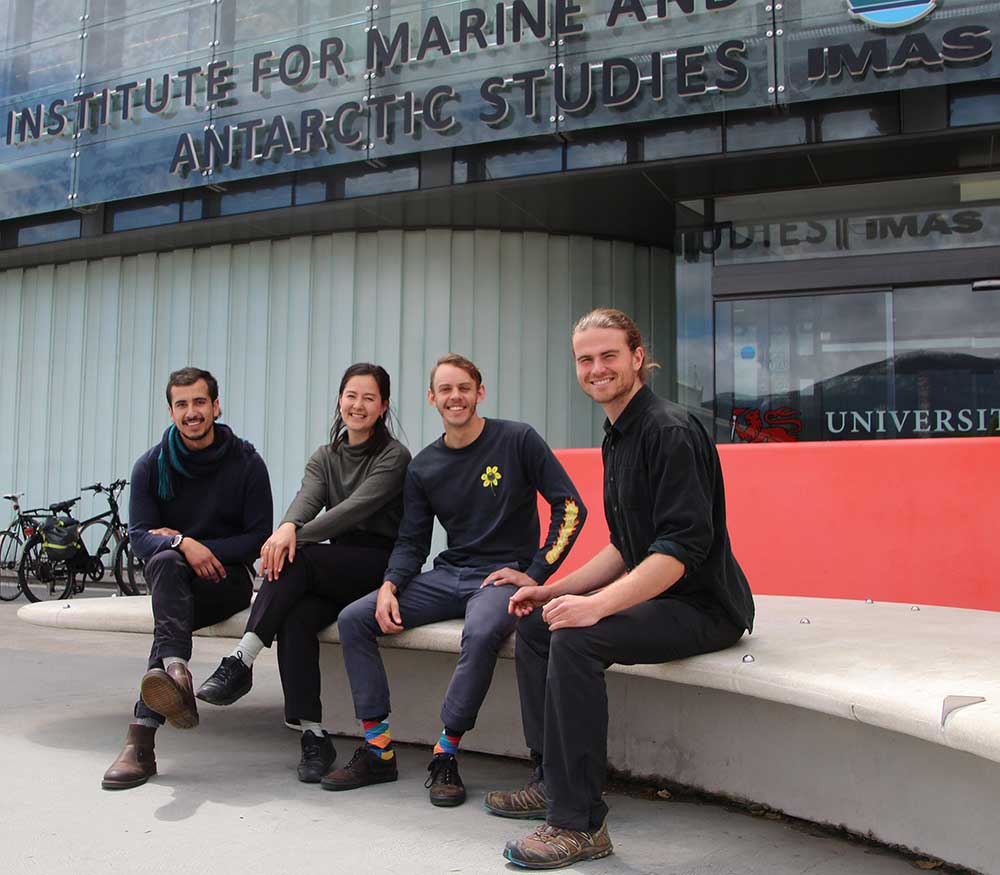 "We are figuring out a way to grow seaweed in rough conditions. Attaching seaweed arrays onto oil and gas platforms presents a unique engineering challenge," team member Joshua Castle told create.
"Now, we are developing a detailed design for the specific conditions in these environments. No one has designed something for these conditions to grow seaweed so it is an exciting space to be in."
It works by using an offshore gas platform as the trunk, with Blue Symbiosis adding the branches on which seaweed can grow. This will allow them to scale up seaweed production large enough to restore ocean health, and to use seaweed as a product in 100-year construction materials. The project will also save platform decommissioning costs. 
The prize offers the Blue Symbiosis group the seed money needed to be able to put a pilot in the water to prove their concept. Castle notes that the group is seeking more philanthropic funding.
Fellow researcher and PhD candidate Mathieu Courdier added that if the project is successful, they hope to have a prototype in water as soon as mid-2022. 
"One of the engineering challenges I foresee is to do the hydrodynamics analysis of a 'hybrid' structure that is partly rigid and partly soft," he said. "Doing this plus the model tests in a short time frame will be a challenge."
"Removing CO2 from the atmosphere is one of the greatest environmental challenges of our time, and Australia is uniquely positioned to deliver the solution."
Removing carbon from the air
The University of Sydney team, overseen by Professor Deanna D'Alessandro from the University of Sydney Nano Institute and led by PhD student Eleanor Kearns, collaborated with local renewables start-up Southern Green Gas, alongside Corporate Carbon and Swiss Re.
Their project, Sydney Sustainable Carbon (SSC), sustainably sources carbon dioxide from the atmosphere — rather than obtaining it from fossil fuel resources. The captured gas can either be compressed and stored via geosequestration, or used via an interconnected set of fossil fuel-free technologies called Carbontech.
SSC's technology is based on Metal-Organic Frameworks for highly selective carbon dioxide removal from air. They are also developing high volume continuous flow synthesis of these materials coupled with innovative 3D-printing methods to produce ultra-high surface area direct air capture modules.
For example, a range of foods grown in greenhouses, such as fruits and vegetables, as well as algae — a valuable source of high protein food and omega 3 food supplements — could be grown more effectively and sustainably using CO2.
The modular system is fully powered by renewable solar and can sustainably scale to reach gigatonne carbon dioxide removal.
"Removing CO2 from the atmosphere is one of the greatest environmental challenges of our time, and Australia is uniquely positioned to deliver the solution," Professor D'Alessandro said.
"It has around 300 million hectares of non-arable land with high solar intensity. We hope the recognition brought about by this award will encourage the Australian Government to support negative emissions technology in the near future."
A novel form of biosequestration
Monash University's team Carbon Capture and Conversion (MC³) was led by undergraduate students from across engineering, science, business and humanities disciplines, as well as from its Malaysia campus.
Chief Executive Officer of MC³ and fourth year bachelor of engineering and commerce student Emily Qiao, said the team's key focus was on the capture of CO2 via biosequestration.
"We submitted a biotechnology proposal that consisted of biologically-assisted carbon capture and conversion methods. [This] focused on the capture of CO2 from the ocean and air via artificial forestry and microalgae cultures in novel designed floating photobioreactors," she said.
"The biomass produced from these carbon farms will then be utilised downstream, powered by bioenergy, in their transformation into cross-laminated timber. [This can be used] for sustainable buildings and biochar, a charcoal that can be used for soil amendment."
All three groups will progress to the next phase of the XPRIZE Carbon Removal Competition, which concludes on 1 February 2022.