At the age of six, Dennis Savic was drawing motor engines while his friends were drawing their pet cats. Now he's leading Australia's first electric motorcycle company.
An electric motorcycle that can accelerate from zero to 100 km/hr in just four seconds?
You can almost hear the revheads scoffing. But that's exactly what mechanical engineer and founder of Savic Motorcycles, Dennis Savic, has created.
And, if the recent reaction from diehard motorcycle enthusiasts is any indication, the 26-year-old Melburnian is on to a winner.
When Savic unveiled the prototype of his C-Series electric motorcycle at the 2018 Moto Expo in Melbourne in November, he was greeted with cheers and whistles from the crowd.
It was a reaction he describes as "surreal and motivating". Within 36 hours, Savic had completed orders for the 10 prototypes he plans to build this year.
It was an overwhelming validation of a life-long ambition to build his own motor vehicles.
Power to move
At the age of six, Savic was drawing motor engines while his friends were drawing their pet cats. At 14, he set his sights on mechanical engineering as a path to his career goal and later enrolled in an engineering degree at the University of Western Australia.
Following a brief diversion into the oil and gas industry after graduation, Savic's focus returned to building his own motor vehicles, and he enrolled in a Master of Business Administration to gain the skills required to also build a successful business.
"I wanted to develop my skills to an adequate level so I could communicate with investors and understand what a balance sheet is all about," he said.
"An MBA doesn't prepare you completely for business, but it gives you the tools and the jargon you need."
Savic Motorcycles is the first electric motorcycle company in Australia. It recently received seed funding and is currently preparing for a Series A capital raise.
Savic said he's been fortunate to have valuable mentors, one of whom is an early stage investor, while another is a corporate advisory specialist.
"They were kind enough to let me pick their brain over a beer once a month — or sometimes once a week, depending on how many questions I had," Savic said.
"I had to devise an investment strategy and a business plan and road map. The end goal is large-scale production, but the road to get there is quite long. We're still at the early days."
Sophisticated software
Data from global research and consulting firm Frost & Sullivan show sales for electric vehicles reached 1.2 million in 2017 and are expected to climb to 25 million units by 2025.  
Savic said that his choice to build an electric rather than a traditional vehicle was a no-brainer.
He has a deep love of motorcycles and saw a gap in the electric vehicle market.
"It's much easier for motorcycles to comply with Australian standards," he added.
"There's no crash testing required. The compliance process is much cheaper and simpler than for a car."
The creation of Savic's C-Series prototype was aided by sophisticated engineering software accessed through Altair's Global Start-up Program.
Altair's computer-aided engineering software and simulation design tools are used by companies such as Ford, Airbus and Samsung.
Savic is using the software to develop computer-aided engineering analysis, simulation, stress testing, topology optimisations and load testing.
He said the technology lets him build his prototype quickly and affordably.
"The old-school method of building something, breaking it, redesigning and rebuilding it just doesn't work when you don't have a huge amount of capital," Savic said.
"The software gave me all that information, and, along with some initial testing and correlation, it's been so beneficial and is going to really assist us."
Savic is also in the process of creating a 'digital twin' for his motorcycle.
"It involves collecting as much data as possible from a physical prototype and importing it so you can perform predictions on maintenance requirements or complex things that usually require much more expensive testing," he explained.
Need for speed
Savic concedes that electric motorcycles are often considered to be mere strapping versions of a scooter.
However, he said, the C-Series specifications are on par with some of the high-performance vehicles in the market.
His business strategy draws inspiration from that of Elon Musk, co-founder and CEO of electric car company Tesla.
"You need to demonstrate the performance that comes at a similar price but with drastically decreased operating costs and some unique styling that sets you apart," he said.
"When people looked at our specs, they were pleasantly surprised. It's become very evident that we have hit the mark with the design, the spec and the price."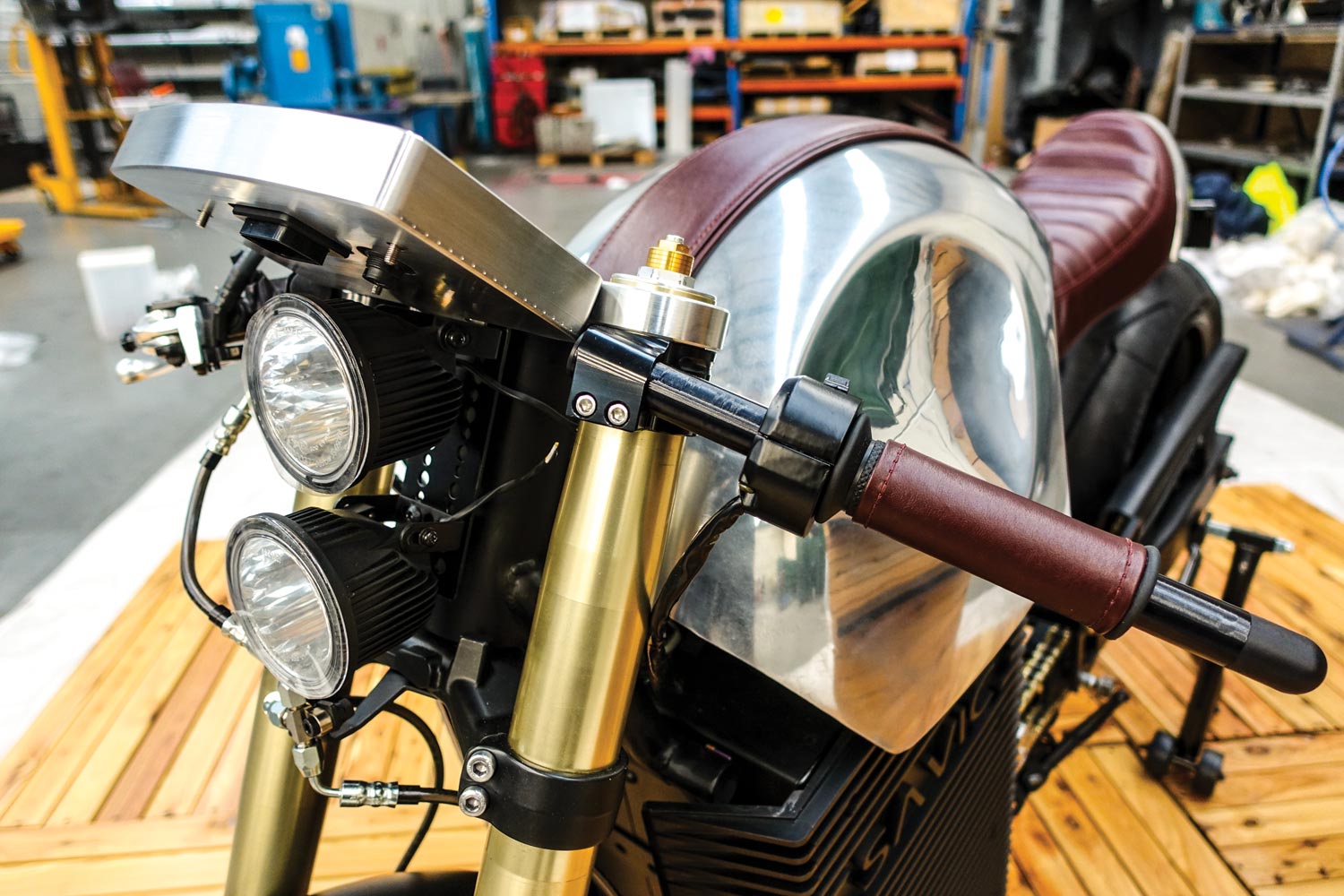 The motorcycle's muscular design features a rolled backbone frame. Savic developed its electric motor and energy storage system.
The concept prototype has a plug for a standard power point, and Savic is working with a designer to develop a charger.
The Savic Motorcycles technology also offers significantly lower operational costs than a traditional internal combustion engine (ICE). For example, a single charge of 9 kWh would cost a rider only $3 and last for 200 km, as opposed to the ICE equivalent, which would cost about $15.
Savic said his long-term vision for the business is to produce 5000 units a year, which will require global expansion.
"We plan to build the first 10 bikes in 2019 and then build anywhere f1rom 50 to 100 in 2020," Savic said.
"We don't want to expand too quickly, because the event of a recall, which a lot of manufacturers experience from time to time, would add a lot of risk to the company."  
An electrifying ride
Much of the power packed into Savic Motorcycles' electric vehicle is due to the powertrain unit.
"The whole powertrain is liquid-cooled, meaning we can get more performance out if it," Savic explained.  
"From our analysis, we also know that the motor and battery pack are not going to get hot enough to warrant a radiator, so we've designed fins onto the production powertrain and just have a pump.
"This is essentially minimising maintenance and the number of components that are needed. It also gives it a slick-looking design."

This article originally appeared as "Hot wheels" in the May 2019 issue of create magazine.