As a designer of major power plants, drill pioneer Arthur James Arnot knew a thing or two about how electricity could make life easier.
In 1891, two years after arriving in Melbourne from Scotland, Arthur James Arnot was appointed the first ever electrical engineer for Melbourne City Council.
Much of Melbourne's original street lighting was developed as a result of Arnot's planning, and the Spencer Street Power Station was designed and managed by the enterprising engineer.  Later in his career he would also develop power plants for tramways in Sydney, Christchurch and Auckland.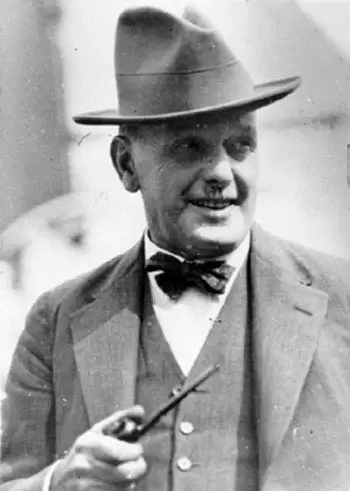 Surprisingly though, it's not for these achievements that Arnot is best remembered.
Instead he is justifiably honoured for inventing and patenting the electric drill.
Arnot and colleague William Blanch Brain, both based in Melbourne at the time, patented the electric drill in 1889. Generations of miners, builders, tradespeople and home handymen and women have benefited ever since.
Arnot and Brain weren't responsible for the portable, handheld, pistol-grip drill — that came several decades later, in the 1910s, when S. Duncan Black and Alonzo Decker (of Black & Decker) developed the first version of the electric hand-drill we know today.
And prior to that, in 1895, Wilhelm and Carl Fein, brothers who ran a business in Stuttgart, Germany, were credited with the invention of the first portable, hand-held electric drill. However, that one was larger and required two hands to hold and operate.
A bit bigger
Arnot and Brain's creation was a larger, not-so-portable electric drill designed for mining applications such as drilling rock faces and coal shafts.
Where was the challenge in this? To find out, create spoke with Associate Professor Matthew Joordens, a mechatronics engineer from Deakin University's School of Engineering.
"Because it wasn't really portable and it was designed to cut through coal and rock, this original electric drill had to be put down somewhere," Joordens said.
"This creates special challenges in itself, thanks to the environments in which it was being used.
"The fact that they were using an early motor means it would probably have had brushes on it, so it would have produced sparks. If you're around any sorts of gases that are flammable, which are not uncommon in mines, then that presents another serious problem."
The only solution to a motor throwing out sparks was to cover the motor compartment as much as possible without risking overheating.
A fine balance was required, since the motor had to be allowed to cool but couldn't be allowed to throw sparks. Water was used to cool the drill bit, Joordens said, but only air could cool the motor itself.
There were a lot of major challenges for an engineer designing such a device, Joordens explained.
"You can't beat the laws of physics," he said.
"There are some things you just have to work around."
If the drill were not grounded properly it would give its user an electric shock, for example. And because the drill required electricity, it needed a cable, which, in a mining situation, created another dangerous hazard.
If the cable ran through a puddle of water, a likely situation in a mine, there would be yet another opportunity for electrocution.
"After the obvious hazards, one of the engineering challenges is weight," Joordens said.
"Casings in the early days would have been made from steel, adding to the weight of the device. These days most drill casings are plastic, to reduce weight and enhance safety. The motors themselves would also have been larger and heavier. The design challenge was to ensure the motor was as small and efficient as possible whilst still being able to do the job."
You know the drill
The basic design of a drill bit hasn't changed a great deal for a century or more, Joordens said.
Shapes have been improved slightly for various applications, and materials such as diamond have been added to drill tips for greater durability.
"But drill bits won't likely change much in the future — there are only so many ways you can cut through something." he said, and smiles.  
"Until we make like Star Trek and bring the phasers out."
This article originally appeared as "A cut above" in the April 2019 issue of create magazine.