Professor Rose Amal's work is improving the planet as well as changing the way people think about chemical engineering.
In years past, chemical engineering has gotten a bad rap. It has been viewed as dirty and dangerous, creating noxious and difficult-to-manage waste products.
This is not create's belief, but it is — or, at least, was — Professor Rose Amal's, and she has a good idea about how the discipline is perceived.
She made those comments a decade ago to the Royal Australian Chemical Institute's magazine and has spent a large portion of her life proving that the perception is unfair.
Amal has headed the University of New South Wales's (UNSW) Particles and Catalysis Research Group (PartCat) since 1997 and was made a Companion of the Order of Australia in 2018 for her "eminent service" to the profession as a researcher, educator and mentor.
At PartCat, Amal has pushed the boundaries of what's possible in her field. She has a "deliberately ambitious" plan to use catalysts to turn carbon dioxide from a substance threatening the stability of our climate into a fuel and useful industrial feedstock.
But she also has a passion for bringing up the next generation of leaders, convincing the country that it cannot prosper without a healthy showing in the STEM disciplines, and demonstrating that chemical engineering can undo some of the damage we have done to the environment.
Things might have ended up differently.
"My parents always wanted me to become a medical doctor, because I did pretty well in school and a doctor is a very great profession — it saves lives," Amal told create, adding that her squeamishness when it came to lab animals ruled biology out.
"I liked mathematics from the point of primary school, and I liked physics. I liked chemistry. Biology was not my strong science subject, particularly in terms of the lab."
Older brother Sari — Amal is the youngest of five — left Indonesia to study civil engineering. Amal, then around junior high school age, was intrigued to learn about a profession where you could make a difference without having to dissect organisms during your education.
"Hearing or knowing that he's doing well and sometimes listening to him about what he was doing over there, I … was probably inspired to do engineering, because if you're looking at things we can do for society — of course we're not looking immediately into saving someone's life, but it's saving the planet," she said.
"That's one of the things that I felt [illuminated] a professional career path that I would like to take in the future."
Amal left her family in Indonesia in 1983 to study chemical engineering at UNSW. Apart from an 18-month postdoctoral fellowship at Australia's Nuclear Science and Technology Organisation, she has been at that university ever since.
Her incredibly successful career has taken in numerous honours and firsts, including becoming the first female Chair of IChemE Australia.
Throughout her career runs a thread of sustainable development. Like her brother, Amal ended up building things, just sometimes at the nanoscale level.
Getting more from the sun
Amal began her work in the particles half of Particles and Catalysis, with a PhD study investigating the use of aggregations of fine particles to clean wastewater. Early career work handled the "end of the pipeline" and cleaning up pollutants.
A later project, which came after Amal had moved to focus on catalysis, involved studying functionalised titanium dioxide to make surfaces that could self-clean and disinfect when exposed to visible light. This work received international media attention.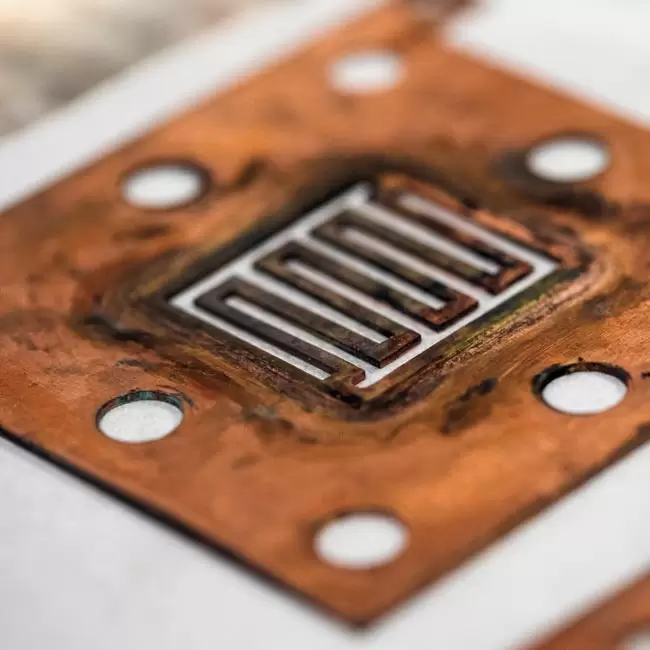 Amal's interest in catalysis began when designing materials to treat water pollution.
"I was fascinated that you could also use the sun's energy for catalysts in order to clean water," Amal said.
"In that case, then you do not have to use the chemical and then waste it, but you can use it again and again, and the sun's energy is the driver in order to activate the catalyst.
"And the catalyst can be reused again and again as long as you have the sun's energy."
Amal's group works with thermally, electrically, and light-activated catalysts. Successful grants in 2018 included the ARC Research Hub for Integrated Energy Storage Solutions, an ARC Linkage project using catalytic alteration to treat pharmaceutical wastewater, and, from the Australian Renewable Energy Agency, the first project grant for developing renewable hydrogen technology for export.
The last of these projects aims to develop an integrated system using transition metal-based electrolysers, concentrated photovoltaic receivers and the "whole spectrum" of sunlight to split water, hoping to achieve better than 30 per cent solar-to-hydrogen conversion efficiency.
Amal said electrical engineers have done very well in improving the efficiency by which sunlight can be converted into electricity. Among chemical engineers, efforts to do the same have become very competitive.
"People can see the importance of this for the future of our planet, so there are a lot of groups that are working around the world — in the US, also in Europe, also in China, in Japan as well, and in other Asian countries," she said.
"Solar to hydrogen efficiency is currently sitting at about 10 per cent, but there is literature sort of claiming that they can get up to about 24 per cent.
"A lot of different labs are working on trying to improve the efficiency of making a cleaner fuel using sun energy, and it's a race."
Amal, along with other experts and policymakers, believes Australia has the potential to be a global force in producing and exporting hydrogen.
Dr Kondo-François Aguey-Zinsou, the head of MERLin (Materials Energy Research Laboratory in nanoscale) lab at UNSW is a collaborator with PartCat on hydrogen work and focuses on materials for storage in solid form.
He agreed that there is vast potential, but said the effort and the degree of focus required is being underestimated.
He recalls arriving in Australia in 2009 and seeing CSIRO's Hydrogen Flagship closing soon after. Until recently he had not noticed much interest in developing hydrogen processing knowhow.
"Australia already missed the solar revolution," said Aguey-Zinsou, who was named one of Australia's Most Innovative Engineers in 2018.
"You take UNSW — a lot of the technology has been developed here, and yet we don't have a solar panel manufacturing [industry] in Australia."
He told create that there is potential to spin out and scale university breakthroughs, but it would require a long-term effort and local mastery of the associated technology.
"It's not only relying on foreign companies to do it … If you go to Silicon Valley in the US, they control the technology," he said.
"Because if you don't control the technology, then you don't control your market."
Mentorship
Asked if she considers her work mostly science or mostly engineering, Amal said that it sits at the interface between the two. She said it has combined both from early on, citing world-leading work in magnetic photocatalysts.
Success required new materials discovery and understanding reaction mechanisms, but also designing and controlling a reactor system. The bottleneck at the time was recovering the photocatalyst in the system for reuse.
"If it's magnetic, it will be easier to be able to capture that, every cycle at the back," she said.
"The reason I use that example is that I'm using my engineering expertise and background and knowledge in order to be able to drive my research, to develop a catalyst system and the reactor system that could deliver the application."
Along with expanding her field's collection of knowledge, Amal is also a well-respected mentor, and credits her approach to those she looked up to as a young academic.
She mentions the late Professor Emeritus David Trimm and Professor Judy Raper — who headed PartCat before Amal and is now Deputy Vice Chancellor (Research and Innovation) at University of Wollongong — as the 'giants' whose shoulders she stood upon to see further ahead.
Dr Emma Lovell, a Postdoctoral Research Fellow at PartCat, is one of the more than 30 PhD students whom Amal has supervised.
Lovell had originally been assigned to a different undergraduate supervisor, before seeking advice from Amal on what research topics fit her passion, and then joining Amal's group as an extra student.
Lovell observes that in the group "nearly everyone was supervised by Rose, and then everyone adopted her way of research … it's all about working together as a team, and everyone having different ideas and different inputs. And that's really what pushes things forward, as opposed to being particularly smart".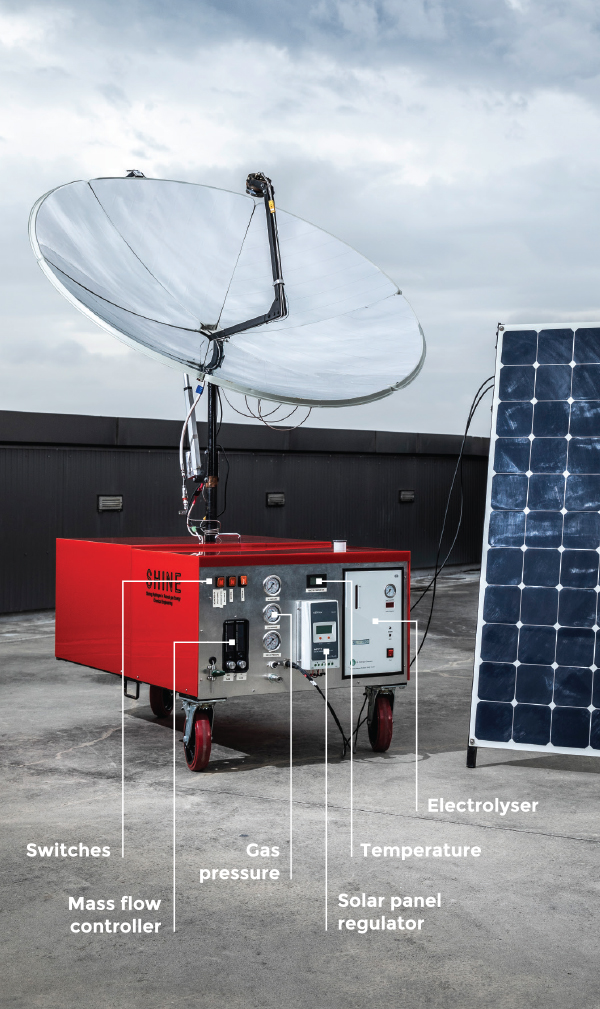 Amal suggested researching carbon dioxide reforming, which can convert carbon dioxide and hydrocarbons into useful products, and Lovell went on to work on the group's Closing the Carbon Loop program.
The area interests researchers because it can transform two greenhouse gases (methane and carbon dioxide) into fuels and feedstocks (hydrogen and carbon monoxide).
Barriers to widespread adoption include the need to create catalysts that don't deactivate from carbon formation and that are affordable enough to industrialise.
Supervised by Amal and Associate Professor Jason Scott, Lovell's PhD work examined reforming gases with nickel catalysts on novel, silica-based supports tailored by flame spray pyrolysis.
"Work is happening throughout the world, but a lot of the focus is on developing really sophisticated structures and all of these different things with expensive materials and complex synthesis techniques," she said of the catalysts for methane reforming.
"But our work really looked at ways to do that in a cheap and reproducible and scalable way."
This work continues, and Lovell's current position at PartCat is her first professional research role post-PhD. Her recent research has also taken in splitting seawater — focusing on thermal catalysis, but with a unique angle.
"Our novelty is that we're trying to do it using light — so, can we power the whole system just using the heat and light from the sun?" Lovell asked.
"There's not really much work going on in that throughout the world, which makes it really exciting, but also a little bit challenging, because we are the ones trying to find what is going to work and what isn't.
"I would love to be able to take on students and guide them in the way that Rose has for me and for basically everyone who works with us, but I think that she set a very, very high bar."
Professor Rose Amal (left) and Dr Emma Lovell. Amal said one of her favourite parts of her role is inspiring and educating the next generation of chemical engineers."Things are changing, and sustainability is also key in our education for chemical engineering students," she said.
"I'd normally go to either give a talk to high school students or give a talk to parents who would like to know a little bit more about chemical engineering, and I always get that question about chemicals: 'You produce chemicals so what happens with the waste?'
"It's changing with time. I have fewer questions from high school students — and parents as well — because I think the public perception is much better now."
This article originally appeared as "Light work" in the March 2019 edition of create magazine.