A Queensland team hopes scaled-down industrial biogas plants can process organic waste at shopping centres, office buildings, universities and more.
Mechanical Engineer Jason Hawley is used to a lot of rubbish. As Managing Director of Finn Biogas, he typically oversees projects that process 50,000 to 100,000 t of trash a year, turning organic waste into compost and biogas.
It's a far cry from the average home compost heap. But a new project has seen his team design a composting facility that could offer a middle ground between industrial-scale processing and a decomposing pile of kitchen scraps in the garden.
Known as the Firefly MMAD, for "micro modular anaerobic digester", the system is designed to collect "dispersed organic waste" and process it on site.
"It's the organic waste that's in coffee shops, restaurants, office buildings," Hawley said.
"Leftover scraps from people's lunch and things like that."
Hawley said the system is designed to be small enough for an apartment complex, a large shopping centre or a university.
It is far smaller than an industrial-scale plant, and instead processes 200 to 500 tonnes of organic waste a year.
"The idea is to reduce the transport of this waste and, obviously, divert it from landfill," Hawley said.
"PROBABLY 50 PER CENT OF THE PROJECTS, WE DON'T TURN THE BIOGAS TO ELECTRICITY. IT JUST GOES STRAIGHT TO INDUSTRIAL HEAT FOR BOILERS"
Fresh air
The Firefly MMAD is a modular product. Each set-up has a plant room with pumps, small tanks, valving and a control system, along with between two and 10 two-by-two metre waste-processing modules.
The system can operate in two modes: aerobic and anaerobic. In aerobic mode, it simply converts organic waste to compost. In anaerobic mode, the modules also produce biogas that can be turned into electricity.
There are ways to export this energy back to the grid — similar to rooftop solar systems.
But Hawley said the electricity is usually tied in "behind the meter" for use in the same facility that the waste came from.
"We find that most of the projects we do — even at the industrial scale — if the facility is large enough to produce the volumes of waste to look at a digestion system, then they're generally large enough to consume all of the energy that it would produce," he said.
Some large-scale projects skip the conversion and use the heat directly, Hawley said.
"Probably 50 per cent of the projects, we don't really turn the biogas to electricity; it just goes straight to industrial heat for boilers," he said.
Hawley said that there have been a lot of challenges in scaling down from large industrial plants to a small, modular plug-and-play solution.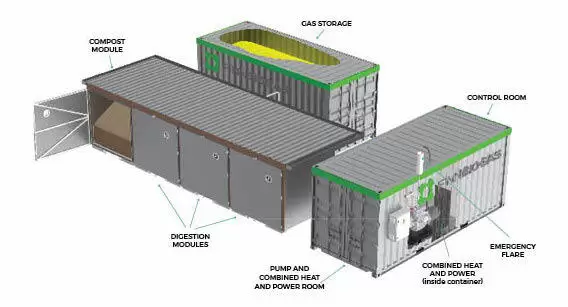 "Primarily they're — from an engineering point-of-view — focused around getting the right equipment at that scale," he said.
"Obviously, equipment is produced by vendors at a certain range or a certain flow rate, so [that meant] getting equipment we're happy with, that was smaller, but also still met the needs of the project in terms of costs."
Hawley said projects of this kind don't necessarily scale linearly. "You get much larger gains at a larger scale, because you still have to pay for the same amount of engineering and compliance and documentation," he said.
"What we found was that by making a modular [system], we could bring a lot of that engineering time forward into one development, and then it's kind of a repeatable product. So that helps drive down the cost."
Balance of power
The smaller scale also meant the engineers had to work harder to achieve a net energy gain. That's because it still needs to run the pumps, motors and other equipment associated with a larger system.
But it's critical that there's a net energy benefit, Hawley said. "The amount of energy you produce … unfortunately, is a function of the waste that goes in," he said. "If you're processing something with a lower energy content, your net energy benefit is going to be less, just as a result of something you can't change."
Greenhouse gas emissions are another part of the puzzle. "We found that by doing decentralised treatment of waste we got some really good gains from a CO2 point-of-view," Hawley said. "The environmental piece is really important for us."
While the Finn Biogas team initially envisaged the Firefly MMAD for apartment buildings, shopping centres and universities, feedback from the market has led it to consider more directions.
"There's a lot of opportunity for us in remote mining camps, remote communities, offshore," Hawley said. "Small Pacific islands — places like this would have … centralised fruit and vegetable markets. You can obviously also go into agriculture, with agricultural waste."
Hawley argues decentralised waste treatment can reduce carbon emissions not only by diverting waste from landfill but also by taking transport out of
the equation.
Finn Biogas Process Engineer Michelle Keane sees the technology as a way to make biogas accessible to more people.
She said most biogas projects are large industrial plants or conducted in a lab or university.
"A lot of people know at least a little bit about composting — maybe sometimes they know a little bit about digestion — but struggle to get involved with it," Keane said.
"I think this system serves a bit more of the community side. I also think the ability to scale it up or down means that, again, you're covering more than just a one-size-fits-all approach."
Keane said a lot of the challenges on the Firefly MMAD are being faced for the first time.
"We've gone from drawing on a whiteboard in an afternoon brainstorm meeting to having it built downstairs," she said. "To me, that's pretty exciting."
Happy bacteria
In anaerobic mode, waste is inoculated with anaerobic bacteria and the system is closed up. Bacteria consume the organic waste and produce biogas.
"It's a natural process that occurs in landfill, in marsh and swamps, in the stomach of [cattle and sheep]," Finn Biogas Managing Director Jason Hawley said.
"We're basically engineering an existing biological process. We're trying to work with nature as best as possible to optimise the conditions, to let that bacteria really just live its best life."
The biogas produced is captured and stored, before being burned in a small heat and power generator. The electricity is exported and the heat is reused in the process. The process also produces a nutrient-rich digestate that can be used as a fertiliser.
In aerobic mode, the system works in a similar way to large industrial composting facilities. The waste is placed in an aerated tunnel where it breaks down, producing compost. Again, the conditions are closely controlled, with temperature, humidity and aeration optimised for the best results.
"One of the really cool things about it is that we can configure the modules to be able to do just one of the processes, or both of the processes in parallel or in series," Hawley said.
Climate Smart Engineering 2023 (CSE23) will be held 29-30 November 2023 at the Melbourne Convention and Exhibition Centre. Learn more about the conference and register here.