When the Sydney Opera House underwent major renewal works, the Concert Hall closed for more than two years.
To fill that gaping hole, a new digital, immersive venue and experience was created for tour patrons.
It involved converting back-of-house storerooms, a cool room, and an office space into a state-of-the-art, 30-person venue.
The build was undertaken in line with the Opera House's Conservation Management Plan and architect Jørn Utzon's design principles, which say that the architecture should be "predominantly experiential in nature".
With the creation of the new venue, the "experiential" box was well and truly ticked. Music was commissioned, and visuals were developed to surround the audience.
These showed the evolution of the Opera House on a 270-degree digital projection, focusing on the Concert Hall and its many performers, from early times to the modern day.
"I was told a story about a member of the public who took an Opera House tour and who burst into tears at the end of the digital projection," said Ziggy Napier, Head of Major Projects and Commercial at the Sydney Opera House.
"It wasn't just because it showed the beauty of the Opera House. It also showed how important the building is to the surrounding harbour. It showed the history and the power of performance — there's so much history that has gone through that hall. I completely understand how someone could be so moved by that experience."
Living architecture
Napier finds it easy to become philosophical when considering the challenges of her role, looking at her work from beyond the logical and scientific perspective of a seasoned engineer.
"People think it's all about the heritage of the building," she said. "And the heritage of a building is typically just about bricks and mortar.
"But the heritage aspect of the Opera House is not just its bricks and mortar. Part of our heritage is in our continued function and use as a performing arts centre. So we always have this balance to strike between preserving the heritage fabric of the building, and ensuring that it continues to be a performing arts precinct — one that everyone can access."
With accessibility a central concern of every renewal project at the Opera House, a major challenge is reconciling the intangible and very human needs of performance with the physical impact that comes with making changes and repurposing spaces.
"There's a lovely, succinct letter Utzon wrote to the chairman of the day, where he said, 'The Opera House is a multi-purpose structure that will, in time, undergo many natural changes, and will need to continue to evolve to meet the changing needs of performers and the community,'" Napier said.
The needs of performers and the community have changed significantly since the Opera House was built, she added.
As an example, Napier said, at the time of the Opera House's construction, accessibility and inclusion were not at the forefront of designers' minds.
Hence, there are 172 steps from the forecourt to the Concert Hall's northern foyers and 156 steps from the forecourt to the Joan Sutherland Theatre's foyer.
"If you've ever had a knee or hip injury, or you know anybody with mobility issues, you know that steps are a nightmare," she said.
"We have to make changes to the building so all people, regardless of mobility, can enjoy performances or have a meal or a drink."
The past five years have focused on making those improvements, including installing three glass lifts in the façade of the building — glass being used specifically to blend seamlessly into the heritage building — as well as two new passageways.
Collectively, these improvements ensure people with impaired mobility can independently access all levels of the Concert Hall and the Joan Sutherland Theatre.
"This means some people can access these spaces for the very first time," Napier said.
"Accessibility changes are so important. They mean this building, and everything in it, is relevant to the entire community."
"WE ALWAYS HAVE THIS BALANCE TO STRIKE BETWEEN PRESERVING THE HERITAGE FABRIC OF THE BUILDING AND ENSURING THAT IT CONTINUES TO BE A PERFORMING ARTS PRECINCT."
Extra-virgin Opera House 
Another consideration is the fact that many physical aspects of the Opera House are one-of-a-kind. It's a challenge that has caused Napier some angst, particularly when she was first invited to take the role six years ago.
Now, she takes it in her stride.
"There isn't any commonality between this building and other cultural institutions, or other buildings in the world, let alone in Sydney," she said.
"We have thousands of metres of extruded bronze handrails, inside and outside the building. The entire façade is also made of bronze, as are our bollards, screw fixings, light rails, door frames and lamp posts.
"And it's a very specific, Opera House alloy. It's our very own mix."
To add to the challenge, bronze isn't a commonly used metal these days.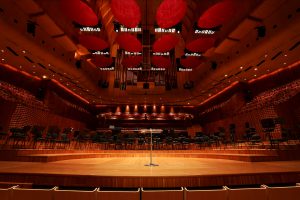 "We don't have many craftsmen today that use the same techniques from the 1960s and 1970s, particularly the linishing and ageing process," she said.
"This is a challenge of a lot of the building fabric here."
It even affects the cleaning, Napier said. The bronze is only ever cleaned with olive oil, never with harsh chemicals or solvents that could degrade or impact the longevity of the building.
The mix of engineering and law is a potent one, Napier has discovered. She walks a tightrope between engineering and commercial demands when it comes to managing multimillion-dollar contracts to ensure the World Heritage–listed building, which is nearing 50 years old, is maintained and cared for.
"It's not enough to have a brilliantly executed project of high quality if it isn't delivered on time and to budget," she said.
"That's where you see that interplay between the engineering, technical, legal and commercial. I've been very fortunate in the roles that I've taken, and the experience and the skills that I've gained."
Napier's resume includes years as a solicitor in law firms; as an engineer with engineering firms and contractors; and as an associate advising public and private sectors in transaction management and project delivery at Advisian.
"I now look after engineers, project and commercial managers, and technical specialists," she said.
"The ability to speak in their languages really helps to get messages across clearly."
"WE DON'T HAVE MANY CRAFTSMEN TODAY THAT USE THE SAME TECHNIQUES FROM THE 1960s AND 1970s. THIS IS A CHALLENGE OF A LOT OF THE BUILDING FABRIC HERE."
Family ties
With a father who was a Qantas aeronautical engineer for five decades, Napier enjoyed plentiful exposure to engineering while growing up.
One of her brothers followed in their father's footsteps, becoming an aeronautical engineer; but rather than working on aircraft, he now works in them, having retrained as a pilot.
Another is a network engineer, who started his own internet service provider. Even Napier's uncle is in the profession, working as an industrial engineer.
"The upshot of all of this is that I knew what engineers did, and you tend to be attracted to what is familiar to you," she said.
"I grew up with all these great examples of different types of engineers and saw the flexibility and the different avenues that can be opened up by an engineering degree. It was really a matter of familiarity and thinking [that] it was up my alley."
This familiarity with engineering is less pronounced today — among schools, students, teachers and careers counsellors. In fact, most adults are not clear on what engineering entails, which speaks to the importance of STEM programs in schools, and other similar initiatives.
By the book
As well as being a trained engineer, Napier studied law in a double degree.
"I loved the humanities, was good at English and enjoyed philosophy," she said.
"I thought, well, law is the vocational option where you get to study jurisprudence, which is the philosophy of law. Law is very much about your ability to communicate, whether written or verbal. It is very analytical and requires you to be able to describe complex concepts in simple ways, and there's a lot of wordplay and mental gymnastics with contract drafting." Those choices led to Napier helping to look after one of the world's most significant buildings.
"It's vitally important that I get this right," Napier said.
"If I'm completely honest, I don't think I fully appreciated the magnitude of the role at the beginning.
"It's a building everybody cares about. Everybody feels part of its family."