A tech startup's award-winning modelling solution is giving a boost to RMIT's building inspection program.
There is a buzz in the air around the Royal Melbourne Institute of Technology's (RMIT) Brunswick campus.
But it's not excited university students; the sound originates from the DJI drones that have recently been hovering around the campus's buildings.
The work forms part of the university's 40-year, ISO-certified asset lifecycle program encompassing 120 buildings over three campuses. 
The university initiated a project in conjunction with start-up firm Skand, which uses drones to carry out asset and building envelope inspections to enable informed decisions for maintenance programs.
Piloted at the 6.5 ha Brunswick campus, the project encompassed six buildings and took two days to capture the relevant data, which is said to be four times faster than traditional inspection methods.
Skand founder Brett Chilton told create his web-based platform incorporates multiple apps, such as Maps Made Easy or Pix4D, depending on the asset, but the system is subject to very specific parameters.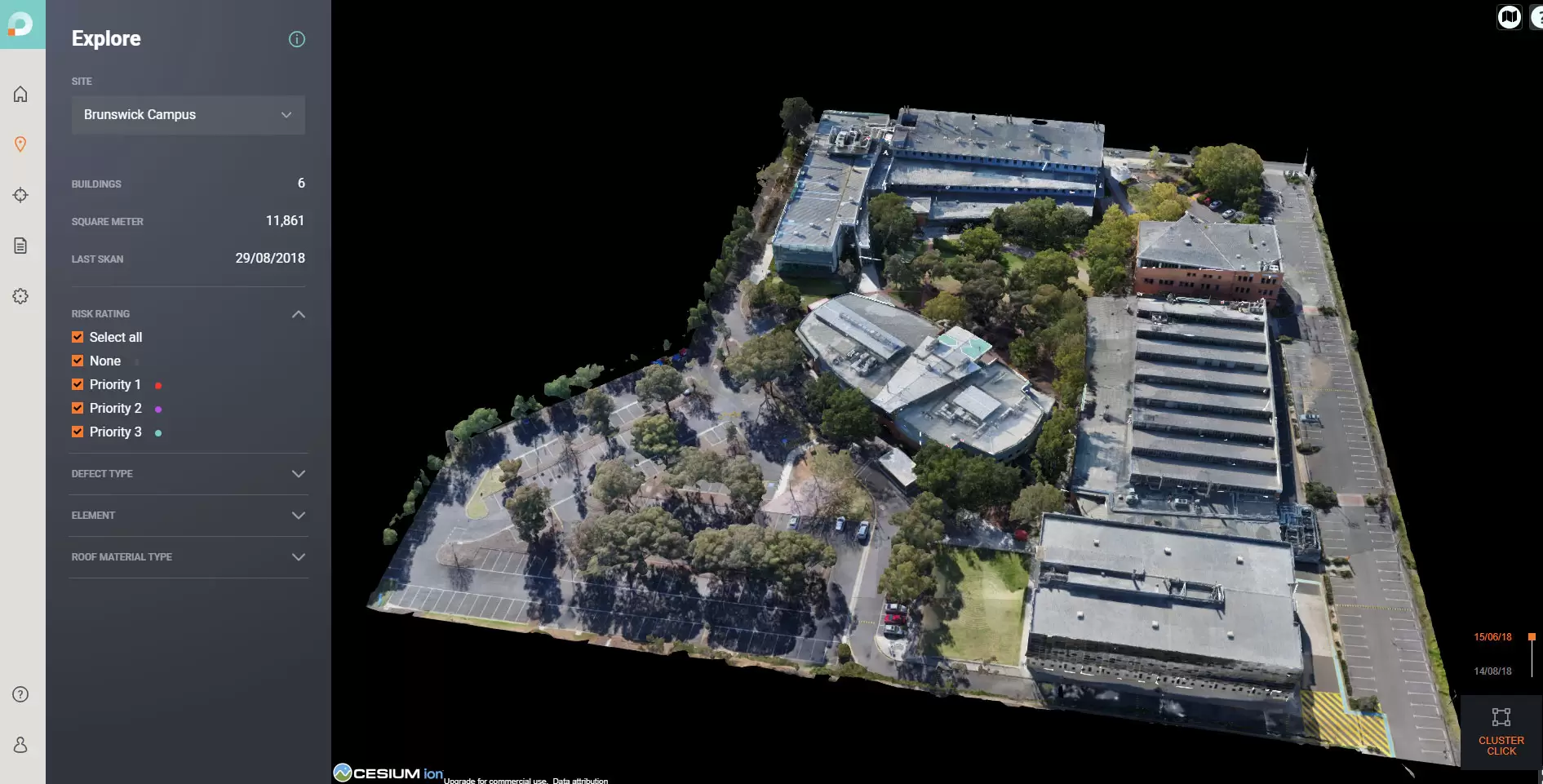 The high-resolution digital representation of the asset is processed through computer vision, where some classes of building defects are identified via artificial intelligence (AI), he said.
"Once the AI finds a defect, it gets shunted through the system to our data analysts who come in over the top and say, 'is the prediction by the AI correct?'," he said. 
"The answer, whether it is yes or no, creates a feedback loop, which is fed back into the model to teach it whether it was correct or not." 
Skand's data analysts then attach metadata to each defect, prioritising it in three categories, depending on severity. 
The wide-ranging list of defects can include a broken window, missing tiles, corrosion on metalwork, moss or algae. 
Once the defects are prioritised, the results undergo two quality control checks between the data analyst teams, and a final engineering quality control check.
On task
Chilton said that although all of the information on building defects is sent to his platform's artificial intelligence, it is still years away from automatically prioritising the severity of a defect.
"For instance, you might find a chair sitting on a roof shows up in three photos out of 100,000 from a single building," he said. 
"However, you would need 10,000 instances of a chair on the roof for the AI to be remotely close to understanding that it is a chair and that it is a Priority Three — or address at management's discretion." 
The entire process takes between three and five days, depending on the asset structure.
The results are then pushed on to the front end of the web app, where the characterised defects are automatically married in 3D space back on to the structure of the building or asset and are identified as a virtual polygon.
Chilton said the university wanted an analysis of building roofs and façades that best suited drones, as opposed to traditional line-of-sight inspections from the ground, which can only distinguish a limited number of defects.
He said the system was designed to be interoperable so that its data could be shunted across to the university's IT systems without using additional programs.

"Sometimes our clients can have 20 different online platforms that they use to manage aspects of their business," he said. 
"The last thing they want is another platform, so we knew from the start of this project that there were many [computerised maintenance management systems] that our system had to effectively communicate with."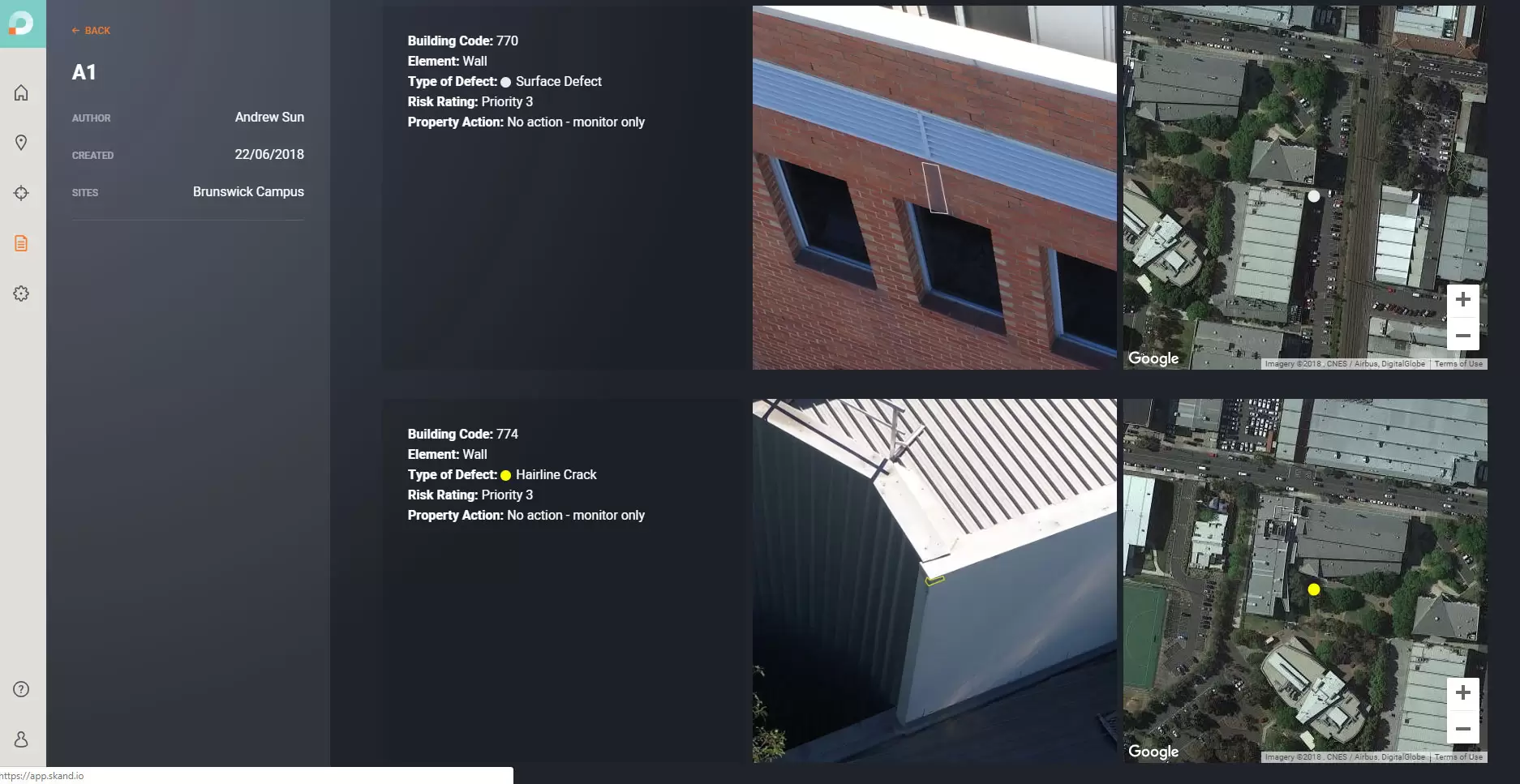 Skand was able to deliver its inspection report with a 3D campus model through its web platform within seven days, saving approximately $70,000 in costs.
The project won the Reality Modelling category at Bentley's 2018 Year in Infrastructure Awards.
RMIT Asset Management Senior Manager Andrew Sun said the university engaged Skand in 2017 to examine rooftop loads in 2D on 120 buildings across its three campuses before expanding to examine building façades in 2018 in 3D.
Sun said the data are important because they inform RMIT's 40-year lifecycle model of its assets, which then sets out the capital budget for coming years.
"We are provided a model which we can physically scroll through and rotate to see the defects as well as generate a manager's report," he said.
"Our main priority is to address any defects that impact on the energy efficiency of the building in question and how the defect impacts on student experience." 
This article originally appeared as "Building inspection by drone" in the July issue of create magazine.