Biomedical engineers in Australia and overseas are developing test kits that can confirm the presence of diseases ranging from the flu to cancer with a simple colour change.
Biomedical engineers and researchers in Singapore have developed a cheap, portable device that can detect a wide range of diseases in under an hour. And the results are easy to see: a positive result causes the test assay to change from colourless to brown.
"With this invention, tests can be done at the point-of-care, for instance in community clinics or hospital wards, so that disease monitoring or treatment can be administered in a timely manner to achieve better health outcomes," said Assistant Professor Huilin Shao from the Department of Biomedical Engineering at National University of Singapore (NUS).
According to the university, their test platform, dubbed enVision, can be tailored to detect highly infectious diseases such as ebola and zika, common diseases such as hepatitis, and various cancers and genetic diseases.
After the disease has been detected, results could be further analysed using a smartphone app, the researchers said.
Molecular machines
Research published in Nature Communications in August describes this development of patented DNA 'molecular machines', which are able to recognise genetic indicators of various diseases, and induce a colour change for a positive result.
According to researcher Dr Geok Soon Lim, the enVision platform has three key steps: target recognition, target-independent signal enhancement and visual detection.
"It employs a unique set of molecular switches, composed of enzyme-DNA nanostructures, to accurately detect, as well as convert and amplify molecular information into visible signals for disease diagnosis," Lim said.
Each test module consists of a small plastic chip equipped with a molecular machine designed to recognise indicators of a specific disease. Several test modules can be mounted in a cartridge containing another molecular machine that produces changes colour when diseases are detected.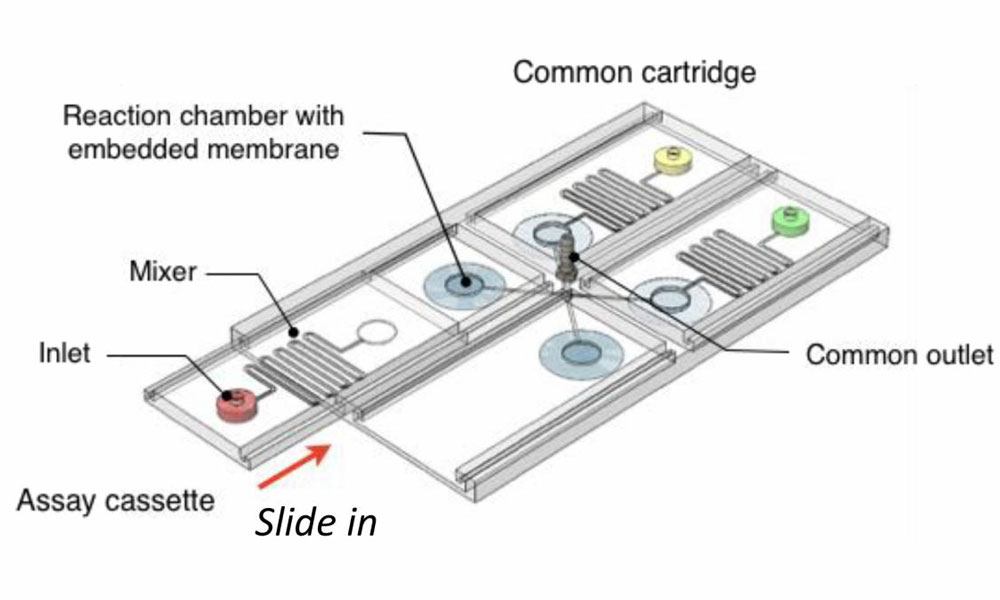 The platform can be configured to test multiple patient samples for the same disease, or a single patient for multiple diseases.
"This can be very useful to monitor populations for multiple diseases like dengue and malaria simultaneously, or testing for highly mutable pathogens like the flu with high sensitivity and specificity," said researcher Dr Nicholas Ho.
The cost of the test platform is around $1, which significantly undercuts the current cost of testing. The next step for the NUS researchers is to build a module to extract and treat DNA material that can be integrated with the test platform.
'Pregnancy kit' for detecting disease
Inspired by the chromatic test kits used to detect pregnancy, biomolecular engineer Dr Rona Chandrawati from the University of NSW is also researching the development of colour-changing test kits to detect diseases.
Chandrawati and her team are designing nanoparticles between 20 and 100 nm in size to detect molecular indicators of disease in the human body. These nanoparticles could then be incorporated in a test strip or solution that changes colour when a disease is detected in a blood sample.
During laboratory testing, the research team was able to detect cancer and flu markers. They have also confirmed that the nanoparticle sensors can be used to monitor the presence of cobalt ions, which could be helpful to patients with metal-on-metal hip implants, where cobalt might leach from implants over time and enter the bloodstream.
"We have not worked with real patient samples yet, so the development to date is proof-of-concept. The next step will be taking our discovery to progress to the development of a device similar to a pregnancy test kit," Chandrawati said.
She added the nanoparticle technology could also be used to monitor the freshness of food products by detecting molecules that indicate it is no longer safe to eat. For example, when milk goes off there is a high concentration of lactic acid and milk acid content increases.
"It could be a polymer film that attaches to the food packaging with embedded colourimetric sensors that can be directly visualised with the naked eye. When it changes colour we know that the food is spoiled," she explained.
Chandrawati and her team hope to produce a prototype of her food-testing device within the next five years. Because of the complexity of human blood, she said the disease test kits could take up to a decade to develop.