Possibly one of engineering's most under-appreciated innovations, the crankless engine was the right product at the wrong time.
When internal combustion engines were being improved for potential use in marine, land and air environments in the early 1900s, two of the greatest requirements were a reduction in weight and a slimming down in size. One Australian engineer decided to take up the challenge.
Anthony George Maldon Michell was born in England in 1870, but he grew up in Maldon, Victoria. He studied in London before earning a degree in architecture and civil and mining engineering in Melbourne, and then, in 1897, a Master of Civil Engineering.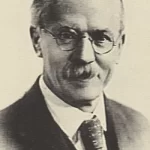 By 1917, Michell had become wealthy after designing and patenting a tilted thrust bearing, which was used in World War I on ships and submarines. He then turned to engine design and developed what would become the Michell crankless engine.
The engine's cylinders were all tucked together, like four beer cans standing on a table in a neat group rather than a line, and their pistons pushed in turns on a slanted 'swash plate'. This plate would be pushed and pulled by the cylinders, kept in a perpetual and perfect spinning or wobbling pattern, and translating its own motion to the central shaft to which it was attached.
In theory, it would take up a lot less space and weigh significantly less than a traditional engine. And it worked. It was used for various purposes, including for compression and shipping.
"The advantage was that the piston was operating parallel and adjacent to the output power shaft," said Dr Petros Lappas, Director of the Green Engines Laboratory at RMIT University.
"One could argue that with this form, you may end up with an engine that is more compact than a conventional engine. I think it is a good argument — let's not forget that in a conventional engine you have the con rod while the piston juts out of the crankshaft, and that occupies space."
"A brilliant design still has to be very lucky to find a solution for all of the various problems."
But the Michell Engine's weight may not have hit the mark.
"One of the claims was that the engine had a light weight for a given power output, and according to an article from a German magazine in the late 1920s, that was refuted," Lappas said.
"The weight of a swash plate engine was considerably higher than a conventional engine, according to this review."
A report called The Michell Crankless Engine — Why was it not a commercial success? by mechanical engineer John A. Anning said:
"To demonstrate the engine commercially, the company made an eight-cylinder, four-litre engine, with a nominal 50 [brake horsepower] output, which Michell installed in his Buick car, and this was used as a demonstration vehicle which was shown to General Motors and Ford while in the United States. This vehicle and others were running by 1922 and few problems have been recorded."
Slipping away
The Michell crankless engine never won the respect that many believed it would. Some say this is because car manufacturers didn't wish to go through the expense of re-tooling their production lines.
One manufacturer is said to have tested the engine and found it was only 10 per cent more fuel efficient, which, at the time, did not justify the capital investment of re-tooling.
"One of the technical problems had to do with lubrication," Lappas said.
"You've got this disc, the swash plate, and it has to be well lubricated so that the shoes that are meant to slide on the disc, causing the necessary motion, don't rub on it and cause damage. That's tough to do."
Whether it was re-tooling costs, lubrication issues, a lack of operating capital in Michell's business or the stubbornness of manufacturers, Michell's engine never caught on. But it's still considered an engineering marvel.
"We see this in the lab all the time; a brilliant design still has to be very lucky to find a solution for all of the various problems," Lappas said.
This article originally appeared as "Engine room" in the February 2019 issue of create magazine.