The Federal Government's COVIDsafe app might be getting the most attention, but a number of other digital tools have been developed in response to the coronavirus pandemic.
Researchers around the country have turned their attention to creating applications to help governments better understand the spread of disease and to aid clinicians treating people who have fallen ill. 
Digital initiatives such as these were celebrated in a recent policy brief from the United Nations Department of Economic and Social Affairs, which stressed the importance of access to accurate, useful and up-to-date information, particularly during times of crisis.
"The COVID-19 pandemic is forcing governments and societies to turn toward digital technologies to respond to the crisis in the short-term, resolve socio-economic repercussions in the mid-term and reinvent existing policies and tools in the long-term," the authors wrote.
"Effective public-private partnerships, through sharing technologies, expertise and tools, can support governments in restarting the economy and rebuilding societies."
Here are three local examples. 
Safe Blues 
A new mathematical framework that mimics the spread of a virus, Safe Blues was developed by University of Queensland Associate Professor Yoni Nazarathy in collaboration with colleagues from Cornell University, MIT and the University of Melbourne.
It involves the exchange of anonymous digital 'tokens' between mobile phones using Bluetooth signals, and is designed to measure how fine modifications to social distancing affect the spread of COVID-19.
"Armed with mathematics, statistics, programming skills and a general desire [to fight] the virus, we started to think about where we could be useful," Nazarathy said.
"We soon realised that COVID-19 is not the only issue – the economic and social effects of social distancing must also be addressed.
"This doesn't mean that social distancing measures shouldn't be imposed – far from it – it just means that the battle against COVID-19 includes understanding exactly when we need to start transitioning to more business-as-usual-type arrangements."
"Armed with mathematics, statistics, programming skills and a desire to fight the virus, we started to think about where we could be useful."
The result was a program that allows researchers to see how a virus is travelling through a community. With the potential to be added to existing apps, Safe Blues could allow policy makers access to near real-time measurements of the effects of social distancing, informing future relaxation of guidelines.
"The spread of these tokens helps public health authorities see how the population is progressing," Nazarathy said. 
"They can then modify social distancing rules; rule changes which will increasingly occur in the months to come.
"We hope to see Safe Blues adopted in several countries with all the (anonymised) aggregated information available to both governments and researchers in an open manner."
COVID-19 NSW Hotspot Database
A collaboration between researchers at the University of Sydney and New South Wales (NSW) Health, the NSW COVID-19 Hotspot Database shows COVID-19 cases by postcode and socio-economic status. 
The searchable public database aims to assist the government in identifying populations at greater risk of community transmission, as well as informing resource allocation.
"This database is unique in that it combines NSW Health data with ABS [Australian Bureau of Statistics] data on, for example, the age and socio-economic status of people within different postcodes," said Associate Professor Adam Kamradt-Scott from the University of Sydney.
"We hope it can inform state policy responses to COVID-19, including appropriate allocation of resources."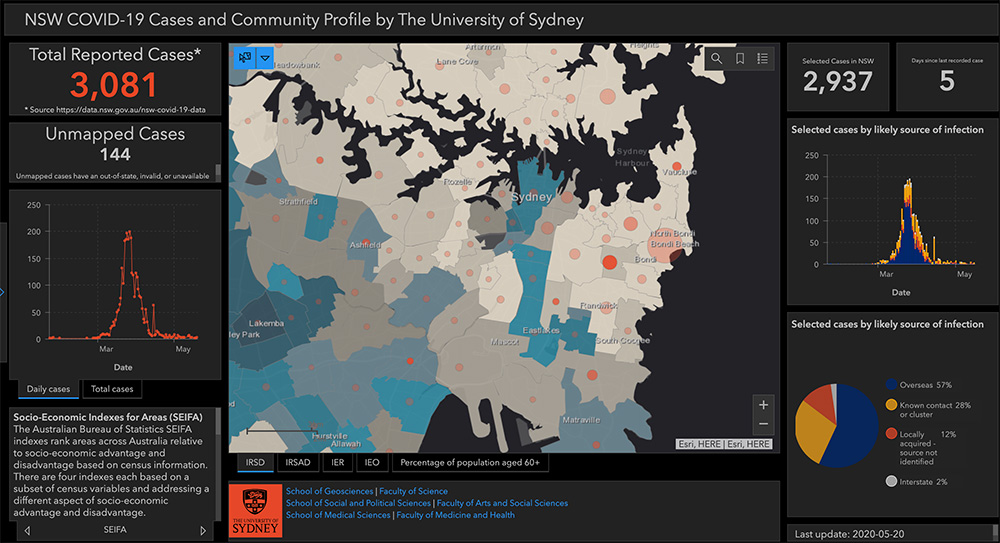 By capturing the last recorded case in each postcode, the database also has the potential to inform the relaxation of social distancing measures. 
"There will be a minimum of 28 days of no or small transmission that will have to have elapsed before an area is possibly cleared for relaxation," Kamradt-Scott said. 
"The hope is that this process will enable the state to begin to get back to normal."
Clinical Data and Analytics Platform
A $4 million project, the Digital Health Cooperative Research Centre's Clinical Data and Analytics Platform (CDAP) aims to improve COVID-19 patient health outcomes by providing frontline medical workers with access to real-time data and analysis.
"We need digital solutions that improve our knowledge of how best to manage people with COVID-19 in near real time," said University of Sydney Professor Tom Snelling, CDAP's clinical lead. 
"The CDAP has been built to rapidly extract and organise clinical data, which will help us learn why some people have severe disease and which treatments result in the best outcomes."
"We need digital solutions that improve our knowledge of how best to manage people with COVID-19 in near real time."
CDAP provides a means of capturing clinical and patient-reported data spanning the entire patient journey, from diagnosis through management and into long-term follow up. Through nationally-available real-time analytics, the platform aims to support clinicians in their decision-making during the COVID-19 pandemic.
Digital Health CRC Director Research Professor Tim Shaw said the platform could have wider applications. 
"We have funded this project both to support COVID-19 outcomes and to provide a lasting platform that can be used for multiple care contexts," said Professor Shaw.
"This project will allow us to help solve some of the issues we face in accessing and sharing national data sets to support frontline care."