Across Australia, engineering students are getting to work and joining hackathons to help solve problems related to COVID-19, from creating new ventilator parts to fine-tuning face shield designs.
At the University of Queensland's (UQ) School of Mechanical and Mining Engineering, a recent ventilator hackathon challenged students to design an open source, low-cost and simple ventilator capable of sustaining COVID-19 patients in the event that clinical versions were not available.  
Starting with ventilator specifications set out by Australia's Chief Scientist Alan Finkel, the group of 200 engineers and students met virtually to develop their designs over the course of a week, before presenting their concepts to a panel of judges.
UQ's Professor Ross McAree said it was an opportunity for students to be immersed in the engineering profession. 
"We believe that engineering is about working in a team on real-world challenges, not just performing well in an exam," he said.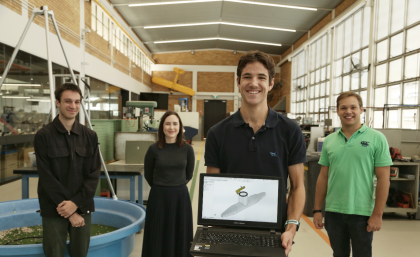 "This is a great opportunity for our students to work with industry professionals to make a lasting impact in the community."
But it wasn't just a learning exercise: the best ventilator component designs from the hackathon will be further developed and prototyped for evaluation in Queensland hospitals. 
While Australia currently has enough ventilators to cope with the COVID-19 pandemic, Queensland Minister for Health and Ambulance Services Steven Miles said it was heartening to see the next generation of engineers turning their attention to relevant problems.
"It is amazing to see some of the innovative ideas and solutions these students have worked so hard on creating in only a short amount of time," he said.
"Thankfully, we have seen a manageable number of positive cases of COVID-19 in Queensland where we have had enough ventilators to meet demand.
"However, it is comforting to know that we have some great minds at UQ thinking and designing ventilators that could be manufactured in a timely manner."
Advancing existing designs
The Australian Computing Society (ACS) held its own 'flatten the curve' hackathon, bringing together more than 2400 competitors to take on 62 different COVID-19-related challenges submitted by the tech community. 
This included everything from how to combat the spread of misinformation to how to make it easier to physically stop touching your face.
Teams competed to develop applicable solutions across five categories: education; assisting healthcare workers; protecting the vulnerable; future of work; and wellness and mental health. Up for grabs was a total of $50,000 in prize money.
"Engineering is about working in a team on real-world challenges, not just performing well in an exam."
University of Sydney data science student Mengyao Wang said she previously saw hackathons as something for "computer science wizzes or programmers", but that personal circumstances inspired her to join the event.
"My nana is confined in a nursing home right now because of this, and so many others have it worse," she said.
"So, I stood up, it was super easy and friendly being on-boarded and met some amazing tech and domain mentors who can bolster my design and humanitarian interests."
University of Canberra engineering students Bryce Cronin and Jed Hodson took out first place in the 'protecting the vulnerable' category with their Advanced Face Shield.
Building on existing designs, the pair created a 3D-printable face shield that they say is ready for mass production. 
One of their major breakthroughs was making the 3D-printed component smaller so it can be manufactured using a wider range of machines. 
"Existing face shields aren't compact enough and require large 3D printers," Hodson said.
"Ours is really small because it's made of five separate components, so it fits onto the smallest 3D printers."
The pair also wanted to ensure their design could be adjusted for the individual wearing it, making it more comfortable for healthcare professionals who need to wear personal protective equipment (PPE) for long hours.
They also created a second version of the face shield that can be manufactured using a laser cutter in just one minute, Cronin said.
"Our designs can be manufactured as fast as possible without sacrificing strength," he said.
"The project wasn't about creating something completely new, it was about refining a product that already exists.
"Our changes go a long way to opening up 3D-printed face shields to those who desperately need them around the globe right now."