Dr Harrison Steel is a rising star in the world of engineering who has worked on everything from NASA space projects to COVID-19 relief efforts.
A University of Oxford scientist and John Monash Foundation scholar, Steel has come a long way since studying mechanical engineering and science at the University of Sydney.
He worked on projects at NASA's Ames Research Center in Silicon Valley and Germany's largest accelerator centre DESY, before being awarded a Monash scholarship to study at the University of Oxford, where he completed a PhD in engineering, focused on robotics and biotechnology.
"Throughout high school my favourite subjects were in science and mathematics, but I was sometimes disappointed that we never had the chance to take scientific studies and experiments a step further, to use these insights to build things," Steel told create.
Now, the COVID-19 crisis has seen Steel join some of Oxford's large interdisciplinary teams to aid in the to response to the pandemic.
"I was already working in a laboratory that specialises in developing novel 'biosensors', which quickly transitioned into a project on rapid COVID diagnostics," he said.
"My experience in building new biotechnologies led to me being contacted to help on the OxVent Ventilator project, which I have subsequently dedicated much of my time to over the past two months."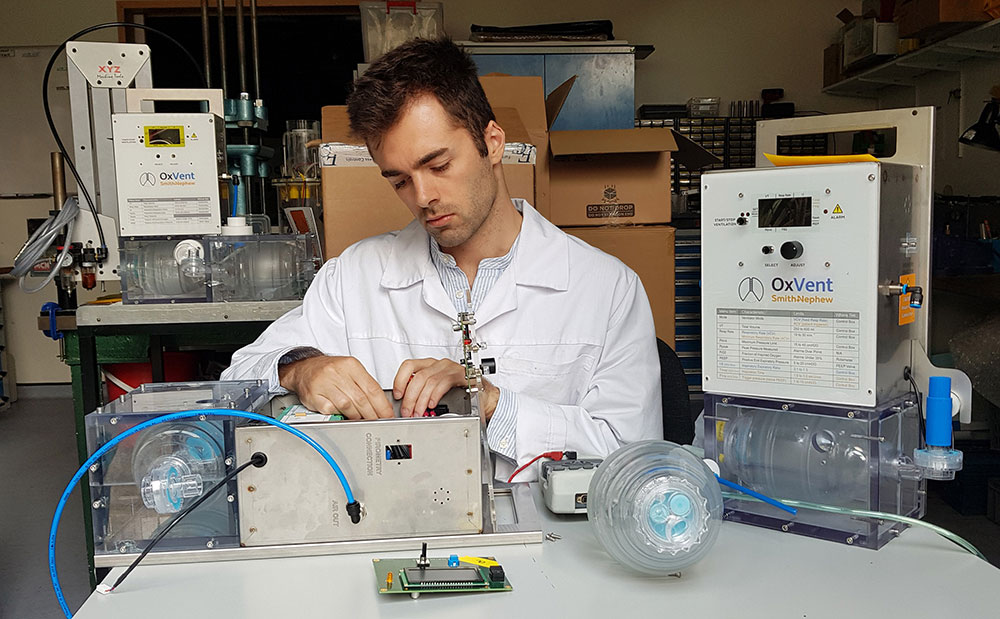 He has also consulted on many related projects, including lending expertise to build models of virus transmission in several countries, and helping ventilator projects to get going around the world.
"A time of crisis is not a time for overly-aggressive competition," Steel said.
"Researchers have been generous to lend their time and expertise to help on many different fronts, and likewise they have been quick to consult and include colleagues who can provide other skills and expertise."
A leading role for engineers 
Whether it's on the frontlines of the fight against COVID-19 or other great health challenges facing the world, Steel said engineers offer more than meets the eye.
"Though major advances in healthcare typically begin with scientific or clinical studies, engineers play a leading role in translating these insights into new technologies or systems that can then be adopted and widely used," he said.
"I hope engineers will play a defining role in making high-quality healthcare available on a global scale. Advances in medical science over the past hundred years have greatly extended human life expectancy, but are inaccessible to many due to high costs. By building better, safer and cheaper technologies, engineers can help address this."
Working at the interface of biology and engineering, Steel is particularly excited about the ongoing advances in biotechnology that are predicted to shape the 21st century.
"I expect to see the emergence of manufacturing and service companies that provide made-to-order biology," he said.
"This will enable advances and transformations in many fields — ranging from climate to medicine to agriculture — by providing engineers with an exciting new suite of tools to work with.
"Engineers play a leading role in translating major advances in healthcare into new technologies that can be adopted and widely used."
"This could be just as transformative as the impact of advances in electrical and software engineering made during the 20th century, which gave us tools such as computer chips, the internet and CAD software."
Steel's non-COVID research looks at the intersection of control theory and synthetic biology, which typically involves studying the control systems used by nature as inspiration to develop technologies that let us interface between robotic tools and living systems, such as bacteria.
"This allows us to engineer new biotechnologies, such as biosensors, and also to study scientific phenomena — such as the evolution of antibiotic resistance, one of the 21st century's looming health crises — in new ways," he said.
"I particularly enjoy the range of activities and skills involved in my work. Often a single day will include time spent writing, teaching, developing software, administering a business and doing hands-on experiments.
"If I had to choose a favourite theme in my career so far, it would probably be the flexibility that engineering has given me to work in many different fields, all around the world."