Instant information about the quality of the contents inside could help create packaging that fights the problem of food waste.
According to the Australian Government, food waste costs the national economy $20 billion each year. 
That's the result of 7.3 million tonnes of wasted food each year, which accounts for more than five per cent of Australia's greenhouse gas emissions. 
On a global scale, one quarter of the water used in agriculture is taken up on food that is ultimately thrown away, and one third of the food produced across the planet is never used.
The wastage takes place throughout the supply chain — from the farm, to transport, to commercial and individual consumers — and has a variety of root causes. 
University of Sydney materials engineer Dr Sina Naficy has been working on one way of reducing this wastage, and his solution is a simple one: better information.
Sense and sensors
That information comes in the form of flexible sensors embedded in food packaging. 
"We can basically get quantitative information about the state of food," he told create. 
"This could be the chemical composition of the food, or bacterial activities and so on, and then this can be communicated with an external user."
That would mean consumers would not have to rely on use-by dates to determine whether food is safe to eat. 
Rather than throwing out food that is still fresh because of an imprecise number printed on the package, warehouses, supermarkets and customers could rely on the actual condition of the food being sold to decide whether it could be eaten or not.
That would help us when we are buying our groceries — Naficy suggests the information could be communicated via a colour code on the sensor or information transmitted to mobile phones — but it could have an even greater impact when combined with automated systems.
"We do a lot of online shopping with big supermarkets," Naficy explained.
"If there is a machine — a robot — that is going to collect the food, for example, to do the overall packaging for your order, then it can also communicate with the food as well, to know whether the food is safe or not."
The work was impressive enough to earn Naficy a place on create's 2019 Most Innovative Engineers listing — and since then he's worked to improve its capability, as well as to respond to interest from industry both here and overseas.
"This circulates a lot," he said of the listing. 
"We had a lot of inquiries from industry, even overseas. We had some of the more serious ones from Europe, because maybe they have more funding on this area."
"A machine can communicate with the food as well, to know whether the food is safe or not."
Staying flexible
What makes Naficy's work particularly innovative is not that he can tell you if food inside a package has expired or not; that technology exists already.
His sensors, however, are cheap and easy to manufacture and flexible enough to be put into regular food packaging, meaning they are practical to use at a broad and cost-effective scale.
"The problem is most of the sensors that we have developed are mainly based on silicon technology; they're very rigid, and they're made of — usually — metal, metal oxide," he said.
"They were not designed, basically, to be part of something flexible, and for that then you need to design a whole new material."
Traditional sensors also have the problem that they don't function well in the kind of moist environments in which food is often packaged.
That meant Naficy had to take a new approach.
"We looked at the materials and we tried to actually use materials which are very cheap — so cellulose or plastics," he explained.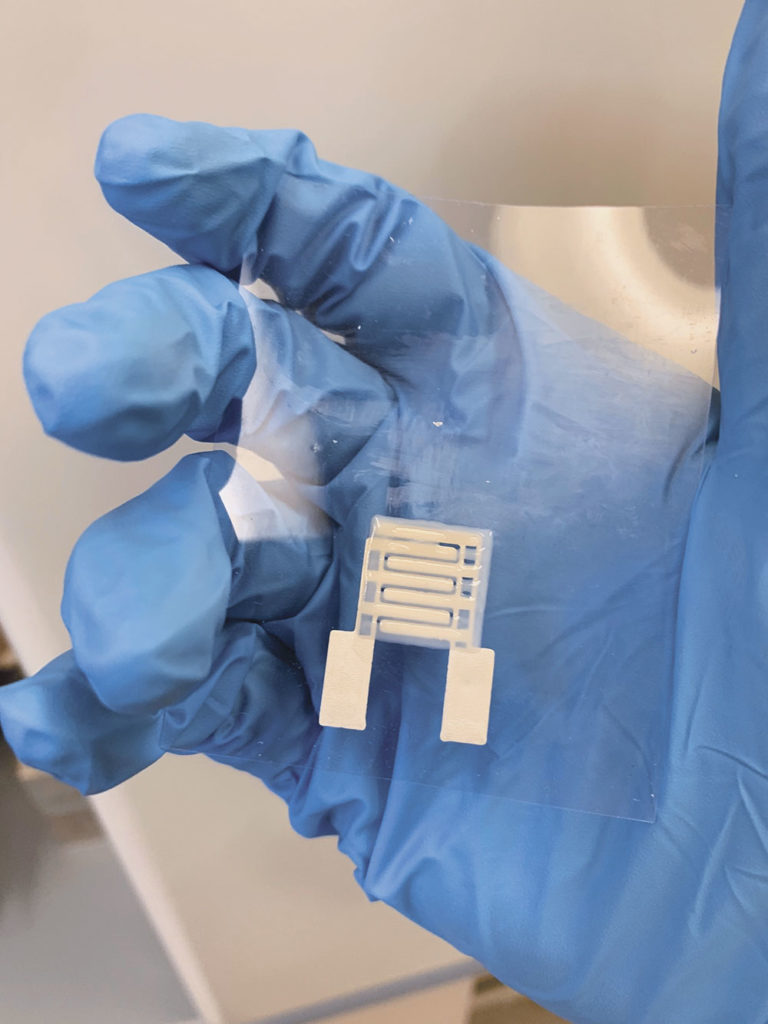 Cellulose, because it is absorbent and can be easily 3D-printed with sensors, turned out to be ideal.
"For example, for protein-rich foods, when they go off, they produce a bit of ammonia. And then cellulose, because it is wet, it absorbs a lot of ammonia as well, because ammonia molecules basically dissolve in water," Naficy said.
"When it dissolves, you can actually measure the change in conductivity in paper. It is actually a big change, and then you can basically print an electric circuit on the paper, which is very cheap."
That circuit can then be integrated with a wireless near-field communication tag, permitting the information to be read by an external device, such as a mobile phone — similar to the way a phone can be used to make a contactless credit card payment.
And because the technology can be tweaked to measure any number of chemical signals, it has potential uses outside food storage.
"It can very easily be translated into the medical area," Naficy said.
"Some of my colleagues, for example, are looking at incorporating these into masks, and then they can detect ammonia. Or you can change the chemistry a little bit so they can look at hydrogen peroxide and CO2. So these are all linked not necessarily to a certain disease, but it basically signals that something is not really right."
A fresh future
Naficy expects that the first place the technology might find use at commercial scale is not in supermarkets, but earlier on in the supply chain.
"It might start in warehouses where everything is fully automated, and we have sensors as part of a bigger package," he said.
"The robotic system, which is in charge of handling the package of food, would be the first interaction with the sensor."
"It can very easily be translated into the medical area. Some of my colleagues are looking at incorporating these into masks."
To get to that point, however, he would like to integrate some improvements into the technology.
"Instead of only one sensor, we are looking at multiple sensors together, because we can print them," he said.
"Instead of only one gas, for example, we can detect two or three, or a mixture of them."
That would also cut down on false positives.
"Also, we are looking at sub-zero temperatures as well. Some of the main feedback that we got from industry … was that they are very keen to see whether these sensors work in the freezer," he explained.
"The idea is to have an array of sensors that would give you more comprehensive information about what is happening in the package environment."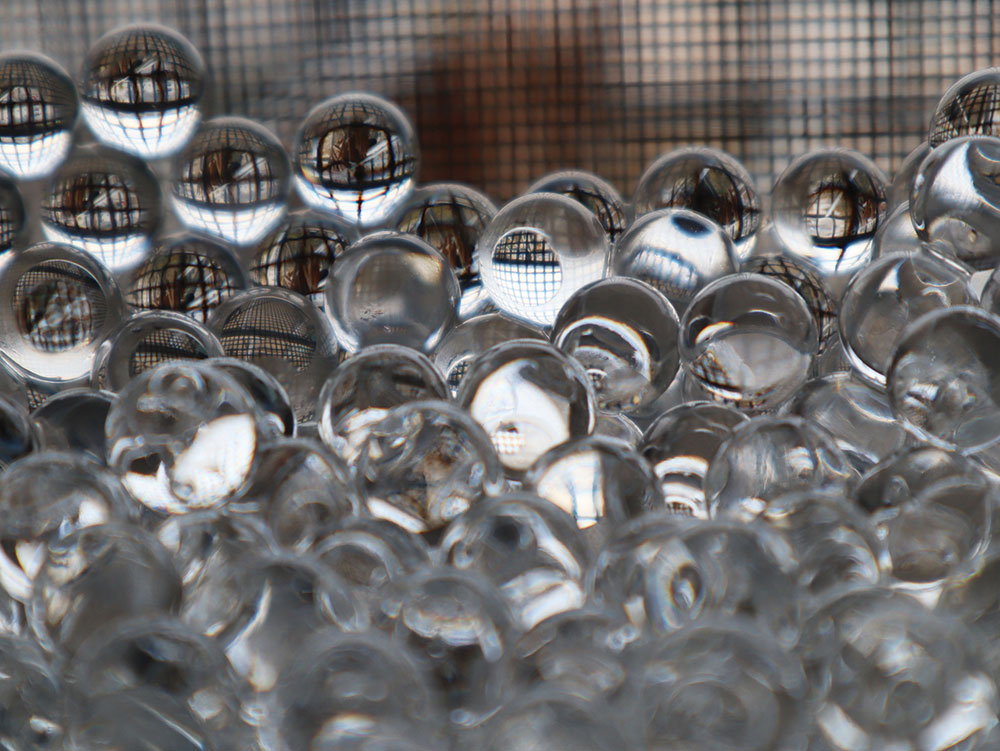 Handling hydrogels
When Naficy is not perfecting his innovative food sensors, his research involves work with hydrogels.
These are polymer-based materials with properties similar to human tissues, and have a wide variety of potential uses.
"They are basically a solid network, like a plastic that absorbs a lot of water," he said.
"Because it has water in it you can do a lot of reactions inside the hydrogel, and also you can make it in a way that it would change swelling in response to a signal."
The material might shrink or expand in response to heat or a change in acidity, for instance.
"You can use that either for sensing, or you can use it for soft robotics, because they move a bit," Naficy said.
He also mentioned that their similarity to human tissue means they have biomedical applications.
His focus, however, is on the technological challenges; he leaves it to his colleagues to put the material to use.
"I'm working on the materials side of things, and then there's all these contributions from others to make it as a complete package," he said.