Australian electric vehicle conversion specialist
Roev
aims to address the lack of electric ute options by converting popular Toyota HiLux and Ford Rangers to battery electric. 
The world might be moving rapidly towards an electrified vehicle future, but Australia's love affair with ICE-powered utes like the Toyota HiLux and Ford Ranger threatens to foil efforts to decarbonise the nation's vehicle fleet. 
In 2022, utes accounted for more than 256,382 of the total 1,081,429 new vehicles sold. With a few notable exceptions these vehicles are powered by diesel engines. With factory-manufactured battery electric options thin on the ground, the challenge of reducing the CO2 emissions of the national vehicle fleet is substantial. 
Last November, Chinese car maker LDV launched Australia's first factory-built battery electric ute the e-T60, a two-wheel drive model with a lofty $92,990 price tag. More electric utes including the Ford F-150 Lighting, Tesla Cybertruck, Rivian R1T and others are in the pipeline but with demand far outstripping supply, these vehicles could be years away from selling here in significant volumes.
Gap in the market
This, along with the fact that large government and corporate entities are now looking to reduce the carbon footprint of their ute-based fleets, is precisely the opportunity identified by Roev founder and CEO Noah Wasmer and his colleagues.
"For all OEMs (original equipment manufacturers) there [are] roughly 250,000 utes being shipped here each year. For HiLux alone, they're shipping roughly half a million units globally per annum. Currently, Toyota is exploring different electrification options, but the indication is that it's four, five or six years until some of those electric vehicles arrive. 
"That represents millions of vehicles right now that are candidates for electrification just in Australia, mindful that we're also talking about millions of vehicles globally, where Australia could be exporting our technology and our kits where they're using these exact same vehicles."
Since forming in 2021, Roev has concentrated its efforts on developing conversions for the popular Toyota Hilux and Ford Ranger models in both 4×4 and 4×2 configurations, and later this year will move to low volume production of the HiLux, with an initial focus on fleet sales. The company has set itself the target of converting 1000 HiLux and Rangers in its first 12 months of full production, a goal Roev's Head of Strategy Lenny Cucksey describes as ambitious but achievable.    
Software focused
With a Bachelor of Engineering (Electrical and Electronic) from the University of Adelaide, Cucksey brings valuable automotive industry experience to the Roev team, having worked in various engineering roles with Holden following the completion of his studies.
Describing the Roev team as a "perfect blend of software and automotive expertise coming together", Cucksey said the business takes a "really software-centric approach" despite the significant hardware involved in converting vehicles from ICE to EV. 
"A lot of our effort goes into the integration, the communications between the new vehicle brain, if you will, and the existing one in the car."
"We work with strong tier-one suppliers but the big focus of our energy and investment is the vehicle control systems and the integration of the existing vehicle with the new drivetrain," he said. "It's largely a software challenge.
"Obviously, software is defining the product experience and the product integrity [is critical] when you're integrating with someone else's physical hardware, so it's really important for us to make sure that we manage that closely and keep that in-house."
He explained that the conversions, which can be performed on new or used HiLux and Rangers dating back to 2016, entails having the combustion engine, gearbox, fuel tank, exhaust systems and other components removed, before the electric motor(s), battery and other electrical components are added. The original components are then either resold into the used car market or recycled as scrap.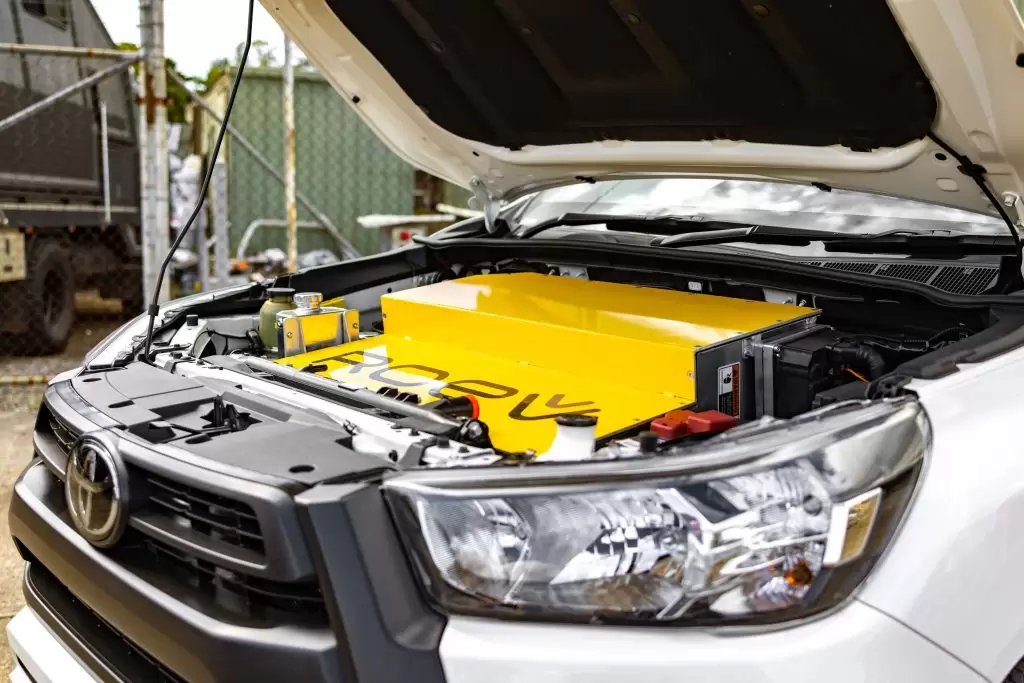 "Being a software-defined vehicle, a lot of our effort goes into the integration, the communications between the new vehicle brain, if you will, and the existing one in the car," Cucksey said.
"We're obviously making sure all the active and passive safety systems operate exactly how they operated before, but that also incorporates the user experience situation.
"Most of the existing vehicle is retained but we replace the IP cluster within the digital cluster and we offer other kind of user interfaces, to show information around things like charging speed.
"We're very HiLux-centric for now. There's just a couple of added functionalities that kind of surprise and delight, rather than [there being] a steep learning curve about how to use the vehicle."
He said the Roev electric ute is still in development and being refined, despite a company called CarBon Leasing and Rentals Pty Ltd announcing an order in May for 500 electric HiLux conversions.
An iterative process
"Some of our early customers are working with us on refining exactly what the user experience is going to be like in the vehicle," Cucksey said.
"There are thousands of little decisions to go through, and that's what we're running through now. We're designing and refining, and making sure the product is fit for purpose as we head out to fleets, and ultimately as we hit the consumer market in a year or two."
He said that some companies have rushed to get solutions to market, but Roev is determined not to be one of them.
"We don't want to rush," Cucksey said. "We're going to make sure that these vehicles are amazing right out of the box."
Roev conversions for the Toyota HiLux and Ford Ranger cost between $45-$60k, plus the donor vehicle. There are two battery options available, the standard 64kWh unit which delivers a claimed driving range of 240km, and the extended range 96kWh battery with a range of 360km.
Vehicle features include 240v 20A V2L ports for powering tools onsite, smart charging capability, a claimed 15 per cent increase in torque over the standard diesel, a CCS Type 2 charging port, 11kW onboard charging capability, an Integrated CAN bus for safety and regenerative braking.