This Indigenous engineer recently established the NSW and ACT Indigenous Engineering Group. Here's what drove him and others to get involved and improve diversity in the profession.
"I'm a deadset country boy," Jason Gordon told Create Digital — and his resume and LinkedIn profile back him up. 
Born and raised in Bourke in North West NSW, Jason's engineering career has taken him to myriad rural and remote towns. He has held positions everywhere from Tumut and Molong to Coffs Harbour and Bowral.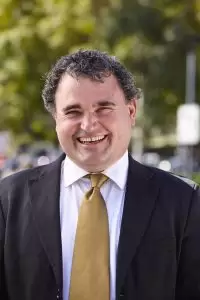 Now the Executive Director of Services at Water Infrastructure NSW (WINSW) in the Department of Planning and Environment, Gordon leads programs including monitoring and management, procurement activities, First Nations engagement, land and property matters, geospatial and digital engineering, work health and safety and portfolio risk.
A Barkindji man, Jason says a major challenge facing the industry is expanding the diversity of engineers. He wants it to be easier for women and people from remote regions to find a place in engineering.
"You need to have incentives to break down those barriers," he says. "Traineeships, cadetships … and, wherever possible, people being able to live in their community, work in their community."
His top three tips for success as an Aboriginal person in engineering are:
Find a good

mentor

to help you plan your career and find a good advocate to give you a leg up

Find your voice and speak up: You have a lot to say and people have a lot to learn from our 60,000 + year culture

Racism still exists, people have just got better at hiding it.  Find an employer who genuinely walks the talk.
Turning his passion into action, Gordon recently established Engineers Australia's Indigenous Engineers Group (IEG) NSW and ACT, bringing engineers together to 'be a voice of generations'.
He sees the need to share First Nations engineering feats and promote engineering as a career path to First Nation people. He is also passionate about cultural safety and developing cultural competency standards for Engineers Australia and the profession.
This NAIDOC Week, four members of the Indigenous Engineers Group share their experiences and insights into what needs to happen to improve diversity in engineering.
Kassandra Dallas – Mechanical Engineer at Sydney Airport for the Baggage Assets
Kassandra Dallas's childhood dream was to become an engineer.
"Ever since I can remember I have wanted to be a mechanical engineer. I loved to see how and why things work, and how I could design new and better devices, especially anything to do with aircraft," says Dallas, who is of the Wiradjuri and Yuin people.
She was determined  to overcome any hurdles that stood in the way of her dream.
"My careers advisor said I couldn't do engineering because I wasn't smart enough. He kept tearing up my early entry forms.
"The Indigenous Centre at the University of Wollongong stepped in [and] offered me a chance. It was not easy… but after a gruelling series of assessments and board interviews, I was accepted into Mechanical Engineering in 2013."
She says being an Aboriginal woman has presented challenges, and she received negative reactions when she studied engineering and electronics (rather than cooking, as suggested) and again when others heard about how she entered her degree.
"However, I went on to design a bait holder using 3D modelling and print for the biology department.  My invention analysed arboreal mammals for sex, shape of nose and mouth, colours whilst they fed – allowing the wildlife cameras to film them.  A paper was published, and [I believe] the invention is still in use."
Upon graduation, Dallas began working at Sydney Airport where she still works today in Baggage Assets in Operations, helping to improve the operations of conveyors and motors to avoid baggage jams.
"My designs for new anti-bag jam devices involving 3D modelling, conveyor belt simulations [and] complex engineering drawings have been fabricated for trial and testing this year.
"Not bad for a First Nations girl who was not smart enough, and should have been cooking!"
Nikalus Sharpe – Senior Reliability Engineer, Holistic Asset Management
While studying a Bachelor of Mechatronics Engineering and a Bachelor of Mechanical Engineering at the University of Newcastle, Nikalus Sharpe worked for the Wollotuka (the Aboriginal education Centre on campus) to promote the importance of further education to students in years 9-12.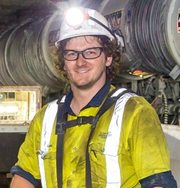 He focused on engaging students in an area they were passionate about – whether that be STEM, hairdressing, food and hospitality or another area.
"We sat down with them and mapped out what it [would take] to get there, what electives they should choose at school and encouraged them to pursue their dreams," says Sharpe, a proud Awabakal man.
"I was also lucky enough to be involved in Indigenous Engineering Summer Schools at the uni, where 20 ATSI kids with an interest in engineering were chosen to come to Newcastle and explore what a career in engineering would look like from both a study and work point of view."
Sharpe's experience in helping to draw young Indigenous people to a STEM career has been Sharpe's main driver for joining the IEG.
"I hope that by working with the group and promoting our ATSI members, our mob may see this and realise that a career as an engineer is achievable."
He says another driver is that you can't be what you can't see.

"I hope that by working with the group and promoting our ATSI members, our mob may see this and realise that a career as an engineer is achievable."
Sharpe now works as Senior Reliability Engineer at Holistic Asset Management, providing clients with innovative and specialised reliability solutions to help them improve their reliability management systems and asset performance.
He recently completed his Masters in Maintenance and Reliability Engineering at Federation University and now teaches the Advanced Reliability Engineering course through the university.
Aaron Delaney – Superintendent, Projects and Governance, South 32
For Aaron Delaney, an engineer's purpose is to problem-solve and make improvements.
"The danger in our field is that too often the solutions tend to overcomplicate things or lose sight of the original intent for which we were engaged," says Delaney.
"I'm passionate about making sure our projects are optimised, fit for purpose and practical."
As the Superintendent, Projects and Governance, at South 32, Delaney manages the prefeasibility and feasibility stages for an annual capital portfolio of multidisciplinary projects across the Illawarra Mining areas for South 32 in excess of $150 million each year.
A proud Kamilaroi man, he was motivated to join the Indigenous Engineers Group to help highlight the engineering feats of First Nations engineers, promote engineering as a viable career path for First Nations people, champion EA's Reconciliation Action Plan and advocate for cultural safety and minimum cultural competency standards.
Jackson Hough – Embedded Software Engineer, Advanced Navigation
Jackson Hough's grandmother, a Gundungurra elder, had a formative impact on his career.
"[She was] a founding member of the Gundungurra Aboriginal Heritage Association. The work she has done inspires me to try and make a difference where I can, assisting other people of Indigenous heritage towards a career in engineering."
Having studied at the University of Newcastle through an industry-based scholarship for Indigenous students, Hough believes assistance like this is key in making it easier for people from regional areas to enter engineering.
"The more Indigenous people that have the opportunity to pursue a STEM-based career, the better it is for all of us. It's important to create a diverse group of engineers that more accurately reflects the interests of our country and people."
As a member of the IEG, Hough hopes to showcase the achievements of Indigenous engineers and the variety of technical fields available to younger Indigenous people.
Before joining Advanced Navigation last month, Jackson was a research and development engineer at ResTech, a joint venture between the University of Newcastle and Ampcontrol, where he worked on large-scale projects to help change the future of coal mining.
He developed software and electronics to overhaul existing diesel mining vehicles for underground coal to battery operated, fully electric vehicles.
"Having been exposed to coal mining from a young age due to my father's work, it [was] good to be able to contribute to the same industry in a meaningful way," says Hough.