For civil and structural engineer Alicia Maynard, sustainability is an integral part of the construction process.
Any profession contributing to the built environment is obliged to think ahead and embrace its responsibility to future generations, believes Maynard, who was recently announced as a 2020 Green Star Champion by the Green Building Council of Australia (GBCA).
The award recognises the vision and commitment of leaders across the building industry who work to deliver a more sustainable built environment through GBCA's Green Star certification program.
Maynard describes her role as General Manager, Sustainability and Technical Services at funds management giant ISPT as creating and delivering sustainability strategy that "supports our business strategy in creating growth for people and places through property, on behalf of 50 per cent of working Australians".
Key projects have included a capital investment program delivering water and energy efficiencies, with a resulting 42 per cent decrease in carbon intensity since 2014; certification of 70 buildings under the Green Star program; a climate resilience and adaptation program; and the first two stages of a four-stage solar rollout.
Unprecedented rates of social, environmental, technological and economic change are shaking up retail, logistics and warehousing property markets, Maynard said. These are sectors in which ISPT invests, along with residential property. Its portfolio at the time of writing is valued at $19 billion.
"The rigid form of the built environment will need to adapt to accommodate new functions and serve new purposes, to connect communities and integrate with the natural environment," Maynard told create.
"Failure to adapt and evolve will threaten business, the environment and society at large."
The natural path
Maynard studied civil engineering at the University of Technology Sydney, followed by five years as a civil engineer at Forbes Council, then structural engineering and other responsibilities at professional services firm Arup.
She was drawn to the profession via a childhood watching her fitter and turner father devise "all sorts of creations from scrap metal" and admiring his problem-solving prowess. A love of maths and the natural environment also nudged her towards a field "that created amenity and enabled prosperity for people in harmony with nature".
Somewhere during her Arup years, she made a professional pivot towards sustainability. She described the tipping point as follows: "Two existing 20-year-old buildings were being demolished.
"I could not come to terms with the waste of time, money and resources to build the new tower at the expense of the two existing fully-functional buildings, and started to investigate closed loop design thinking and design principles of long-life, low-energy and loose fit, before changing jobs and moving into my first sustainability-dedicated role."
"The rigid form of the built environment will need to adapt to accommodate new functions and serve new purposes."
Since 2008, Maynard has led sustainability at firms including Mirvac and Lendlease. She has had her current role since 2015.
ISPT began its four-phase solar rollout in 2016 and announced this past December that stage two was complete.
The two parts comprised 3000 panels, 20,000 m2 of coverage, 13 properties and 1361 MWh of generation, followed by 13,000 panels, 75,000 m2 of coverage, 12 properties and a generation of 5,352,900 kWh in the first year.
The investment in solar is worth $12.8 million so far.
Maynard said the biggest challenges the project faced were delays up to six months due to supply authority approval processes, and finding delivery partners of the right standard.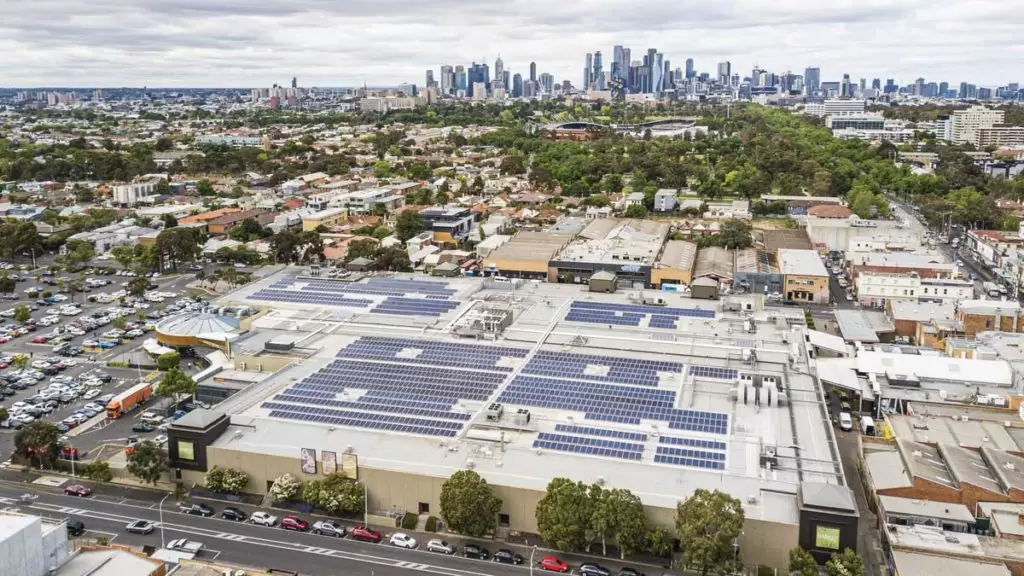 Stage by stage
The program began with a comprehensive review of panel suppliers — "including efficiency, cost effectiveness, bankability, warranties" and shortlisted three to four panel suppliers and an inverter supplier, which have been adopted.
"In stage one, we installed Q-Cell 285 kW panels, and stage two, we installed Trina 330 kW solar panels. At the time of procurement, these were the best panels in the market, which have exceeded our business case benchmarks," Maynard said. "For stage three, we will install 390 to 450 kW panels."
Maynard said the success of the program so far is down to good engineering and getting the basics right.
"Over the past two years, we have achieved 10 per cent over production in PV energy generations. To achieve this we have employed technical experts as designers, peer reviewers and installers," she said.
"We have also deployed the best panels and inverters in the market, which generate more solar power, including on cloudy days."
"At the time of procurement, these were the best panels in the market, which have exceeded our business case benchmarks."
Making sustainable development a reality
The appreciation of the importance of engineering in meeting the United Nations' Sustainable Development Goals (SDGs) has grown recently.
Examples include the 2019 World Engineers Convention focus on the subject and the debut this year of World Engineering Day for Sustainable Development on 4 March.
The importance of the 17 development goals is also being increasingly appreciated within Maynard's organisation.
This year the company will refocus its sustainability strategy, including by aligning it with the SDGs.
"Engineers, through their creative problem-solving skills and systems thinking, are well equipped to understand the issues related to climate change and finite resource depletion, and look to new solutions focused on community resilience, adaptation and resource conservation," Maynard said.