With Brisbane set to boast the world's tallest commercial timber building and demand for the material growing, our concrete jungles could eventually give way to more natural city skylines.
When it is completed later this year, the 45 m Lendlease 25 King project is expected to be the tallest commercial timber building in the world.
"The fascinating thing about building with timber is that its strength is akin to concrete and steel, it can be produced economically in a factory environment and most importantly boasts a plethora of sustainability benefits," said Lendlease General Manager Tony Orazio.
According to Dr Robert Foster from University of Queensland's (UQ) Future Timber Hub, engineered timber is a quicker, cleaner construction material than steel or concrete. It is also renewable, and can be used as biomass fuel at the end of its life.
Australian trends
Last year, Lendlease completed the nation's first engineered timber office at International House Sydney. This structure took less than a year to build, from 1750 pieces of cross-laminated timber (CLT) and over 20,000 screws.
The company has also used engineered timber in other structures, including Melbourne's Library at the Dock and Forte Apartments, as well as the Jordan Springs Community Hub in NSW.
Off-site construction company Strongbuild said that demand for prefabricated components including CLT is exceeding local supply. Last year, Strongbuild supplied $5 million worth of prefabricated CLT for a multi-storey luxury retirement village, and timber panels for an affordable housing project in NSW.
According to Orazio, a key element of 25 King's design is the use of prefabricated modules for each floor.
Foster said that an advantage of using engineered timber for sophisticated digital prefabrication is that the production process is already largely automated, so relatively complex shapes and cutting patterns can be integrated with little additional cost.
"These approaches are already being used to achieve high levels of prefabrication – which can have huge benefits in terms of quality control, speed of construction and safety on site," he said.
How high can you go?
While engineered timber has advantages over concrete and steel, there is work to be done in addressing the challenges of very tall structures and fire safety.
UQ's Future Timber Hub was awarded an Australian Research Council grant of $1.58 million over three years to engineer new timber building products; deliver tall, fire safe timber buildings; and transform the timber industry in Queensland.
Globally, the bar for timber construction is being raised sky high. Japanese company Sumitomo Forestry Co has plans to put up a 350 m timber tower in Tokyo by 2041, and in Chicago, a 244m structure has been proposed.
According to Foster, who has been involved in design studies for timber towers soaring to 200 and 300 m, there is a lot to be learned from conceptual studies, but they should not be confused with "real" construction projects.
"While aspirational designs and conceptual studies can be great fun and very valuable tools for research, it's important that we don't lose our sense of perspective," he said.
The world record for the tallest completed timber building is expected to be set later this year by the Mjostarnet building in Norway, which will be around 81m tall.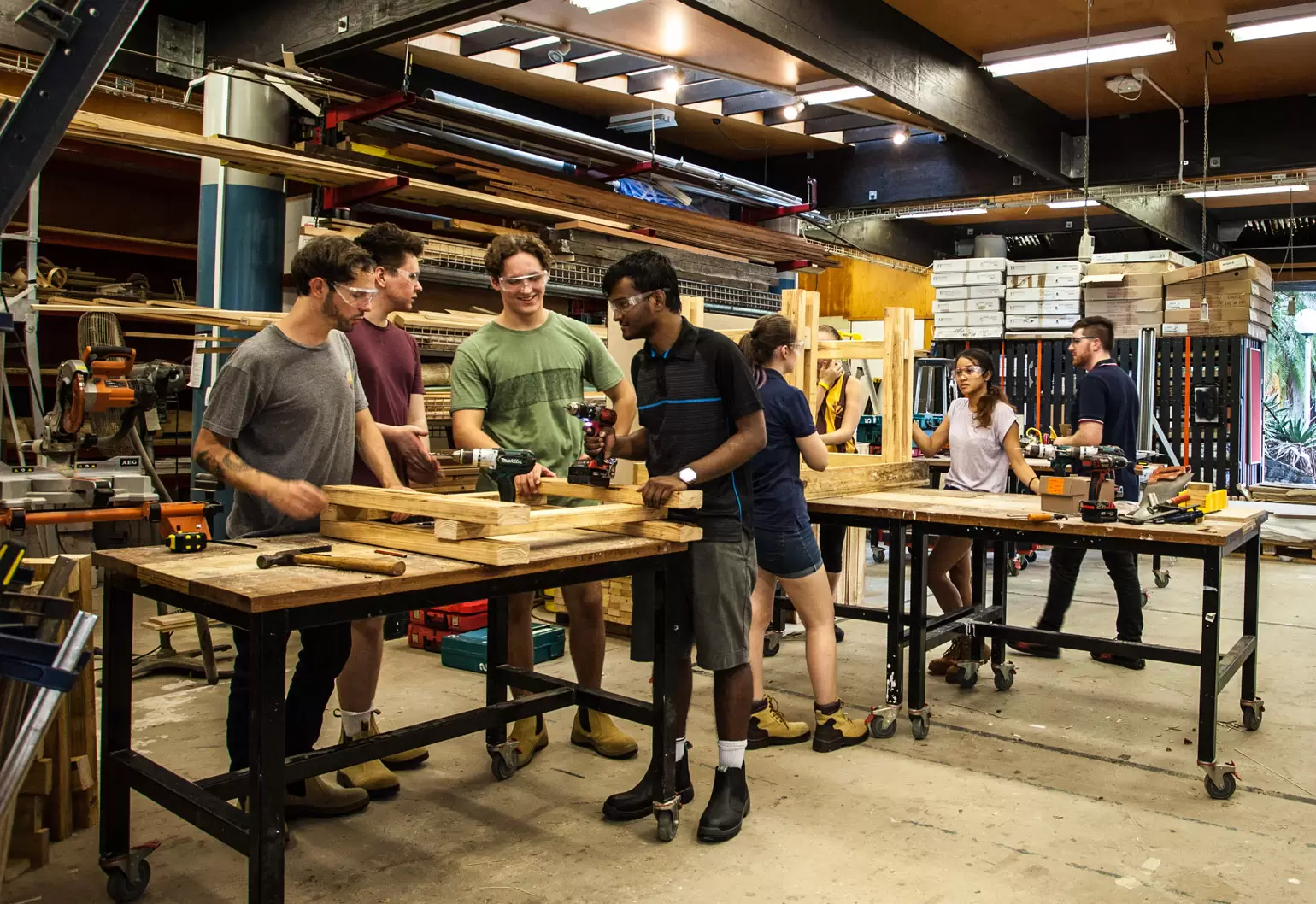 Fire-safe timber
According to Strong, demand for wood-based engineered building products like CLT is growing despite concerns about the fire safety of existing structures following London's Grenfell Tower blaze last year.
Strong sought to allay these these fears, telling AFR that CLT can perform better than steel in extreme heat conditions.
"While we have no idea how steel will react at a certain temperature, timber starts to char at a very predictable rate while insulating the rest of the [inside] timber [layers]," he said.
According to Dr Cristián Maluk from the Future Timber Hub, the charring medium produced by modern mass-produced timber elements acts as a barrier between the fire and unburnt wood, delaying the burning process.
"We are trying to highlight the key benefits of timber and how it can be used in an appropriate manner to build taller, build safer, and comply with the considerations of the building environment today and in the future," Maluk said.
Overcoming the status quo
According to Foster, the biggest barrier to the uptake of engineered timber construction in Australia is "overcoming the inertia of the status quo".
"There is always a tendency to keep doing whatever has been done before, even when it's clearly no longer the best option," he said.
But if this can be overcome, Foster believes that there are enormous opportunities for the material.
"I don't see any reason why engineered timber construction shouldn't become as mainstream a construction material as concrete and steel in the near future," he said.
The Future Timber Hub has developed a course to provide Australian building designers with the skills needed to design better, more sustainable buildings using timber. Click here for further information, or email [email protected] for future sessions.