In a bid to raise awareness of the threat posed by space junk, UK sound artist Nick Ryan has enlisted the help of engineers to create a machine that gives celestial debris a voice.
Hundreds of thousands of pieces of space junk pass over our heads each year, but with the exception of Rocket Lab's Humanity Star, we rarely see, and never hear them. But Tasmania's Museum of Old and New Art: Festival of Music and Art (MONA FOMA) recently hosted a machine that gave people the opportunity for a more personal connection.
Ryan said the information provided by scientists about space junk is largely statistical, which can be hard for non-scientists or non-engineers to interpret.
"From those numbers it's very difficult to get your head around what this phenomenon is like," he said, adding that people tend to better understand sensory information.
To make the concept more accessible, Nick created Machine 9 to convert information from a number of open source databases into sounds played when individual pieces of space junk pass overhead.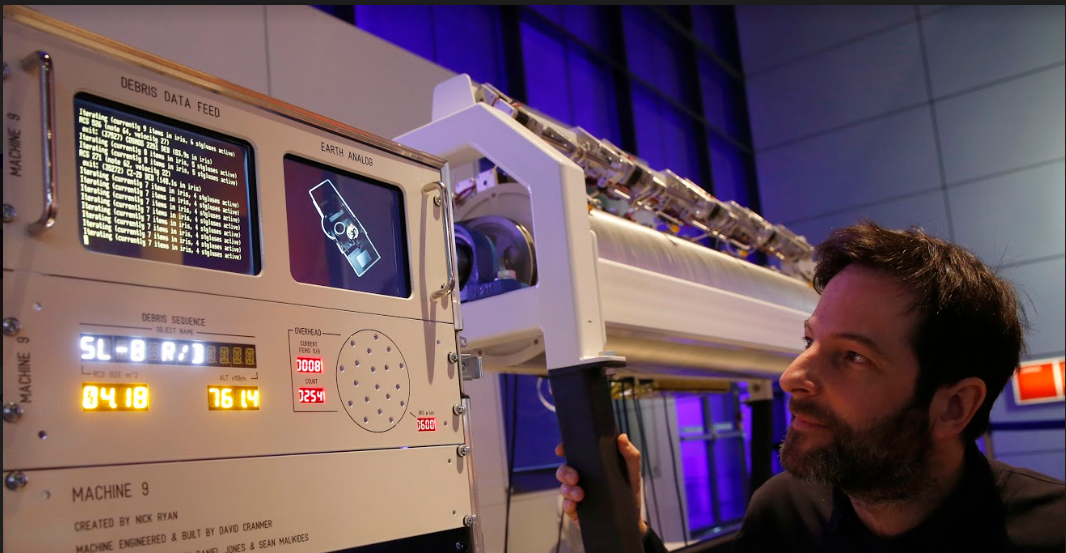 Sean Malikides, an Australian mechatronics engineer and artist, worked with Ryan on the software engineering side of the project. He said creating technological art installations is a fast-paced, high-pressure game, which he finds exciting.
"You've only got a very short amount of time, the project is always bespoke … and you never do the same thing twice," he said, adding that working with artists pushes him to be more creative with his engineering solutions.
Malikides said audience reaction to Machine 9 has been great.
"People are super interested in the piece, they have lot of questions [about how it works] and when you explain it they really do comprehend the relationship between the sounds and the pieces of space junk," he added.
No easy task
Malikides, who now lives in London, met Ryan in Tasmania, and the pair have collaborated on several projects that use technology to communicate important issues. He said the software engineering for Machine 9 was "ridiculously complicated" due to the number of moving parts and software components, as well as the fact that it used real-time data on the position of 27,000 pieces of space junk.
Machine 9 is based on Edison's phonograph cylinder, and uses a number of mechanical styluses to select from 1000 grooves, each corresponding to an individual sound. The system allocates each piece of space junk to one of these grooves. Sounds are selected to reflect the physical nature of the debris – for example, small objects initiate pitched sounds, while large objects play deeper tones.
To track space junk audibly, a custom piece of software called the orbital mechanics simulator extrapolates a snapshot of debris at a particular time to the current time. This communicates with a virtual version of Machine 9 – created by Malikides – that tells the machine which groove to play.
The orbital mechanics simulator was written by scientist Dr Daniel Jones especially for the project, and the physical machine was built in the UK by engineer David Cranmer.
"It's quite unusual to have designed such a sophisticated piece of engineering purely for a piece of art," Ryan said, adding that engineers and scientists he has worked with have been very supportive of the Machine 9 project.
"It gives them another way to explain their research and explain this massive crisis that's happening above our heads," he added.