The Great Barrier Reef is in trouble – and time is running out. Two very different projects are using engineering innovation to lend a hand.
In just over three decades, the World Heritage-listed natural wonder has suffered a 50 per cent loss of coral coverage due to factors such as tropical cyclones, coastal development and the crown-of-thorns starfish. On top of this, the Great Barrier Reef was hit with two back-to-back global bleaching events in 2016 and 2017.
According to the Great Barrier Reef Foundation, these threats have combined to reduce the reef's ability to recover from future disturbances, which are likely to increase in the coming years.
Spurred on by the urgency of the reef's plight, Professor Matt Dunbabin from Queensland University of Technology (QUT) has modified a robot he originally developed to combat crown-of-thorns starfish (COTS) to release coral larvae back into the ecosystem.
The newly-minted LarvalBot had its first trial run during the spawning event late last month.
"We committed to this year as the reef is in such trouble," he told create.
From starfish to nursery
Dunbabin, whose first degree was in aerospace engineering, explained that LarvalBot is the third generation of his reef-roaming robot. The first incarnation was COTSbot.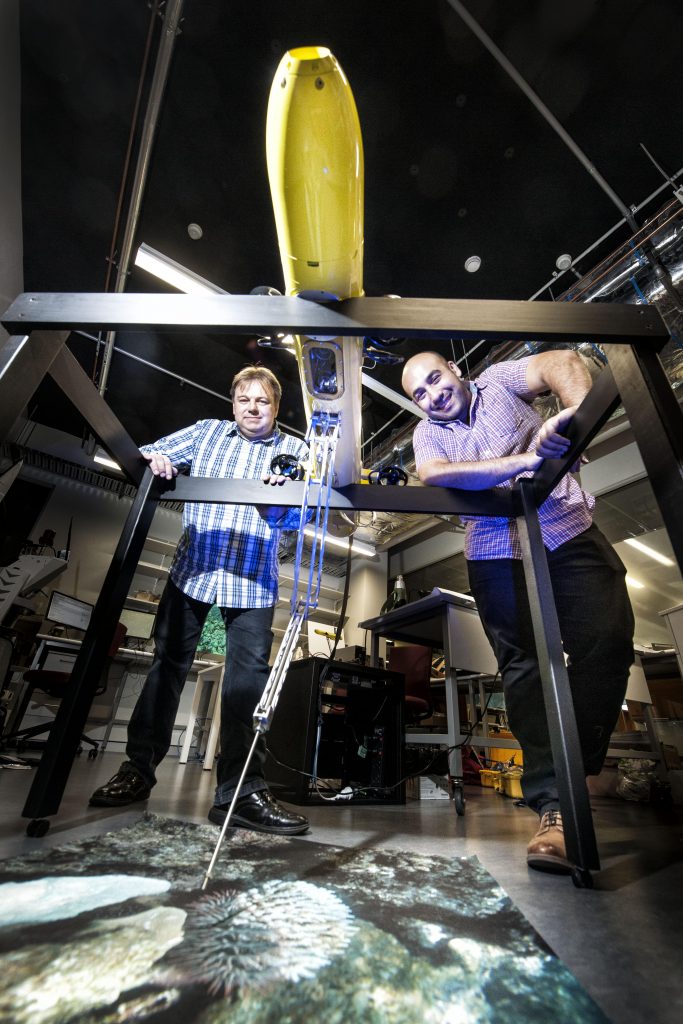 He and his fellow QUT roboticist Feras Dayoub created COTSbot in 2015 to identify and eradicate the marine pests responsible for around 40 per cent of the reef's coral decline.
COTSbot was effective, but used an expensive sonar navigation system to find its way around. Dunbabin and Dayoub teamed up with the Great Barrier Reef Foundation to bring costs down by making the robot 'see' like a diver using computer vision.
As well as reducing costs tenfold, Dunbabin built a system capable of multiple tasks – a "Swiss-army-knife" for reef conservation.
"We wanted to make a useful tool that could be upscaled for reefs around the world," Dunbabin said.
RangerBot was born. It was small, self-sufficient and as easy to use as an aerial drone. The new robot bagged its creators the $750,000 people's choice award in the 2016 Google Impact Challenge Australia.
For the LarvalBot project, Dunbabin collaborated with coral IVF pioneer Professor Peter Harrison from Southern Cross University. The team used the modified RangerBot to concentrate coral larvae reared in pools and return them (gently) to regenerate dead areas in the Great Barrier Reef. This technique is known as coral restoration.
One challenge was designing a larval dispersion system that wouldn't damage the larvae. The problem was solved with a little wing that squeezes out a fog – like a crop duster.
Dunbabin is excited about combining his technical expertise with Harrison's scientific knowledge. Next year, they hope to increase their impact by using LarvalBot to restore reefs in the Philippines.
"This is a great thing where we can marry up technology with environmental and marine science to help coral reefs," Dunbabin said.
Raising awareness with SolarTuk
While projects such as LarvalBot will help the Great Barrier Reef recover from past trauma, the Great Barrier Reef Foundation believes climate change poses the greatest threat to its ongoing survival.
In a bid to raise awareness about this danger, Julian O'Shea is leading a group of young engineers and engineering students on an overland expedition from Melbourne to the Great Barrier Reef. They will be using an attention-grabbing mode of transport: a three-wheeled, solar-powered tuk tuk.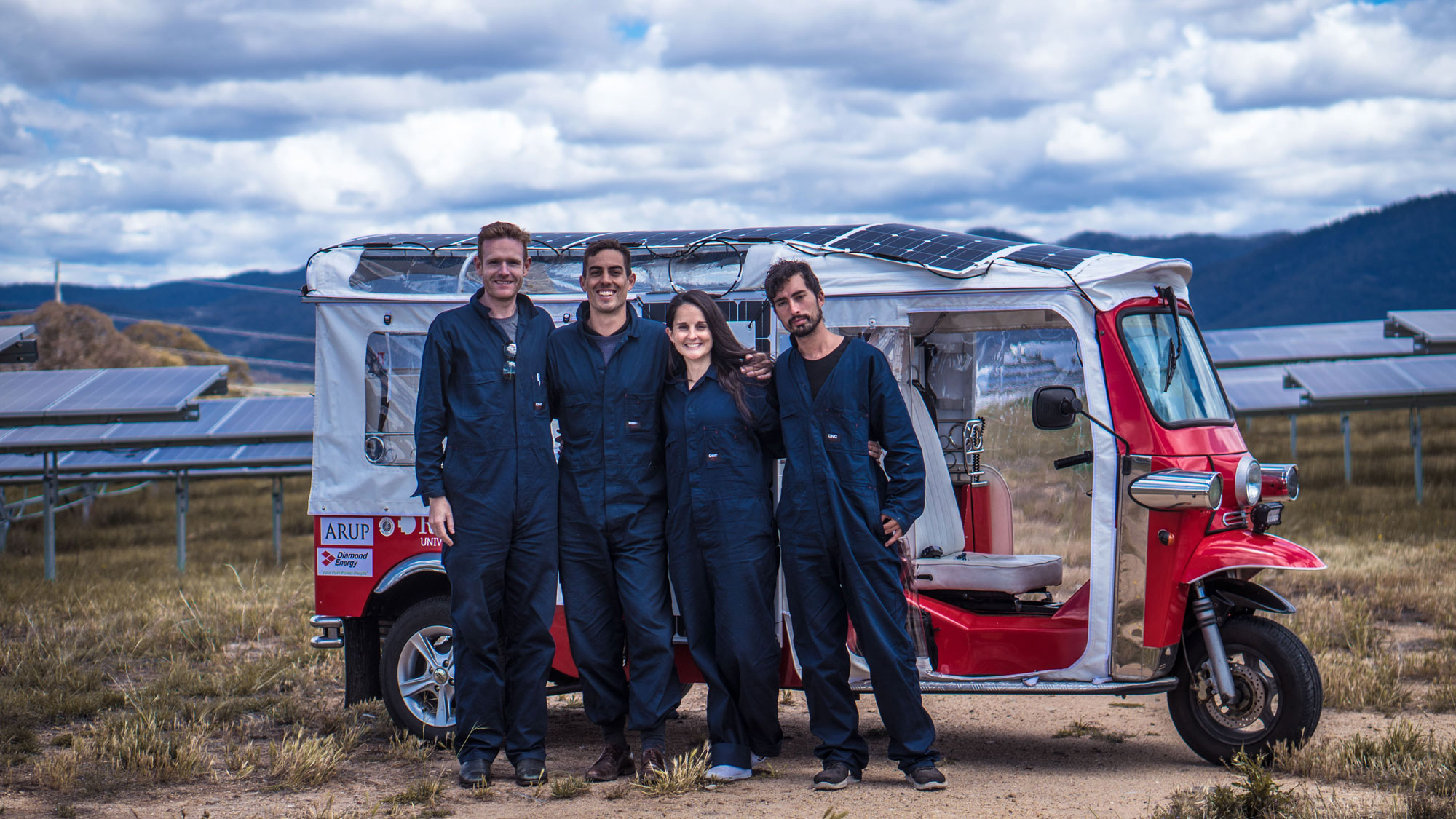 O'Shea told create the SolarTuk vehicle was sourced from a factory in Bangkok that builds electric auto-rickshaws to EU standards, then converted to run on solar.
The conversion was carried out by the SolarTuk engineers and RMIT engineering design students. As well as installing solar panels on the vehicle's top and sides, the team replaced the original lead-acid batteries with six Tesla Model S battery modules. This halved the total battery system weight to 150 kg and almost doubled its storage capacity to 31.8 kWh. It also bumped up the tuk tuk's range from 70-80 km to 250-350 km between recharges.
The party plans to ensure that all power is sourced from renewables during the trip.
SolarTuk set off from Melbourne on 24 November. At the time of publishing, the SolarTuk party had reached Noosa, in Queensland's Sunshine Coast. They will be visiting schools and community groups along the way to promote Australian innovation, sustainable transport and STEM careers. O'Shea also has plans to take the converted vehicle on a world-wide odyssey in the future.
While O'Shea doesn't think that solar-powered tuk tuks will take off as the future of transport in Australia, he hopes that SolarTuk's Reef pilgrimage will start a conversation about moving towards greater sustainability, including a move towards more electric vehicles.