Should we fear automation taking over dangerous and dirty jobs? What if handing over these jobs to machines can save a considerable number of human lives? Chaudry Amin seeks an answer by examining one of the world's most dangerous industries.
From steam, to electricity, to digitisation, each industrial revolution has seen shifts in the way humans approach work and offload labour to advancing technology. Now artificial intelligence (AI) and automation are causing alarm bells to ring again about future job loss at the hands of automation.
Welcome to the beginnings of the Fourth Industrial Revolution.
British economist John Maynard Keynes's prediction for widespread unemployment towards the tail end of the Second Industrial Revolution has an eerie resemblance to current fears about AI: "The increase of technical efficiency has been taking place faster than we can deal with the problem of labour absorption," he said at the time.  
I ask though, should we fear automation taking over dangerous and dirty jobs? What if handing over these jobs to machines can save a considerable number of human lives?
For an answer, look no further than the mining industry. It's one of the most hazardous industries in the world, but it's also seeing one of the fastest rates of AI and automation adoption among mechanised industries.
Fatality statistics in the mining industry
The International Labour Organisation (ILO) estimates that more than 2 million people die each year through work-related accidents and illnesses.
19 per cent of these fatalities are due to occupational accidents. Of these, the mining industry is responsible for up to 5 per cent of global workplace fatalities, despite comprising just 1 per cent of the global workforce. As of 2000 numbers, this translates into at least 15,000 mining deaths a year. To put this in perspective, this is the entire permanent population of Broome in Western Australia dying due to mining incidents each year.
Australia's mining industry is deemed cutting edge, with one of the world's best safety records. Still, since 2003 there have been 131 deaths related to mining.
As of 2016, the mining industry in Australia has the fifth highest fatality rate out of all industries, which is twice the average work-related fatality rate. While employing only 1.9 per cent of the total Australian workforce, it is responsible for 4 per cent of work-related fatalities.
Apart from the tragic loss of priceless life, mining fatalities have a high cost to business as well:
Monetary impact
With total global annual work-related fatalities costing about 4 per cent of the world GDP, mining fatalities cost the world economy about US$33 billion in 2018.
To put this in perspective, the United Nations estimates the cost to end world hunger at US$30 billion, or the price to provide safe drinking water to the entire world's population at US$10 billion.
Competitiveness
Research by the ILO shows that a high fatality rate results in lower competitiveness when it comes to national economies.
Bottom line
Worker fatalities can also lead to: loss of social license to operate; low staff morale leading to lower productivity; higher insurance premiums, compensation and damage payments; and capital loss and deferred production due to damage.
Automation in the mining industry
A mine is like a giant factory, and mining companies are seeking to automate greater portions of this factory to enhance efficiency, productivity and safety.
Some of these changes will lead to job loss, especially for semi- and unskilled workers. There will be fewer people travelling to regional centres, which will affect local housing markets, support services and local industry. And automation will bring changes to the mining workforce, which currently has a skills shortage of engineers.  
But others, according to a study by the Regional Social Development Centre, will be huge positives. Automation means increased efficiency and safety, and it brings a reduction in operating costs. It means a safer working environment and improved environmental monitoring.
Even some of the 'negatives' stated above have silver linings. Fewer people travelling to regional centres puts less pressure on health, housing and community services, and cuts down on the environmental and social impact of a fly-in, fly-out workforce.   
Mining companies are already automating activities like ore haulage, which causes the majority of mining-related injuries. Rio Tinto, BHP, FMG and Roy Hill in Australia are in the process of automating haulage by using autonomous trucks, drills and autonomous trains, and one day autonomous ships.
Another example is Randgold's Kibali Gold Mine in the Congo, which is aiming to have a bottom level completely free from people, with underground operation automation yielding a 29 per cent quarter-on-quarter reduction in injuries.
Future outlook
Over the past 30 years, average robot prices have fallen by more than half relative to labour costs. And as the market grows, economies of scale will come into play.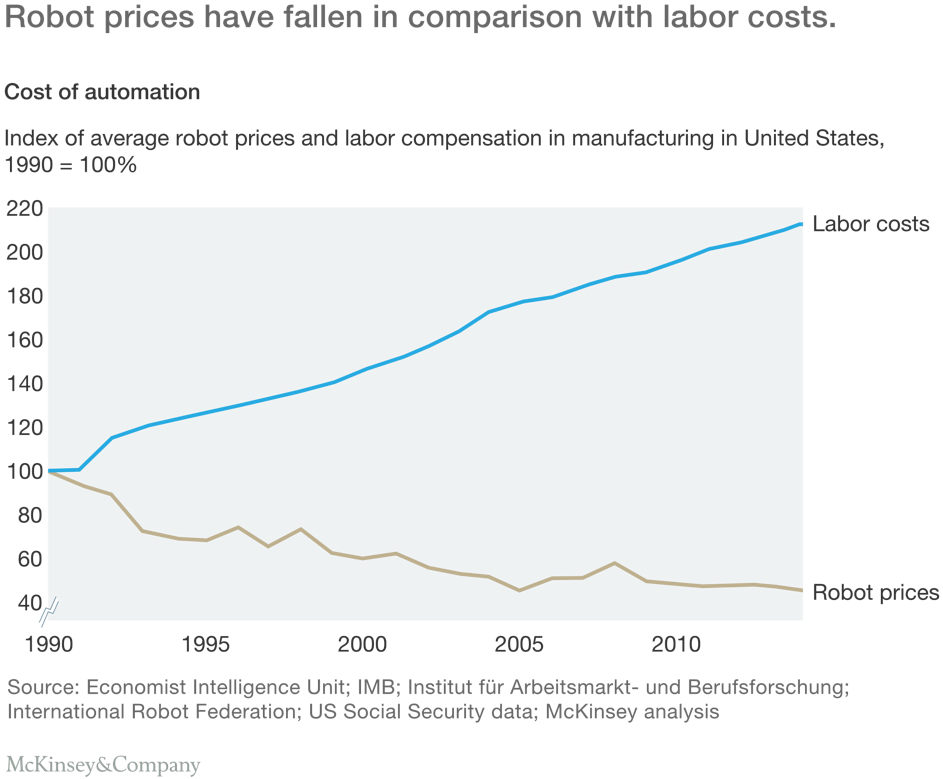 For the first time in industrialised history, we have the opportunity to practicably remove humans from hazardous situations, whereas previously we were primarily restricted to improvements in work procedures.
Hopefully these changes mean putting the days of mining disasters behind us for good.