An old Japanese art form is inspiring engineers to create new smart structures.
"The traditional rules of origami — one sheet of paper, no cuts — are daunting," one of the world's foremost origami artists, Robert J. Lang, once wrote.
"It would appear that only the simplest abstract shapes are feasible with such rules."
Lang has done more than almost anyone else to demonstrate the possibilities inherent in the fundamental limitations of this centuries-old Japanese art form, and it might not be a surprise that before he turned to paper-folding, he trained as an engineer.
After all, finding creative solutions from limitations is what engineers do. And now, a small corner of the engineering world has devoted itself to the practical applications of paper-folding.
Soroush Kamrava, a PhD candidate at Northeastern University in the United States, is one of these engineers. His interest is in incorporating origami into another technology that finds possibility from limitation.
"When we combine the concept of origami, which is basically a type of art, with our design of mechanical metamaterials, it adds some really fascinating processes and features together in structures," he told create.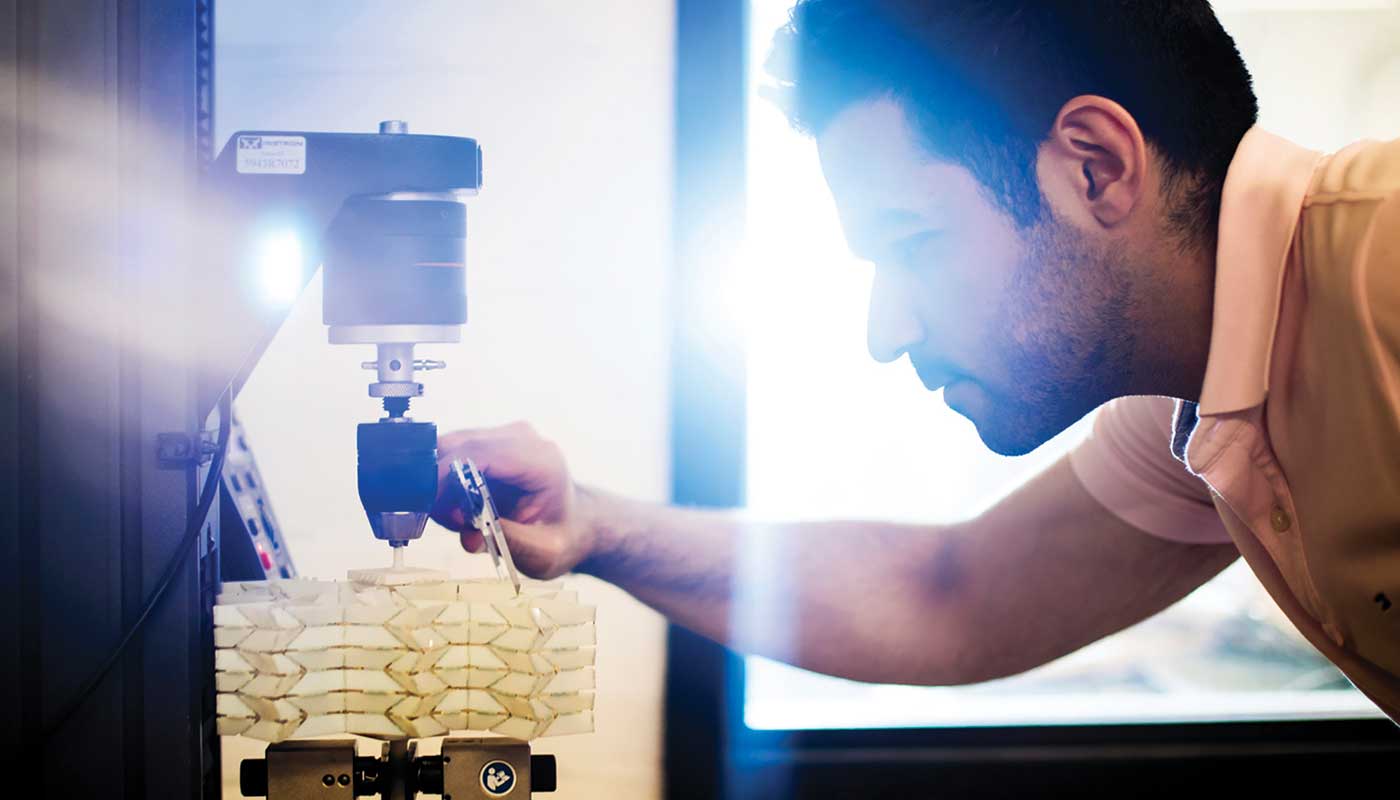 Metamaterials are specially designed substances that can change their property not through their own power, but in response to their surrounding environment.
"If [a material] can respond to temperatures, if you put it into a cold room, it will behave different than in a room in which temperature's high," Kamrava said, listing other properties to which metamaterials can respond, such as pressure or light.
"Right now, we are working on a mechanical metamaterial that can change its colour under the surrounding light — for example, a kind of camouflage," he said.
And origami is essential to the process.
"We want a structure that can adapt its colour," Kamrava said.
"The next step is to find a geometry that can do so."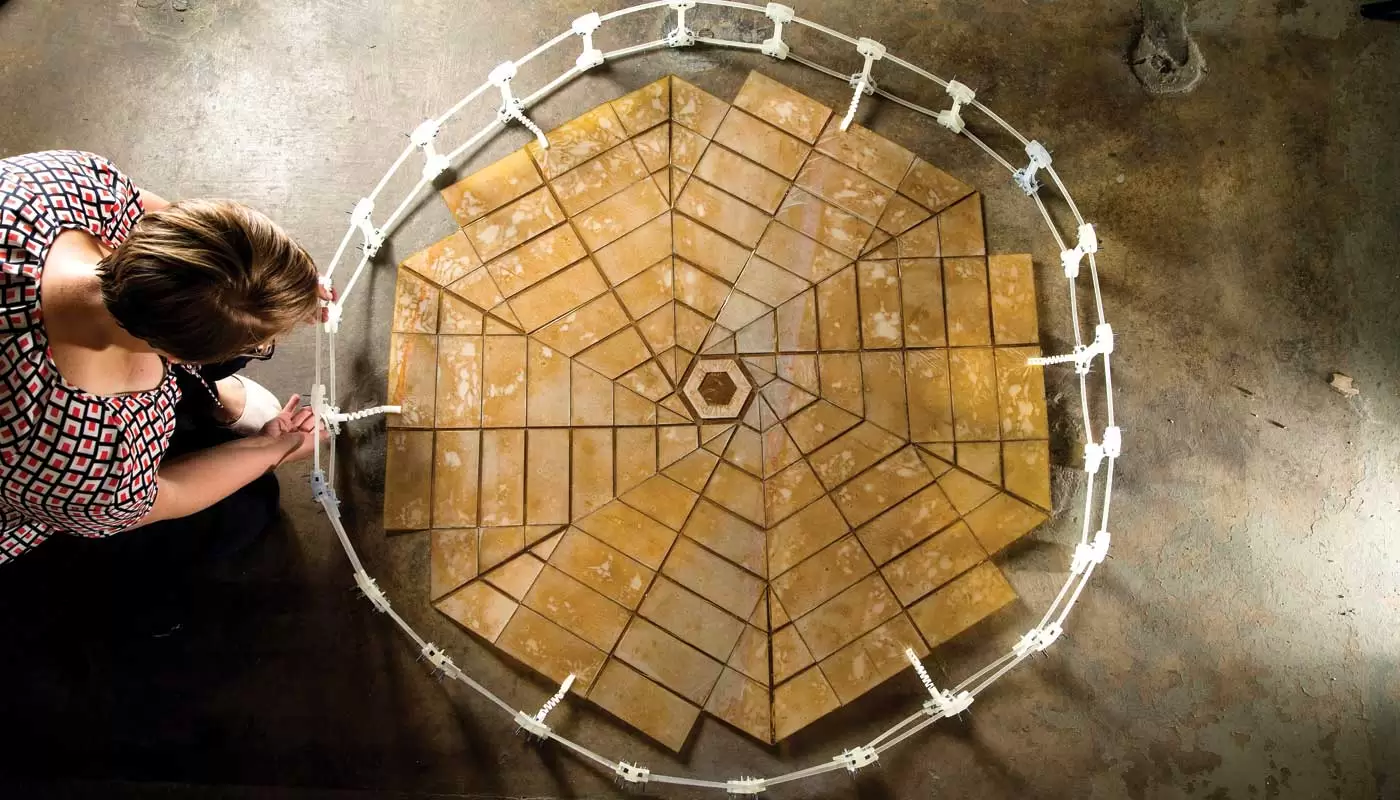 He starts out by folding a paper version of that geometry, drawing inspiration from patterns and shapes in the world around him. Once he has his prototype, he turns to more contemporary tools.
"We replace the folding lines with hinges, we replace the paper with usually 3D-printed materials, and 3D print our structures because it's easier and quicker to fabricate," he said.
It can take up to a year for Kamrava to see one of his structures through to assembly, but his work has a wide variety of potential applications.
"I think one of the most important potential applications is the military services," he said.
"People want to hide, for example, military equipment from enemies. So it's a good idea to cover your equipment using these types of materials or structures that can change their colour, shape, in order to hide themselves."
Origami engineering has also played an important role in space, with carefully designed folds allowing bulky structures like solar panels to be packed tightly away for transport before being unfurled after being placed in orbit.
Kamrava's ultimate goal is to create metamaterials that require no electronic power at all.
"In that case we can make the smart structures much cheaper because we are removing the electronics part, which is usually the expensive part," he said.
"So there would be less maintenance, less cost, and everything would be easier and simpler."
It's a fitting philosophy for an origami engineer: one sheet of paper, no cuts.
Koryo's collapsibles
One of origami engineering's formative innovations was the development by Japanese astrophysicist Koryo Miura of a tessellated fold that can be used with rigid materials.
In a 1985 paper, Miura described "a new concept of packaging and deployment of large membranes in space".
His fold consists of an array of parallelograms that remain completely flat when collapsed. This allows it to be used with stiff material like solar panels.
The Miura fold has been applied to everything from spacecraft to surgical stents.
"The Miura fold has a lot of really interesting properties," said Kamrava, but it is far from the only fold in the engineer's toolbox.
"Any other origami pattern can be used."
This article originally appeared as "Pushing paper" in the February 2019 edition of create magazine.