Engineers are developing carbon fibre composites to create longer, stronger wind turbine blades.
Global clean energy company Vestas has joined forces with Australian researchers to make materials that will increase the future generating capacity of wind turbines.
Dr Adrian Gill, lead specialist for blades at Vestas, told create that the key to increasing the energy produced by wind turbines is blade length. And longer blades require a strong, light material.
To achieve this, manufacturers make blades using composite materials, which combine a fabric of tiny, load-carrying fibres with a resin matrix to hold them in place.
Glass fibre composites are the cheapest option, and are used to make blades for most of the world's wind turbines. Carbon fibre composites are more expensive, but provide better performance, which Gill said made them the material of choice for Vestas.
"Carbon fibre makes a lot of sense for us as it allows us to put longer and lighter blades on our turbines," he said.  
"This means they capture more wind and this drives down the cost of electricity for consumers."
But there is room to improve the performance of carbon fibre composites even further. To this end, Vestas has embarked on a two-year research partnership with Victoria's Deakin University, drawing on the expertise of researchers in their Carbon Nexus fibre and composite research facility.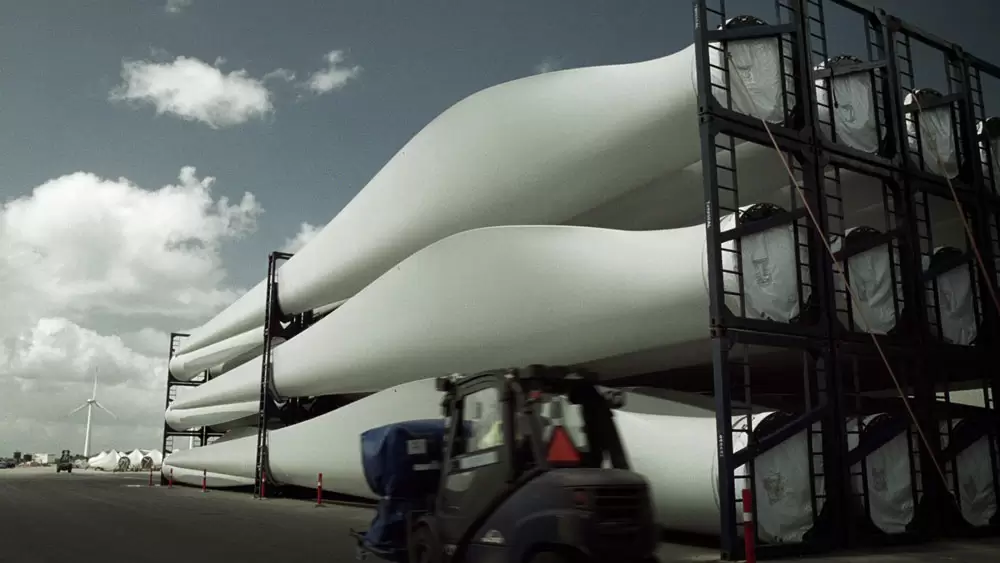 Compression is key
Gill, who is based in the UK, studied mechanical engineering at Imperial College London, followed by a PhD in aerospace engineering, specialising in composite materials, which set him up for his role at Vestas.
He explained that carbon fibre has about two times the strength-to-weight ratio of glass fibre, and more than three times that of titanium and aluminium alloys. It also has five times the stiffness-to-weight ratio of glass fibre, which helps it withstand the high aerodynamic forces that  act on wind turbine blades.
Through the partnership with Carbon Nexus, Gill said he hopes to improve the compression properties of carbon fibre composites for wind turbine blades.
"The material in our blades sees the same loads in tension and compression, yet most of the world's carbon fibre is optimised for tension. We think there is a lot of opportunity here," he added.
The research started three months ago, and is being led by Deakin University's Professor Russell Varley, who specialises in composite materials. Gill said the current focus was characterising existing materials to understand their weaknesses. The next stage will be to find ways to enhance the compression strength and manufacturing quality.
"The team has already come up with some good findings, and I think they're taking the right approach. I'm impressed and optimistic for the project," Gill said.
Not a small matter
In the quest to capture more energy, wind turbines have been getting steadily larger, and carbon fibre composite blades have helped make this possible.
Gill told create that Vestas first introduced carbon fibre composite blades in 2002 with the V90 wind turbine. This turbine has three 44 metre blades and a hub, for a diameter or 90 metres and 3 MW capacity.
The company's current flagship offshore rotor is the V164, which consists of three 80-metre blades and a hub. The V164 has a diameter of 164 metres and a capacity of up to 9 MW.
Because of the size of wind turbine blades, Gill said Vestas preferred to manufacture them close to target markets, rather than transport them across the world. They currently have factories in Europe, the US, South America, China and India.
When asked if there was capacity to manufacture wind turbine blades in Australia in the future, Gill said while the domestic Australian market was not yet big enough to justify such an investment, the company is keeping an eye on market growth.
From research to industry
As well as the partnership with Vestas, Carbon Nexus is working with other local and global carbon fibre manufacturers. These include Australian operations Carbon Revolution, which is known for its success with carbon fibre wheels for the international automotive industry, and Quickstep, which makes aerospace components. Carbon Nexus is also collaborating with global player LeMond Composites.
According to Carbon Nexus Director Derek Buckmaster, the research partnership with Vestas could lead to the expansion of Geelong's composite research and manufacturing footprint and would help Victoria achieve its target of 50 per cent renewable generation by 2030.
Gill said the biggest challenge will be transferring the fruits of the research to Vestas' supply chain. For this reason, the final third of the research partnership will be dedicated to transferring technology to suppliers.
"Research is one thing, [but] making it in volume at the carbon fibre price point we work at is another," Gill added.
"For this reason, we've engaged our suppliers in the project right from the start to ensure Carbon Nexus are working on the tech that they're interested in."