Wireless sensors are everywhere now, and they're no longer just stationary. Powering this 'Internet of Nomadic Things' is a challenge engineers are trying to solve.
Professor Raja Jurdak, a senior principal research scientist at Data61/CSIRO, has a better understanding than most about the challenges involved in engineering sensing networks.
The leader at the Distributed Sensing Systems Group, he has been at the research organisation since 2008, following a PhD in Information and Computer Science from the University of California (Irvine) in 2005 and a two-year research fellowship in Ireland.
He was drawn to his current area of research through a love of networks – both from a communications and a relationship modelling perspective – and has been a part of projects covering a field he calls the "internet of nomadic things". This involves tiny sensing and computing devices, which can only accommodate tiny batteries and thus have giant energy efficiency needs.
"A significant theme throughout my work in this area has been around energy," he said.
"These are networks of tiny devices that would have a processor, a radio, memory, and some sensors, and usually a battery. There's a critical need to be able to manage the energy that's being spent on the various sensing tasks and computation tasks very carefully, and that's been sort of a common theme in my research: to maximise the information gained from these systems with very limited supply of energy."
Various tactics to make devices last longer for a certain amount of power seem obvious; duty cycling, for example.
For an early CSIRO project, Jurdak was involved in monitoring the microclimate within rainforest at Springbrook National Park on the Gold Coast hinterland. Each of the 175 sensing nodes collected information from four different sensors, and the initial approach was to take samples every five minutes. This was less than optimal.
"Then we developed a patent around actually observing the change in this environmental state, so on a sunny day you'd expect certain dynamics of these microclimate phenomena, but if a storm comes obviously you'd see an abrupt change,"
he said.
"So there's a state change in the environment and that typically needs more frequent sampling to understand the dynamics of the new state, and possibly the adaptive sampling idea."
Smarter sampling
Jurdak's teams have investigated increasingly sophisticated ways to handle the trade-off (for example in using GPS, a particularly energy-hungry sensor modality) between accuracy and power consumption.
Adaptive sampling methods (more on them later) have been developed and tested on the Camazotz platform, a low-power (300 mAh) device. Named after a Mayan bat god, it is small enough to fit on the collar of a flying fox, solar charged, and includes processing, GPS, three-axis accelerometer and magnetometers, storage, temperature and pressure sensors, a microphone and short-range radio communications.
Camazotz was developed for the National Flying Fox Monitoring Program, involving Federal and various State Governments and the CSIRO. Besides size constraints, low-energy long-range communications technologies (the first version of the LoRaWAN protocol was released in 2015) weren't around yet. Custom-made base stations near roosting areas for downloading information, serving a perimeter of roughly 10,000 kilometres, were necessary.
Around 150 of these devices were fitted to animals from as far north as Port Douglas down to Adelaide, with some also on Christmas Island, says Jurdak. Goals included to learn more about the animals' behaviour to help understand their role in ecology and as disease vectors. To save energy, the less power-hungry sensors (such as the inertial sensors) would be used to trigger the GPS only when needed.
"At the time that was novel, but at the moment it's made it into many of the commercially available devices," Jurdak said.
"But once we had that, the platform itself was providing us with enough insight to design the software framework I described. This is over and above that simple functionality of using the accelerometer as a trigger for saying, 'Now there's movement, I need to sample my GPS.'
"Once we do that then we apply all the forecasts of our software framework to decide if we can afford sampling this motion, or whether it's okay to be more conservative and sample a bit less for now in order to maintain sustainability in the longer term."
This approach became a paper, Information Bang For The Energy Buck, which describes a software framework for adaptive GPS sampling, considering an energy budget and previous movements. It uses, "an estimate of the available energy and a forecast of the remaining movement duration until the next recharge event to determine suitable parameters" according to the work, which won best paper at the EWSN 2016 conference.
The approach has been trialled and developed with several industry partners since, said Jurdak, and is applicable for energy management in many tracking situations.
"So with food provenance, for example, people are really valuing understanding where their food has been from farm to fork," he said.
"This ability to monitor the location and condition of an item long-term provides an underpinning technology for those kinds of applications."
The framework has been further refined to forecast energy needs for a year rather than a day (detailed in a paper that hadn't been published at the time of writing).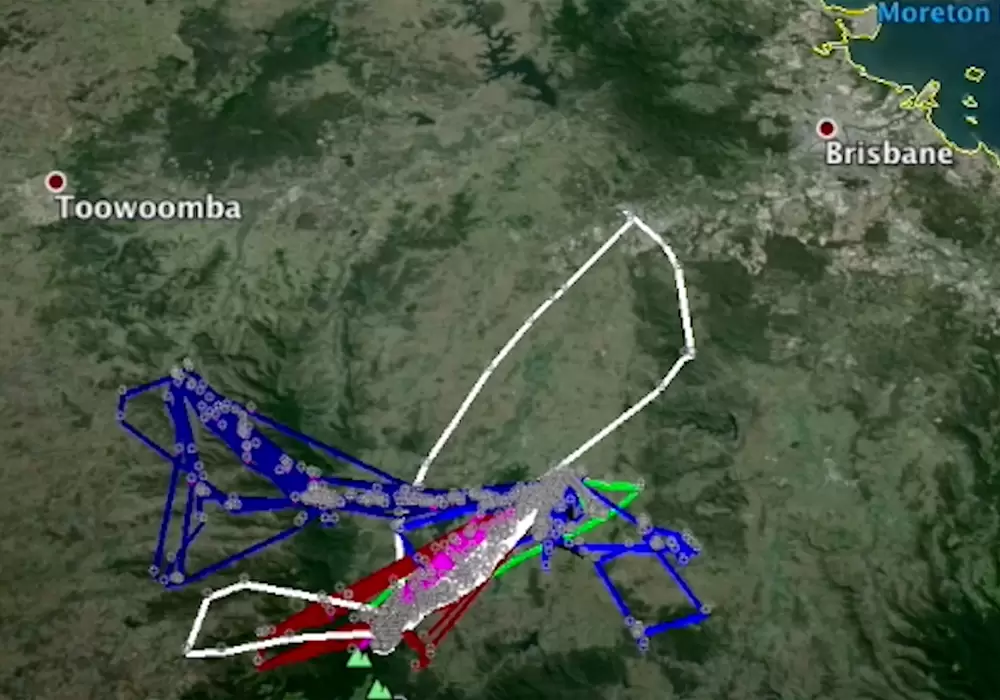 A decade after he started at CSIRO, Jurdak has been involved in a wide collection of projects, including developing blockchain-based methods for connected home security applications, analysing Twitter geotagging to understand human mobility patterns, and tracking livestock patterns. He nominates work around the Camazotz, which concluded in 2015, as the highlight so far.
The solution overcame challenges including the nocturnal, nomadic nature of flying foxes, and eventually allowed ecologists to make better sense of the bats' role in biodiversity (they are important in seed dispersal) and model disease spread.
"I think our work around that [which] led us to develop the Camazotz platform, to sort of invent this idea of energy and mobility-aware tracking on top of it, which is basically the core idea behind that software framework that we just talked about," Jurdak said.
"That's probably one of the showcases of my career here at CSIRO, and I'm quite proud of that."