The engineering know-how is in place to make the proposed Melbourne suburban rail loop happen in less than three decades. But for this "major transformation" to become a reality, politicians and the public need to take a long-term view of the benefits.
Last week, the Victorian Government announced a $50 billion commitment to a 90 km underground rail loop with up to 12 new stations.
The loop will link all of Melbourne's suburban lines, meaning that suburban and regional commuters can travel across the city without first having to travel into the central business district (CBD) and changing lines. The government has estimated this project will reduce traffic congestion by taking 200,000 cars off the road.
If re-elected in November, the Andrews government promised to spend $300 million on a business case, project design and pre-construction works. They expect construction to begin in late 2022, and take around 30 years to complete.
Professor Graham Currie from Monash University's Public Transport Research Group told create he was "impressed" with the concept, saying it had the potential to decentralise Melbourne's overly-stressed CBD.
"This project will make a lot of people and businesses in Melbourne very prosperous in the long term. It's the first truly 'big thinking' idea I've seen," he said.
"But it does need a very long-term view on benefits," he added.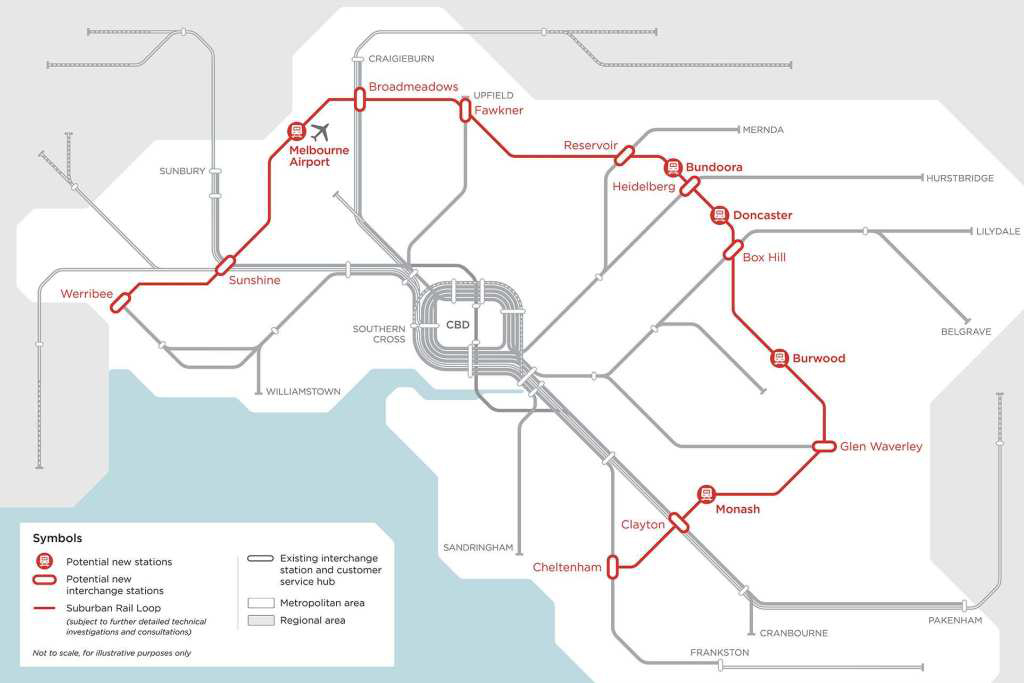 One of these benefits is contributing to a pipeline of long-term tunnelling infrastructure projects. Currie said a pipeline was essential for engineering companies, which need to invest in staff, training and equipment to ramp up for new projects.
"This cannot be done quickly these days as most of the developed world is dealing with significant skilled-staff shortages. It's all very expensive unless we can settle down to a dependable, low-risk work profile into the future," Currie explained.
Engineering know-how
According to Currie, the staged approach to large-scale tunnelling proposed for the suburban rail loop is nothing that hasn't been done already with the Melbourne and Sydney Metro tunnels.
"As with all tunnelling there is the problem of risk with what's in the ground that we don't know about. This is just what happens and they understand these issues," Currie said.
Currie also stated the proposed 30-year timeframe was "very doable".
"And in general I think we could do a lot better than that if we tried," he added.
Engineers Australia's Victorian Division President, Alesha Printz, suggested the projected construction timeline could even be halved.
''Based on overseas experience, it might be possible to build a project like this within 15 years,'' Printz told The Age.
However, she said that compressing the construction time would mean that costs would increase "to deliver under fast-tracked methods and contracts".
The Victorian opposition has said the "devil is in the detail" of the proposal, and it would refer the project to Infrastructure Victoria "for proper assessment, costing and planning" if the Coalition wins the upcoming state election.
"After all that's why the Andrews government set up Infrastructure Victoria in the first place, to allegedly 'take the politics out of infrastructure'," the Victorian Liberals stated in a media release.
Currie said he would like to see bipartisan support for the project to ensure it reaches fruition.
"It's not about Labor, Liberal or Greens. It's about the people and businesses in Melbourne," he said.
Currie added that Melbourne should consider mandatory five-year infrastructure plan requirements, as every project that extends beyond an election cycle struggles to survive in the current political environment.
"I think Infrastructure Victoria has been an exceptional bright spot on our dismal lack-of-planning world. They have done excellent independent work but, alas, they were not informed or consulted about the loop," he said.
MAJOR ANNOUNCEMENT:

We'll build an underground suburban rail loop connecting Melbourne's train lines. It will get you where you need to go, wherever you live – and that's what our growing state needs. pic.twitter.com/7CCBr5GNlP

— Daniel Andrews (@DanielAndrewsMP) August 27, 2018
In line with other states
Dr John Stone from University of Melbourne said in an interview with ABC radio that the suburban rail loop project will bring Melbourne's rail network into line with other Australian cities with less "centrally focused" rail systems.
"In Sydney you have more options to get where you want to go without going through a central bottleneck, and this project is designed to build a more polycentric Melbourne as we build the population over coming decades," he explained.
However, Stone added that this project alone isn't enough to service Melbourne's growing population, which recently reached 5 million. He also commented that although the suburban rail loop is aimed at getting cars off the roads, the Victorian Government has committed a similar budget to major toll roads.
"We appear to be spending $50 billion to get them into their cars, and then another $50 billion to get them out of their cars," Stone said.
Currie agreed that getting cars off the road through initiatives such as the suburban rail loop will make Melbourne more liveable and sustainable as it grows.
"I think deep down Melburnians can see a future built around single occupancy cars is not possible in [cities like ] London or Paris. Melbourne will be the same size as these cities very soon," Currie said.