Fluorescent molecules have been used in biological imaging for over a century. Recent studies have shed light on the technology's future.
From 19th century experiments with the antimalarial drug quinine to proteins inspired by glowing green jellyfish, the use of fluorophores in biological imaging has a long and colourful history.
And there are surprises yet to come. Two separate research teams in the US have recently published interesting developments in the field – from the first circular fluorescent dyes, to chemicals tailored to illuminate in virtually any colour.
"Nanoscale phenomenon"
A team of chemists from the University of Oregon has created a new kind of fluorescent dye from 'nanohoops' – or short, circular slices of carbon nanotubes. They found the colours varied with the nanohoops' diameter and remained stable over a wide range of pH conditions.
The team's findings were published online by ACS Central Science in August. According to research co-author Professor Bruce Branchaud, these nanohoops are unlike anything previously seen in the world of dye chemistry.
"All other dyes have been flat, whereas these nanohoops are non-planar circles. Their structures provide unique properties that we intend to develop and exploit for significant new contributions to chemical biology, biotechnology, biomedical sciences and medicine," Branchaud explained.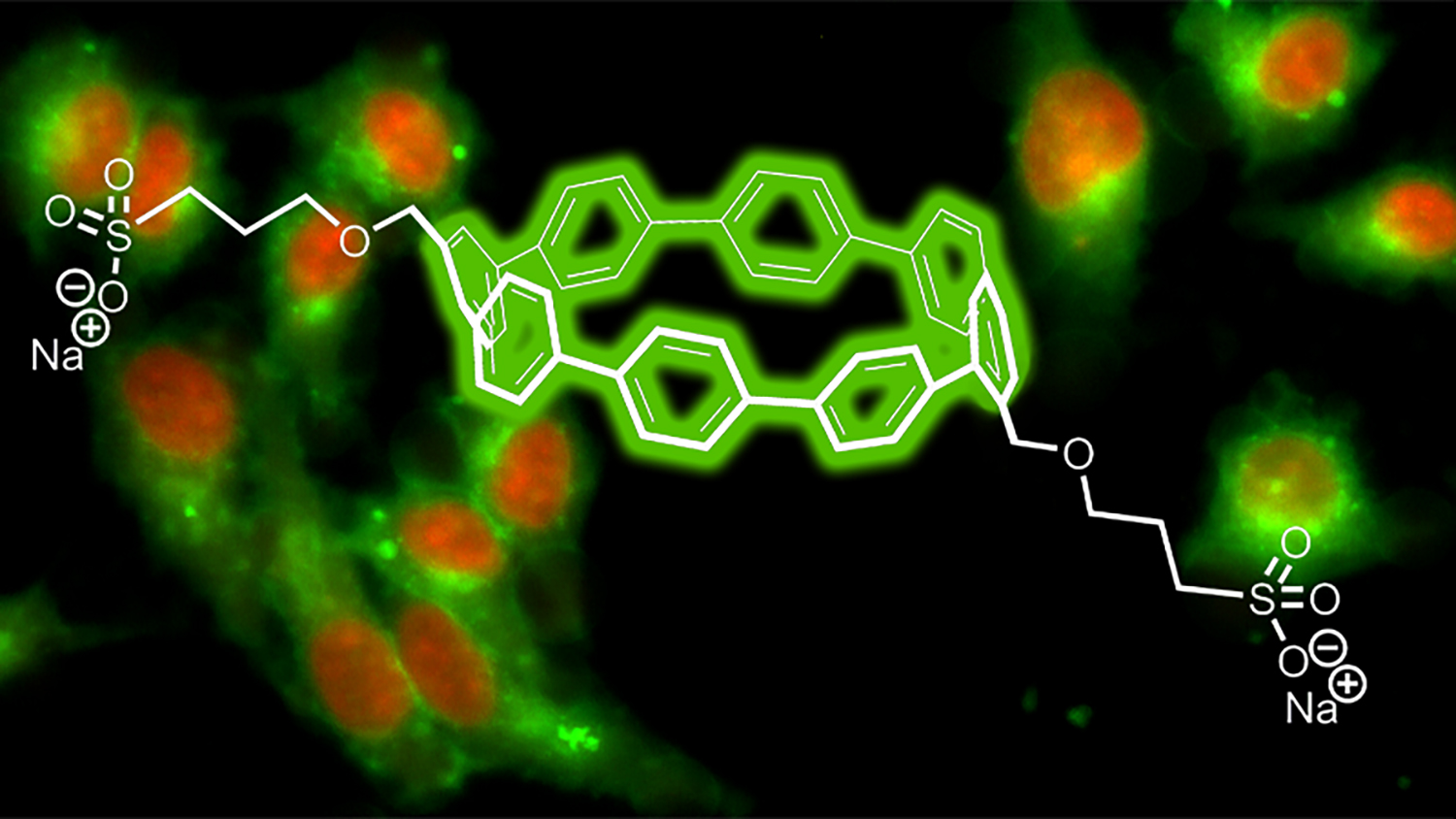 However, researcher Professor Ramesh Jasti explained the fabrication of fluorescent particles wasn't the initial aim of the study.
"We just wanted to make carbon nanostructures in an ultrapure way. The bright emissions from the different sizes they produced just happened. It is a nanoscale phenomenon," Jasti said in a media release.
While the nanohoops weren't originally soluble, PhD student Brittany White designed a chemical sidechain that allowed them to dissolve and pass through cell membranes. In fact, Jastri said the nanohoops dissolved better in aqueous media than flat molecules.
The researchers also successfully led the nanohoops to cancer cells by adding a folic acid sidechain, which indicated the ability to guide the molecules to different types of cells or intracellular compartments, Jastri said.
"This also suggested their possible use in medical diagnostics or even drug delivery, because our nanohoops can easily carry little compartments that will go to specific locations," he added.
Jastri is now working with the university's biomedical engineering department to investigate how the technology can be applied to biological imaging.
A colourful discovery
Another group of US scientists at the Howard Hughes Medical Institute (HHMI) has uncovered a way to tweak the structure of fluorescent dyes to fine-tune their colour.
According to lead researcher Dr Luke Lavis, the fabrication of different dyes has in the past relied mostly on trial and error.
"Now we've figured out the rules and we can make almost any color," he said.
The researchers focused on the fluorescent molecule rhodamine, which was limited to around a dozen shades in spite of being in regular use for more than a century. The researchers discovered that by systematically introducing a small number of atoms into the basic four-ringed structure, the available colour palette could be greatly expanded.
"This strategy allowed us to establish principles for fine-tuning the properties of fluorophores and to develop a palette of new fluorescent and fluorogenic labels with excitation ranging from blue to the far-red," the study explained.
The HHMI study, published by Nature Methods in September, built on the team's previous research into rhodamine dyes. Their past breakthroughs have included a method of production that allowed the use of more complex building blocks, as well as more stable dyes that were 50 times brighter than their predecessors, enabling sharper biomedical imaging.
And this colourful discovery has met with an enthusiastic reception. One fan is Ethan Gartner, a bacterial cell biologist from Harvard University. Gartner called Lavis' new dyes a "complete game-changer", as they overcame the shortage of colours available to scientists for single-molecule tracking.
"They can actually cover the whole spectral range," Gartner said.