Can social robots help staff worry less and focus more on creativity and collaboration? An Australian and Japanese team is working to find out.
Japan is a country known for having some of the longest working hours in the world, with overtime of more than 80 hours a month not uncommon.
But what if a social robot in the workplace could help to free up staff to focus more of their attention on being creative and collaborating, and possibly even help to reduce stress?
This is the problem UNSW's Creative Robotics Lab and the Fuji Xerox Research Technology Group are hoping to solve for workers at the Fuji Xerox R&D Square in Yokohama, Japan.
Director of the Creative Robotics Lab at UNSW, Professor Mari Velonaki, said social robots can break down barriers between employees to encourage collaboration, which can then boost productivity.
For example, they could carry out mundane tasks in the office, such as looking for documents, so employees could spend more time on creative endeavours.
But a social robot also needs to go beyond just collecting documents from the photocopier – it also needs to have a positive impact on the employees it's working with.
"We're very much interested in designing and creating something that is about connecting people and learning behaviours and the dynamics of the workplace in a positive way, because as you know, any work environment can be stressful," Velonaki said.
Basic functions of the robot will include recognising the team, understanding how they operate in a space, monitoring the workplace and understanding the flow of work and how people move, and interacting within that space.
These functions will also need to encompass cultural aspects, as it is being designed for a Japanese office environment, which has thrown in additional challenges because everyone is different.
"Even within the same culture and even within the same museum … we never get homogenous results," Velonaki said.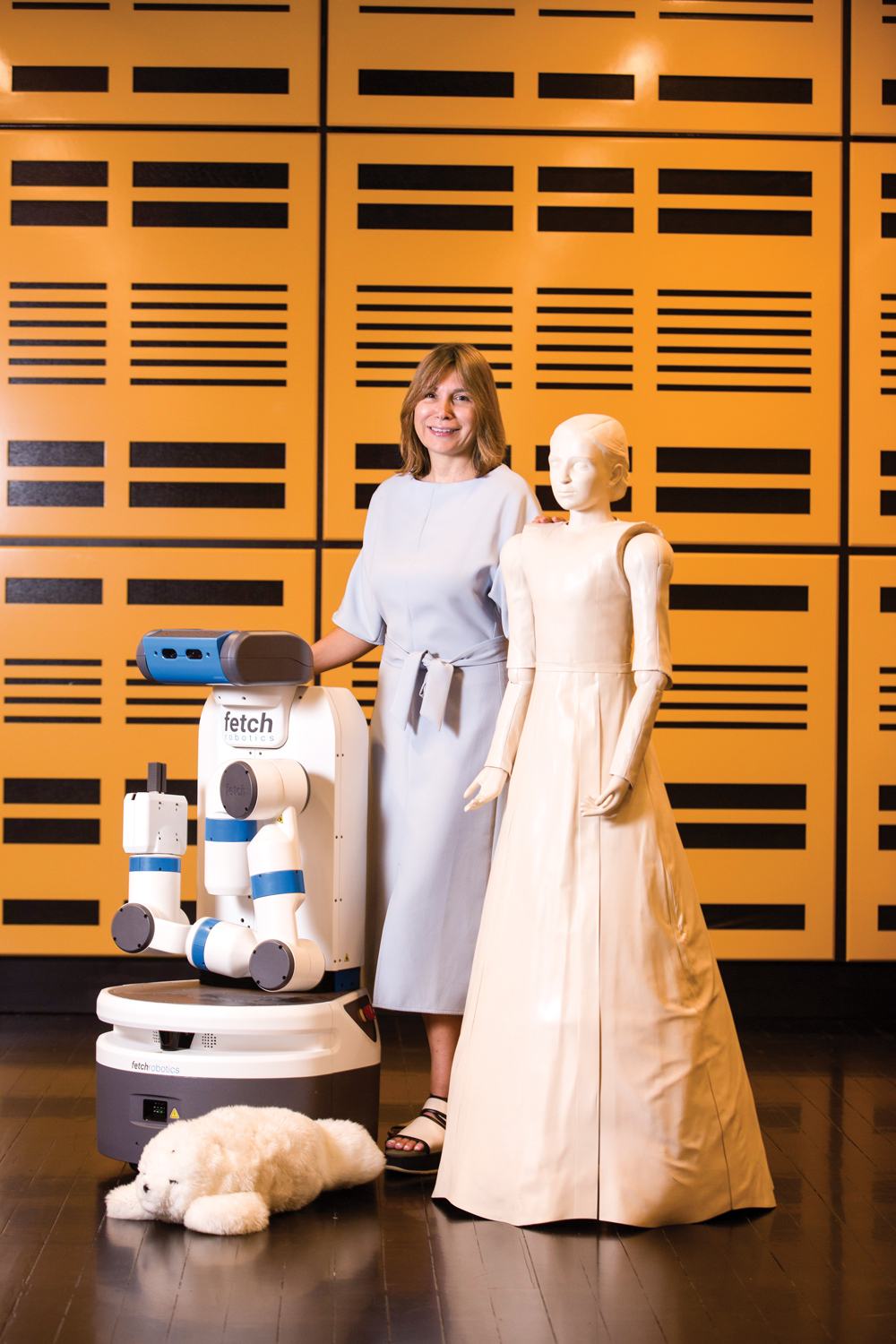 "Even the office environment is very specific – every company has its own dynamics, and I have to understand the space, and I have to understand how people move around that space."
The physical aspects of the robot will also be key – whether it should be a humanoid or android, how big or small it is (too big and it could be intimidating, too small and it could look like a toy) and its materials, all the while ensuring it doesn't descend into the uncanny valley.
Velonaki said she also doesn't want it to look like a robot in terms of its fluidity of movement and responsiveness, so she's trying to develop a body language for the robot that is different to other robots and ensuring there are characteristics that people can relate to. She will also be looking at the synchronicity between the robot and people and the timing of the robot's responses to ensure interactions have a natural flow.
For example, how fast or slow the robot moves, the distance it keeps from people, how it observes the physical flow of people and even acoustic changes in a space.
This also needs to factor in the fact that people are less patient when they're stressed, and how people's expectations for response times might change in these situations.
"The only thing I've learned designing human interfaces for over 20 years is that humans are unpredictable," Velonaki said.
"It's really challenging. In every project you have to hold your breath. You don't know how people will respond to it."
[Main image: Geminold F with NIEA DirectorProfessor Jill Bennet.]