Turning insects into protein-rich sustenance has enabled Goterra to make huge inroads in the waste management space. In recognition of the company's contribution to sustainability, founder and CEO Olympia Yarger, was named the ACT's 2023 Australian of the Year.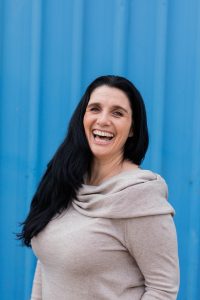 Olympia Yarger was tending to her farm animals in Canberra when she began percolating on an idea: Could there be a more sustainable and cost-effective way to feed livestock?
"It was really challenging to feed a lot of livestock. I wondered if it would be possible to build technology that could process organic matter to create food sources," says Olympia.
She had an epiphany that protein-rich insects could provide a solution.
"There's a great opportunity with insects. They're not like large livestock so they don't mind if they get shoved into a small, dark space," says Olympia. "They give you the ability to keep a lot of insects in a very small area."
If she created the right technology that could be located close to farm animals, maggots could be used as a sustainable feed source for livestock.
It was from this thought process that Goterra – a waste management company that uses insects to process food and organic waste – was born.
A driving passion
Olympia's interest in farming has been present from an early age, but her commitment to sustainability was spurred by her time working at the Department of Agriculture.
"I was on rural training helping on their sewage sludge trial. We were looking at how to improve pasture outcomes by returning organic matter to degraded soils, and ways of farming sustainably. Learning about those things has been a huge motivator throughout my career."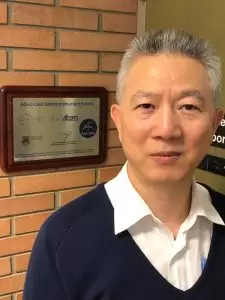 For Gerry Li MIEAust, Head of Engineering at Goterra, whose career has spanned industries including mining and oil, gas, energy, food and beverage processing, and construction project management, it was his experience working in wastewater treatment that left a particularly strong impression.

"The technologies and waste treatment process we use at Goterra are extremely different from what I'd used before, but the overall principle of disposing waste sustainably is similar," says Gerry, who started at Goterra last August after emigrating from Canada.
"I was drawn to Goterra because I wanted to contribute to sustainable technology for the benefit of mankind, for this country, and for generations to come."
He says Goterra's innovative technology is one of its unique points of difference.
"It gives the company a strong competitive advantage. From an engineering perspective, we're looking at creating more efficient ways of producing more equipment to cover a greater area, meet customer demand, to achieve sustainability and to save our land."
Tackling a logistical problem
Soon after Goterra – so-called because of the 'got' in maggot and 'erra' in Canberra – was established in 2016, Olympia realised that the insects themselves could be sustained using food waste, leading Goterra to become a waste management company as well as an insect farming enterprise.
"The problem in reality was much more about distribution and logistics than it ever was about managing food waste."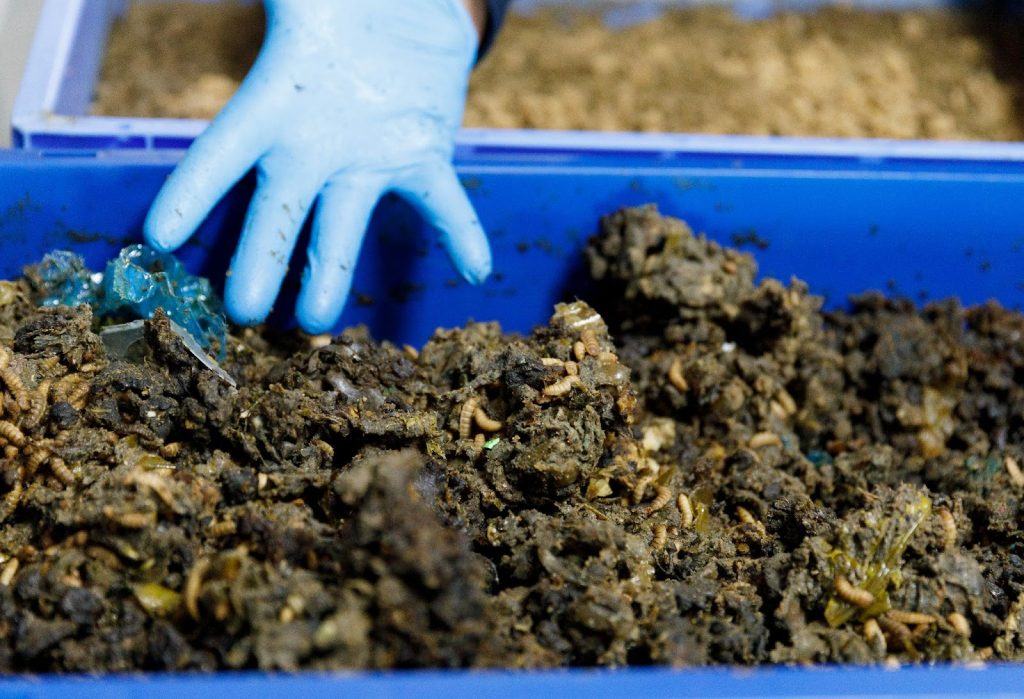 To tackle this problem, Goterra ensures its facilities are in close proximity to the location where waste is being produced. This reduces transport costs, improves uptake of composting solutions and achieves greater reduction of carbon dioxide emissions.
"Logistical improvements lead to a better outcome, whereas composting is usually out of town so it's harder to reach. If you look at Canberra as an example, we're based in Hume. The nearest composting facility is 45 minutes away.
"We can put our infrastructure in any community, big or small. Most food waste management infrastructure is not suited to small communities because the infrastructure needs to be a certain size to create scalability. I think this is where we're really unique and can support our customers very effectively."
New commercial horizons
In 2020, Goterra opened its first commercial Modular Infrastructure for Biological Services (MIB) in Barangaroo. In partnership with Lendlease, Goterra's solution enables high volume commercial and retail waste to be processed and managed sustainably.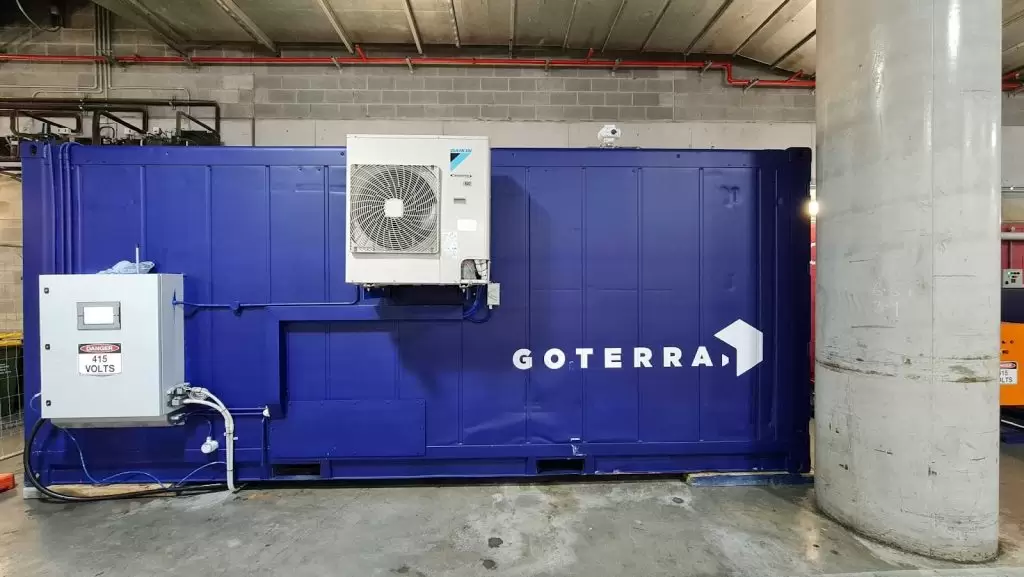 The waste management solution reduces carbon dioxide emissions caused by sending food waste to landfill by 97 per cent. 
Goterra has a number of other MIBs in locations including two sites in Sydney, one in regional NSW and one at a large metropolitan utility in Melbourne.
"One of the most important aspects is being able to scale our solution up or down. We can create utilities for food waste management in cities of any size and it's also a solution to manage organic waste, create food sovereignty and security in developing countries," says Olympia. "It's the interchangeability that is so critical."
The ability to integrate Goterra's solution with humans and other technologies is equally critical.
"We have interaction and industrial sensors, PLC, automation and are able to tie that into a user experience. Part of the machine is human assist, so a person will manage the process of waste input and then the machine takes over from that point," says Olympia.
In its next evolution, Goterra plans to accelerate and scale its solution. It intends to deploy 100 more MIBs across Australia to meet customer demand and expand into overseas markets. 
"The opportunities moving forward are all about integration; where can we connect this unit to smart city infrastructure? Where can you connect it to existing communications? Where can you connect it to power? There are some really interesting and exciting possibilities ahead."
Engineers Australia will be marking International Women's Day 2023 with in-person events in Sydney, Melbourne, Perth and Brisbane. Register here to attend.