Australian cities need to focus on flexibility, cross-sector collaboration and smarter use of data to keep up with the demands of population growth and climate change.
That's the finding of a new report into the future of Australian infrastructure launched by The Economist Intelligence Unit in Sydney last week.
The report, which is titled Flexible Cities and was sponsored by the civil engineering company Salini Impregilo, also recommends a stronger investment in STEM education to combat a shortage of skilled labour.
"The future is an urban one," Charles Ross, the Asia Editorial Director of the Economist Intelligence Unit, told an audience at the University of Technology Sydney (UTS) during the report launch this past Tuesday.
Countries, he said, "really have to focus on their cities because they're only going to get bigger, more complex, more complicated, having to serve the needs of many, many more people."
That complexity, Ross said, underlined the need for flexibility.
"We don't really know what these cities are going to look like."
Ready for the future
Flexibility could take many forms, according to the report, from buildings with movable physical parts and multi-use spaces that could be adapted for a variety of uses, to improvements to the technology and energy supply that supports the infrastructure.
That means not only investing in new infrastructure, but also approaching existing assets in creative ways.
"We want to maximise the function of old critical infrastructure, so we want to retrofit all our infrastructure, we want to design new projects that are adaptable, transformable, or convertible for future use," Ross said.
"A city that is flexible is not just about pumping it full of technology. It's more about designing a city which can change and adapt to what the future needs of that city will be."
Marco Assorati, Executive Director Asia Pacific at Salini Impregilo, said that even transformative technology needs the right infrastructure to function.
"That is where we come in. For example, Salini Impregilo is involved in the construction of most of the world's biggest metro projects," he told create.
"Once they are finished and up and running, they will be using driverless trains, which are safer and better able to handle peak demand by monitoring the flow of passengers."
Among Salini Impregilo's projects in Australia are Perth's Forrestfield-Airport Link and a section of the Sydney Metro Northwest.
Smart and sustainable
Architect and structural engineer Carlo Ratti also drew a distinction between advanced technology and smart cities. He told create that too often when people talk about smart cities, they forget about the actual citizens.
Ratti, the Director of the Senseable City Lab at the Massachusetts Institute of Technology, was the keynote speaker at the launch.
"When you think about smart cities, the applications can be many-fold," he said. "You can look at smart energy, you can look at smart garbage, you can look at smart buildings or citizen participation. There's so many dimensions. The city's like a universe, and this convergence of digital and physical is affecting many, many dimensions of the city"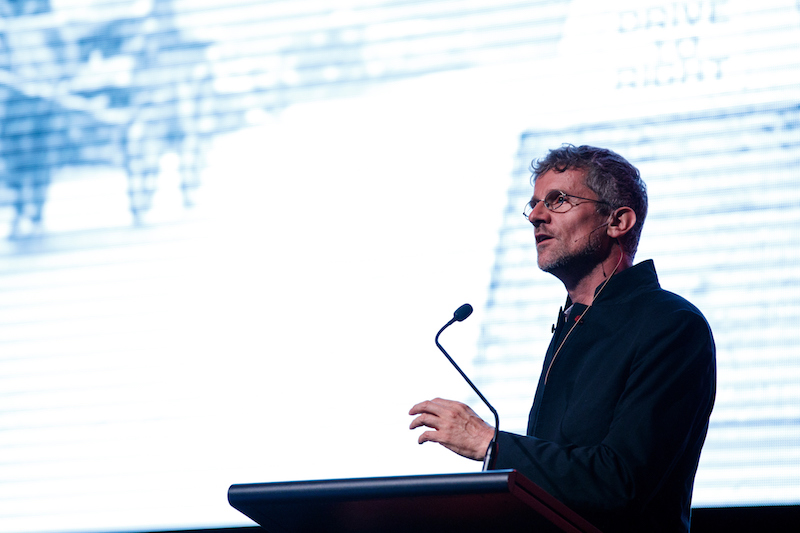 He also said smarter cities could make a big difference to sustainability efforts.
"Cities are only two per cent of the surface of the planet, over fifty per cent of the population, 75 per cent of energy consumption, and 80 per cent of CO2 emissions," he said.
"So if we can do something to make our cities a little bit more sustainable, that would make a big deal globally."
Nurturing STEM skills
One of the recommendations of Flexible Cities is for governments, industry and universities to invest further in STEM education and retraining.
"Australia is undertaking a record period of infrastructure investment, but to meet demand the country requires skilled, creative minds," it says.
"There is a labour shortage," Assorati affirmed to create. "Especially when it comes to the kind of skills we need on our construction sites."
Assorati said Salini Impregilo had started a partnership with UTS to support STEM students with scholarships.
But speakers at the event highlighted that the problem extends to workers with backgrounds outside traditional STEM sectors.
"The skills shortage in infrastructure in certain professions is very acute," said Anna Chau, the Acting Chief Executive of Infrastructure Australia. "It's really important that we have good urban planners, good transport planners, as well as economists to support those supply chains."
The full report can be downloaded here.