In a bid to give Australian industry an edge in emerging technologies, CSIRO has committed $16 million to build expertise in the space sector and $19 million to AI-driven solutions.
The recently announced funding commitment is part of CSIRO's Future Science Platforms (FSP) portfolio.
"Our Future Science Platforms aim to turn Australia's challenges into opportunities where new science can break through seemingly impossible roadblocks to give Australia an unfair advantages on the world stage," said CSIRO chief executive Dr Larry Marshall, adding that the portfolio brings together expertise across all STEM fields to develop solutions collaboratively.
According to a media release, the $19 million in funding for AI and machine learning will be used to identify solutions to issues in areas including food security, sustainable energy, the environment, health, and regional security.
The $16 million of space funding will be initially spent on advancing Earth observation technologies. Earth observation data is essential to applications from weather forecasts and bushfire monitoring to mining and agriculture.
Other focus areas will be tracking objects in space and life support tech for future space travellers.
Building on existing activities
The funding boost follows CSIRO's $10.45 million investment in a 10 per cent data share of the NovaSAR-1 satellite, which launched in September. In the same month, the organisation released its space roadmap, which recommended several measures to stimulate growth — including a lunar challenge.
With the exception of the Nova-SAR-1 feed, most Earth observation data used in Australia is owned and controlled by other countries or the private sector. Dr Kimberley Clayfield from the CSIRO Centre for Earth Observation has previously told create that CSIRO is hoping to change this, and is currently building its own Earth observation CubeSat.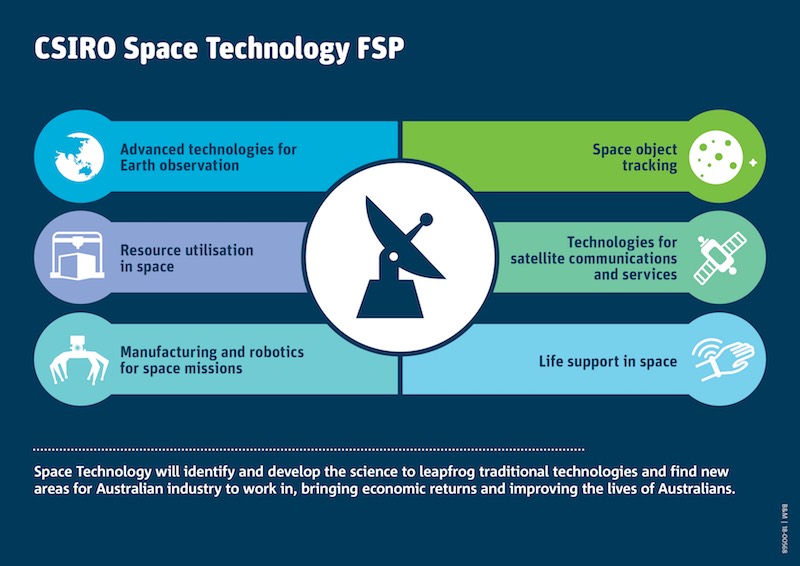 According to CSIRO's Deputy Director of Astronomy and Space Science, Dr Sarah Pearce, the new Space Technology FSP will build on CSIRO's existing activities, focusing on cross-disciplinary opportunities and deeper industry collaboration.
"What we are now discovering is that CSIRO has expertise in areas that can help build the space industry — in areas like plant genomics, 3D printing and additive manufacturing, space object tracking, in-situ resource utilisation and life support systems," Pearce told Space Connect.
Aussie space startups powering ahead
The Australian space sector, while young, is continuing to take strides towards greatness. Adelaide-based Fleet Space Technologies recently launched its first two CubeSats into low earth orbit (LEO), with the next due to launch on the SpaceX Falcon 9 Spaceflight SSO-A mission on 28 November.
And Fleet isn't the only Aussie space startup making waves. Sydney startup FluroSat is using satellite and drone data to improve food security by helping farmers optimise resources, and Gold Coast-based Gilmour Space Technologies is vying to be the first to launch a commercial rocket from Australia in 2020.
Gilmour Space has recently achieved what it believes to be another Australian first: signing a memorandum of agreement (MOA) with global launch industry supplier RUAG Space. The MOA explores the use of RUAG Space's FlexLine carbon composite products in Gilmour Space's proprietary hybrid rockets.
A Gilmour Space representative told create that RUAG Space reached out to the Aussie small launch startup at the International Astronautical Congress (IAC) in Adelaide last year to discuss possible collaborations on rocket development.
Last month, Gilmour Space's chief engineer, Stephen Bury, met with the global supplier again at this year's IAC in Berlin, and the agreement followed.
Gilmour Space CEO Adam Gilmour said that RUAG Space has a long history of providing reliable launch technologies for rockets like the Ariane 5, Vega and Atlas.
"With this collaboration, we look to leverage on their proven expertise, while lowering our launcher development costs and time-to-market," he said.