Heavy flooding was threatening the redevelopment of an inner-Sydney precinct. The solution involved hydraulic testing and kilometres of micro-tunnelling.
The Green Square town centre is a light industrial precinct 4 km south of Sydney's CBD that is undergoing a process of rapid redevelopment.
The City of Sydney predicts that by 2030, it will be home to 61,000 residents and serve 21,000 workers. Its population density is expected to top that of Pyrmont-Ultimo, the inner-Sydney district that is the country's most densely populated place now.
Green Square is also an area prone to flooding. What was once swampy land that drained into the Botany Aquifer and the Cooks River is being transformed into a heavily urbanised neighbourhood.
And all that water could be highly hazardous to the people who live and work there. During storms in April 2015, floodwater reached 2.3 m in one thoroughfare.
To address the problem, the City of Sydney and Sydney Water joined forces on what was named the Green Square Stormwater Drain Project.
"The driver for the project was several key pockets of high-hazard flooding in and around the town centre," explains Matt Lewis, Stormwater Program Manager at Sydney Water.
"And the desire — given the increased urbanisation and increased population that was forecast to live in that area and work in that area — to reduce that existing high flood hazard to something that's more acceptable for a modern urban area."
When the project was put to tender, two solutions were put forward. One involved digging open trenches through Green Square — a prospect that was unlikely to please the residents and businesses of the area.
"The other one was a micro-tunnel type solution," said Stuart Milne, Senior Project Manager at Sydney Water.
Peter Shields, a civil engineer who headed technical services at the City of Sydney during the project, said the micro-tunnelling solution had "enormous benefits".
"It reduced the impact to the community," he told create.
"By tunnelling underneath we were able to not impact a lot of transport routes that were passing through the area, and also service utilities. It could be done with a very low volume of excavated material, so our environmental footprint was substantially lower."
To handle the project, the Drying Green Alliance was formed. A collaboration between the City of Sydney, Sydney Water, WSP Parsons Brinckerhoff, Seymour Whyte, UGL and RPS Mandis Roberts, the alliance was tasked with building 2.5 km of tunnels to divert stormwater to a mix of new and existing drainage systems, as well as harvest non-potable water and treat runoff.
The tunnels were dug seven to 10 metres below the ground with a micro tunnel-boring machine (TBM) — a much shallower depth than the tunnels that TBMs dig for transport projects. Given that Green Square was a former industrial site, that shallow depth presented some problems.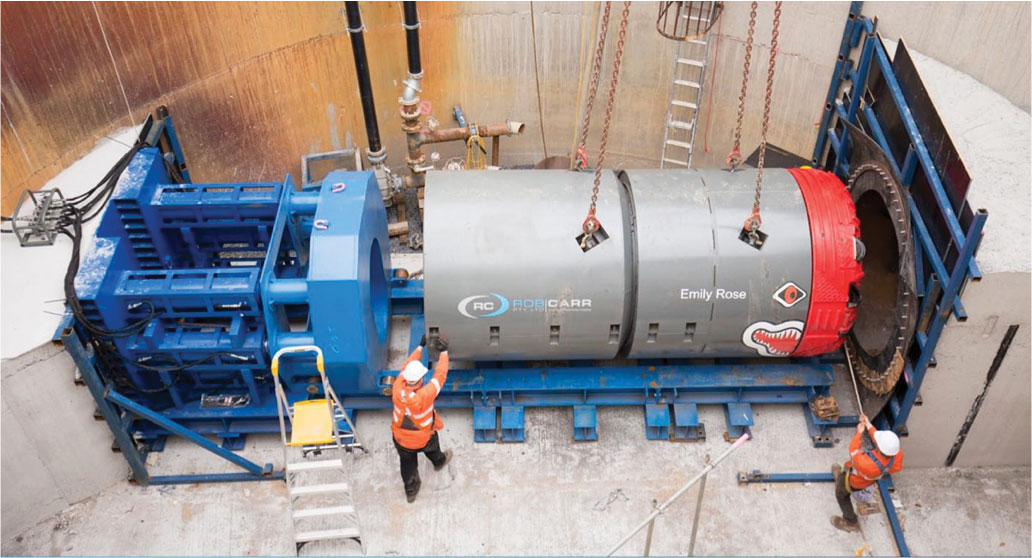 "It probably relates to the former use of that area and how many different types of industries have passed through that area," Milne said.
"Whenever the micro-tunnelling machine encountered reinforced concrete or things, that would stop it. It required us to really dig it out to get out the offending material and then restart the boring process."
To ensure the channels could handle the volumes of water involved, the team used hydraulic modelling in its design. Flood models were prepared with TUFLOW software, then with computational fluid dynamics.
Shields said that modelling had to take into account the large volumes of water involved.
"Every time the stormwater enters a sharp pipe corner or a chamber, that can introduce substantial losses and create major problems," he said.
"So the efficiency of these chambers was paramount, and they had to be designed and built to a highly optimised design."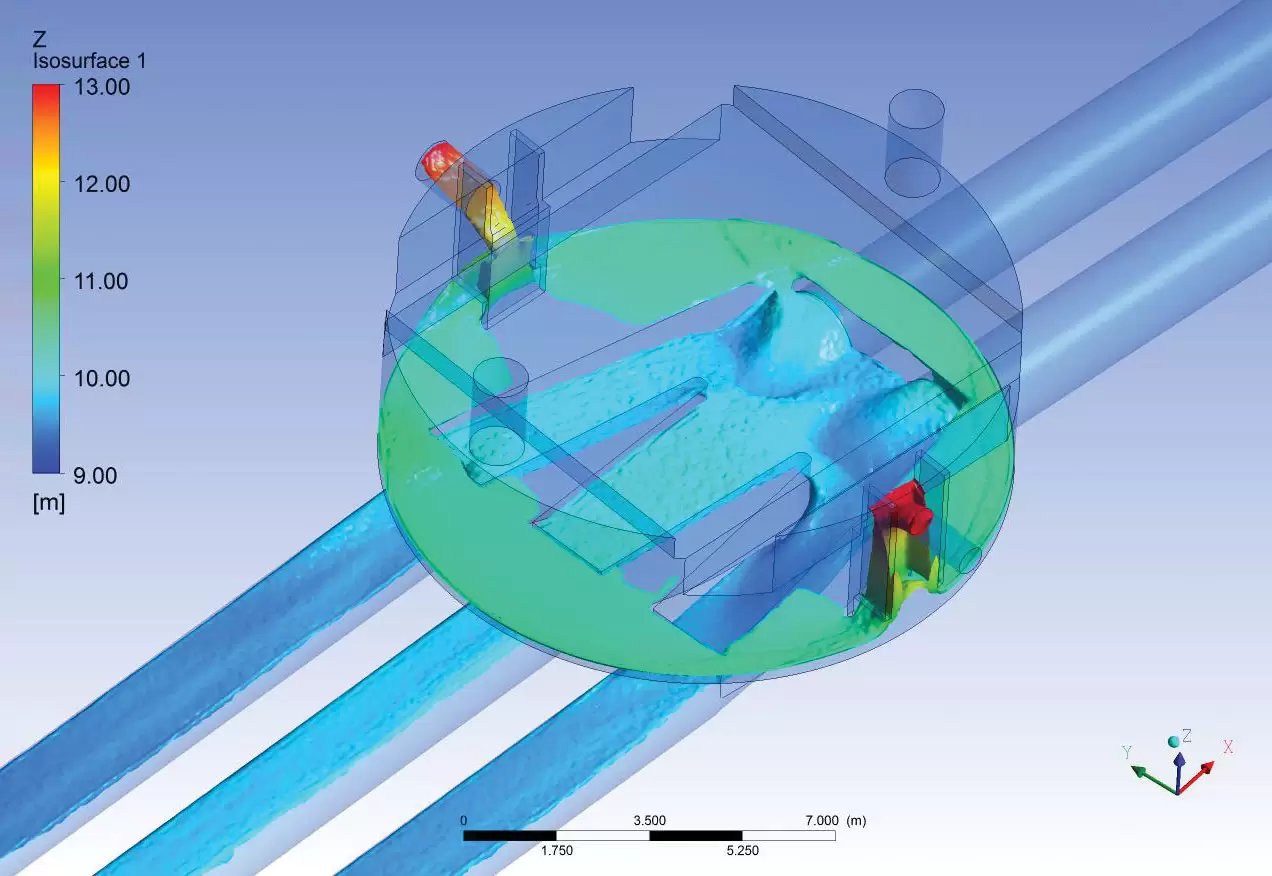 To get that design right, the team also built physical models.
"We used [the University of New South Wales's] Water Research Laboratory to build a lot of smaller-scale physical models to test and validate and verify the hydraulics in some of the more complex systems," Milne said.
The project also required widening the open channel that drains to Alexandra Canal to accommodate the larger volumes of water coming from the tunnels.
Where the micro-tunnelling components of the project had little impact on the community, the canal was a different story.
"There's a bridge there that was really the major thoroughfare of about 29 different services,
and to widen our channel underneath, we had to really relocate all of those services," Milne explains.
"There was lot of community angst about that."

Milne said the project has had a noticeable effect on the entire Green Square development.
"If anyone has lived in the area previously, they would notice the frequency of flooding in that area … would be greatly reduced," he says.
Lewis describes it as a "wonderful achievement".
"We've had a few quite large storm events since those last year and we're already seeing that we're not getting the sorts of flooding that we had before," he said.
"So in that, we know the drains work." 
The road more travelled
One advantage of micro-tunnelling for the Green Square Stormwater Drain project was that the water could be directed through tunnels directly beneath existing roads.
"It was a combination of factors that led to the logical alignment that had the least potential impact on property owners," Lewis said.
"There's a different risk profile, tunnelling under people's properties with building structures."
It also helped that it allowed for working on land that the government already owned.
"There's also a whole heap of new roads being constructed in Green Square as part of the Green Square redevelopment," Lewis said.
"So that gave us an opportunity to really follow proposed new roads and they were really land that the city had already bought.
"So that's basically ex-industrial land, which allowed us a flexibility to mobilise on-site and do a lot of major civil and structural work without having to acquire and relocate existing businesses or property owners."
This article originally appeared as "Going underground" in the August issue of create magazine.