Biomedical engineers have successfully produced a 3D material that mimics nature to transform stem cells into muscle. "It's like travelling back in time when our potential for tissue development and repair was at its best," said one of the developers.
We have written before about regrowing bone using ceramic implants, and now a team of biomedical engineers from RMIT University has found a way to do something similar with muscle tissue.
The human body is usually pretty good about healing itself, but for severe injuries it sometimes needs a little help. And as we grow and age, it only gets more difficult to recover from injury or illness. Stem cells have a lot of potential to heal our many ailments, which led the researchers to investigate how they might be applied to healing muscle injuries.  
"It's like travelling back in time when our potential for tissue development and repair was at its best," said Dr Richard Williams, a senior lecturer and member of the development team.
First, the developers created a 3D tissue scaffold made from lab-grown peptides, natural proteins and polymers. Once implanted, they said it can more naturally communicate with and support stem cells becoming muscle fibres by mimicking the processes of embryonic development. Their work was recently published in the journal Biomacromolecules.
"Our stem cells are at their best during development, where a scaffold drives them to produce all our tissues and organs; yet as people grow and age, they lose this ability and get a build-up of undesirable structures," Williams said.
"Essentially, we make a scaffold that sends healthy signals to the cells to reorganise themselves to start to grow the small fibres that make up a healthy muscle."
Bulking up lab-grown muscle
The properties of natural tissues, like muscle, are difficult to mimic synthetically in the body, said Williams, and there's a large body of research devoted to learning more about the inner workings of our cells.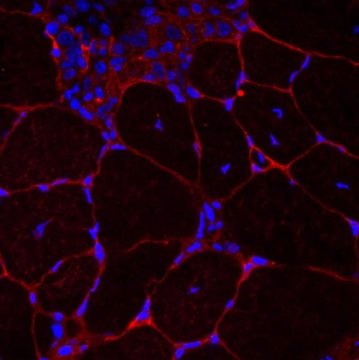 "Researchers have been producing 'organising' signals for years to understand how cells work, but only in a flat or 2D environment," Williams said.
What makes this recent development unique is that it's the first time a 3D scaffold has been used to potentially grow muscle, he added.
The scaffold itself is made from water and proteins woven together to provide the structure and signalling needed to encourage muscle fibres to grow. This scaffold is then seeded with cells. In initial tests, the developers recorded "a noticeable reorganisation of individual cells into the multicellular structures that go on to make up functioning muscle" within 24 to 72 hours, Williams said.
The developers hope that this innovation could increase the longevity of our muscles and keep more people active for longer, especially as Australia other countries grapple with ageing populations.
"There is a real need for ways to repair and replace parts of the body as they wear out or become damaged, particularly as our population is now living longer," Williams said.
For next steps, he said they will now explore how to bioprint muscle with stem cells already embedded to put nerves, blood vessels and muscles together into lab-grown 'spare parts'.