Two young engineers who have been lifelong friends developed a plant-based, low-speed electric motorcycle that could transform the daily commute.
Luke Sinclair and Kendall Bristow, both based in Wellington, New Zealand, tinkered with mechanics throughout their youth — a skill they later honed as entrepreneurs.
"I grew up on a farm, always fixing things and making random things, and Kendall's dad was a diesel mechanic," Sinclair told create. "So we both have fairly practical skills."
The pair would get together after finishing uni classes or days at their first full-time engineering gigs to work on "little projects".
Just shy of a decade ago, when the trend of converting bicycles and old motorbikes to electric began to emerge, Bristow suggested they give it a go.
"As fresh engineers, we were trying to figure out how to convert our engineering skills to a meaningful climate change solution," Sinclair said. "We found some second-hand batteries and an old motor, spoked it onto a BMX bike from the dump and wired it up ourselves." 
"It seemed a no-brainer that as battery technology improves, a niche market would emerge."
After putting the prototype together and taking it for a spin, Sinclair and Bristow knew they were onto something.
"It was low cost and easy to assemble," he said. "It clicked for us as we rode it around that battery technology was perfectly suited to the low-speed, light-weight category for short trips around town."
Sinclair and Bristow, together with marketing strategist Saskia Thornton, then formed FTN to focus on the gap in the market between "full-on" motorcycles and electric bicycles. Their flagship motorcycle, the Streetdog moped class, runs on a 3KW electric motor and can travel up to 50 km/h. A second, faster bike is almost ready to launch.
"It seemed a no-brainer that as battery technology improves, a niche market would emerge," Sinclair said. "You can have a compact battery that's easy to remove, and you don't need a pedal."
Unique design elements
Once the FTN team locked down the bike's mechanics, the next step was achieving the right form and feel.
"There's such a huge global appreciation of motorcycles that people connect with emotionally, so we had to figure out how to do that with electric technology," Sinclair said.
For FTN, creating a sustainable motorcycle was more than electrification. Sinclair and Bristow were also keen to play around with the materials for the Streetdog's body parts.
"One of our friends has a surfboard manufacturing business just down the road from our first workshop, and he was making surfboards out of hemp," he said. "After a few conversations with him, we saw the benefits." 
"There's such a huge global appreciation of motorcycles … so we had to figure out how to do that with electric technology."
Using hemp and epoxy resin blend for the bike's fairings gives anywhere up to a 50 per cent reduction in manufacturing emissions compared with using fibreglass. It's also a much better material to work with.
"Fibreglass gets into everything. You get splinters in your hands, and it gets all through your clothes," Sinclair said. "So having a material that was way better for workers was a huge benefit." 
With more than enough strength and durability for a low-speed motorcycle class, the natural material also turned out to be a cost saver.
"Because we used hemp for the interior of the pod storage compartment, we could leave it exposed," he said. "It's not made from fibreglass, so there was no need to cover it up with upholstery to prevent splinters of glass getting into your fingers."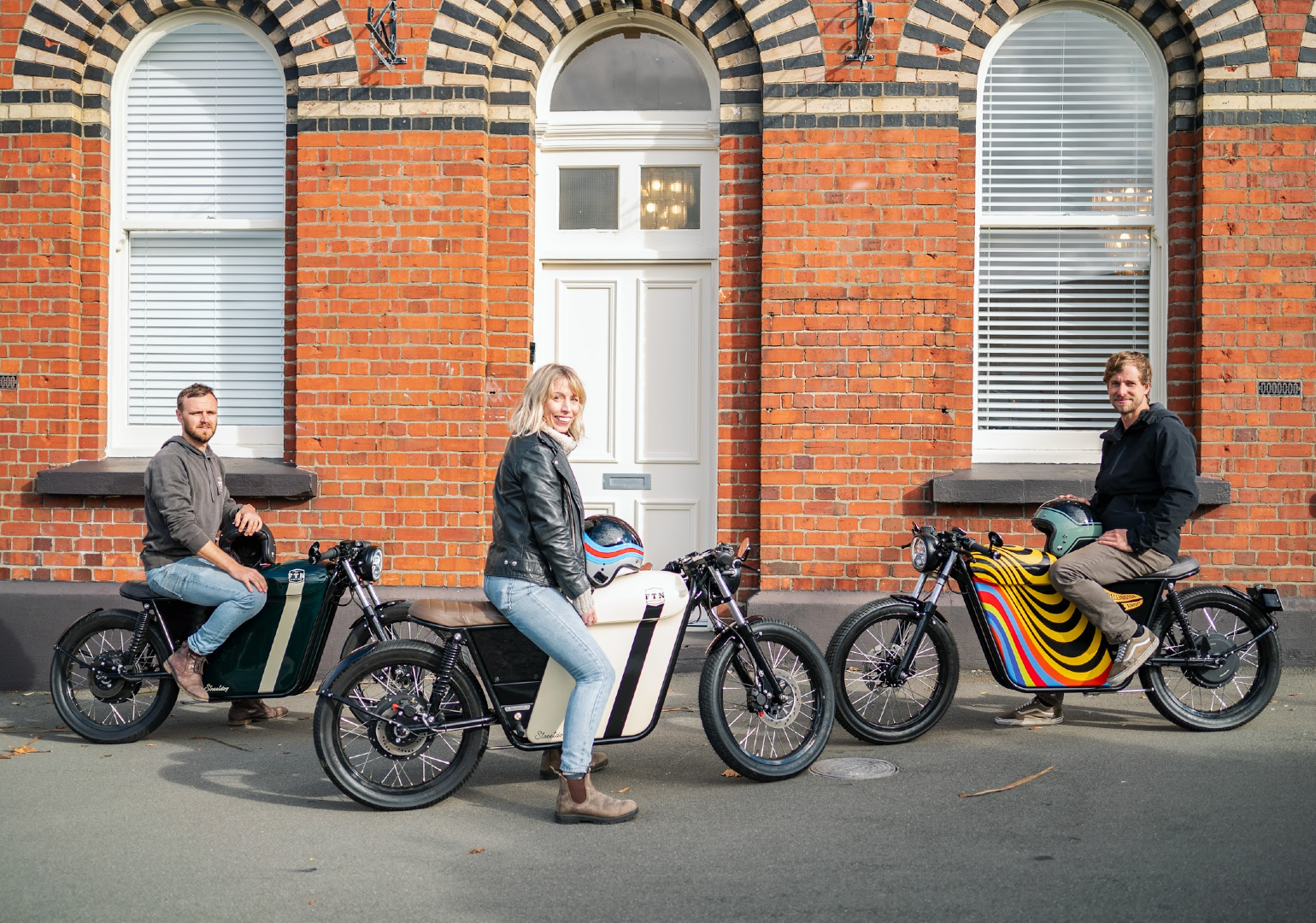 However, creating the dual purpose fairings and storage compartment was not without its challenges. 
"The storage compartment is a single piece composite unit that's also structural," Sinclair said. "We had to design and manufacture a highly bespoke, aluminium, heat controlled mould system which uses an internal pressurised bladder — all in house."
The Streetdog's removable battery, which sits underneath the seat, can be charged just like a laptop.
"You just pop the seat open, pull the battery out and plug it in," he said. "The storage unit was designed to fit a second battery, so you can take two batteries with you when you ride."
Dog about town
The FTN team recently brought the Streetdog to Australia, stopping over in Brisbane and Sydney, and Melbourne — with Australian Design Rules compliance testing currently underway in the Victorian capital.
Both bikes will be launched in various major Australian cities in the second half of 2024 — depending on the jurisdiction's moped laws, with Sinclair expecting a similar Australian customer profile to that of New Zealand.
"Generally, that includes people living anywhere from 5-40 km from or the CBD looking to use something for their commute instead of a car," he said.