Hydrogen could meet 24 per cent of global energy demand and create 5.4 million jobs by 2050, according to a report by Bloomberg.  Swinburne plans to help Australia lead the way.
Swinburne has partnered with CSIRO and Germany's ARENA 2036 to develop the Victorian Hydrogen Hub (VH2). Earlier this year, the hub received more than $10 million in funding from the Victorian Government and now forms a part of Australia's national hydrogen strategy. 
The VH2 team, led by Director Gordon Chakaodza, will bring together critical minds from around the world to push the thinking for hydrogen forward. Through a CSIRO led project, VH2 is developing a demonstration hydrogen refuelling station that will be located at CSIRO facilities in Clayton, Victoria.  
"While we will have the refuelling station, what really sets us apart from the other national hydrogen hubs is our core research capability and the people we're bringing together with knowledge around different areas, transport and mobility for example," says Gordon Chakaodza. 
Chakaodza says VH2 researchers will also look at areas such as decarbonization of ports, aviation, industry heat, skills and community acceptance of hydrogen. (If you have any interest in learning more about how VH2 could support your hydrogen initiatives, the team can be emailed here.)
"As the hydrogen industry grows in Australia, we will play a critical part in helping industry understand the future role of hydrogen and its applications, and develop solutions to its challenges. 
"Another advantage we have is our partnership with ARENA 2036. It gives us visibility over the research taking place in Europe, which will be beneficial to our local VH2 industry partners."
Hydrogen vehicles and the VH2 refuelling station
Despite being years behind in development when compared to electric vehicles, the hydrogen-powered vehicle market is expected to grow significantly. While both hydrogen and electric cars can significantly reduce emissions, hydrogen-powered vehicles can be refuelled much quicker.
According to a 2020 report by Bloomberg, Hydrogen Economy Outlook, demand will likely be higher for heavier vehicles. By 2050, it predicts that hydrogen energy could power 30 per cent of buses, 50 per cent of medium-duty trucks and 75 per cent of heavy-duty trucks.
Currently there are just two active hydrogen refuelling stations in Australia, located in Melbourne and Canberra. With another under construction in Brisbane, the refuelling station developed by VH2 will be Australia's fourth.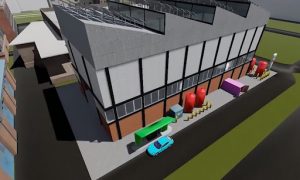 The current stations exist to serve the only two hydrogen-powered vehicles available in Australia, the Canberra-based fleet of Hyundai Nexo SUVs and the Melbourne-based Toyota Mirai sedans. The refuelling station being developed by VH2, on the other hand, will support researchers as they test and develop ways for future refuel operators to provide hydrogen safely and efficiently.
Why now for hydrogen? 
Hydrogen has the potential to be cleaner, more powerful and more energy efficient than fossil fuels. For this reason, while hydrogen has been used as an energy source for some time – a reciprocating engine that used hydrogen as its fuel was invented as far back as 1804 by Franco de Rivaz – it's now receiving new attention. 
The industry uses colours to differentiate how hydrogen is generated. Grey hydrogen is hydrogen made with natural gas, brown with lignite coal and black with bituminous coal. These three all emit CO₂ when they're produced and still make up the vast majority of hydrogen fuel. Blue hydrogen is also made with fossil fuels, however, carbon capture technologies prevent the CO₂ from being released into the air.
Green hydrogen is made through electrolysis powered by renewable energy sources, such as solar or wind, so it produces next to zero carbon emissions. The increasing productivity and falling costs of renewable energy, combined with falling costs for alkaline electrolysers, will make green hydrogen ever more financially viable. 
Hydrogen is considered a key part of a carbon free future. According to Hydrogen Economy Outlook, one of the most promising use cases is in manufacturing processes "that require the physical and chemical properties of molecule fuels in order to work" – such as those used to make steel, cement and glass.
Researchers from VH2 are already embedded and working with industry on exciting projects. For example, one is helping a company work on hydrogen cells for generators that will be used to power remote events such as music festivals.
As a tertiary higher learning and vocational training institution, Swinburne is well placed to deliver practical solutions across all levels of industry. And while the group of PhD students and researchers have almost been finalised for this round of funding – though there are still a few spots left to fill – the real opportunity now is for more industry partners to get involved.
"If you're with a company that is exploring or interested in adopting hydrogen, we'd love to hear from you, so we can begin a conversation. Our team is highly knowledgeable in the areas of mobility and transport, as well as across other applications like industrial IoT," says Chakaodza.
"Our researchers help industry make hydrogen technology a reality."
If you're considering becoming an industry partner, or you want to learn more about how the VH2 team at Swinburne could help support your hydrogen initiatives, email us here.