Understanding what drainage solution you need begins by understanding the characteristics of your project.
A site's surface drainage requirements demand a tailored solution. Get it wrong and the consequences can range from a minor inconvenience to a complete operational disruption and, in extreme cases, accidents or even fatalities.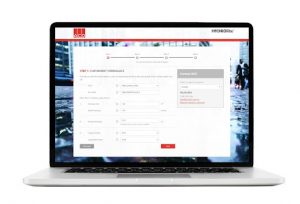 Here, ACO draws on decades of drainage experience in local and international environments to offer a guide that will help you choose the most suitable trench drainage system, its configuration and size, based on the application type and the site's catchment hydraulics. You can also use ACO's recently released free hydraulic design software.
Roads, highways and motorways
Roads can be among the most challenging environments for drainage systems, but the dangers of an improperly drained road surface can be severe. 
Standing water can cause vehicles to aquaplane, which frequently results in the driver losing control. At worst, it can result in a serious road accident.
Drainage products face the same challenge as the road surface itself, the action of cars and trucks travelling, braking and turning imposes severe stress.
Trench drainage can be integrated to solve several unique challenges. They include:
Moving water off wide roads with flat grades

Drainage in restricted depth applications, such as on bridges

Drainage in elevated transitions

Removing runoff at median strips or kerbs

Containment of contaminated runoff
Each application will require a unique configuration to ensure proper drainage.
Find out more about road, highway and motorway drainage solutions.
Airports
If there is a perfect example of severe stress on the drainage environment, with constant, heavy-wheel loadings as well as corrosion and other environmental issues, it is airports.
And if there's a case study that best demonstrates the vital need for tyre rubber to be in contact with the pavement at all times, it is also airports.
The fast removal of surface water on the level slabs of runways, taxiways, access roads and apron areas is best achieved with trench drains configured with sloping inverts.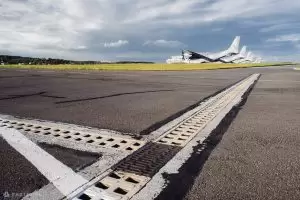 ACO has supplied a broad range of products for this purpose to civil and military airports around the globe – including Melbourne, Hobart, Auckland and Christchurch – for over four decades.
Find out more about airport drainage solutions.
Wharves, ports and docks
In the marine environment, drainage solutions have to deal with both the stress of heavy vehicles unloading and loading containers and corrosion caused by salt water.
Reliable and consistent drainage in such an environment is a must. Flooding and even bonding can cause disruption to the port's operations, which can then have a damaging ripple effect on businesses that rely on the materials being shipped.
As with airports, the most efficient design for the removal of surface water from level slabs on wharves, ports and docks is trench drainage with sloping inverts.
ACO's monolithic, trench drain met all the engineering challenges at Terminals 11 and 12 of the Port of Brisbane. The drainage system, with its built-in 0.5 per cent slope, was made with single-piece construction, which removed any concerns of components vibrating loose under the constant heavy traffic.
Find out more about drainage solutions for wharves, ports and docks.
Light rail
For light rail applications, drainage grates are very much a part of the visual urban environment, so their aesthetics must be considered.
Another unique challenge with light rail drainage is that rails also collect rainwater, meaning that the drainage system must be designed around the specific track and unique rail type. Add to this the fact that track slabs have a relatively shallow depth, and it's clear that only  specialised solutions are appropriate.
Find out more about light rail drainage solutions.
Pedestrian and shared spaces 
Surface water on pedestrianised urban spaces can be hazards in a few ways. If pavements are poorly designed, or consideration is not given to grates and covers, inlets can trap the heel of a shoe or become overly slippery when wet and cause injury.
ACO designs grates and other inlet covers to remove water efficiently from flat and level pavements while complementing the aesthetics of the environment. These elements can also be selected by their slip-resistance rating, load class and durability requirements. ACO's Heelsafe Anti-Slip range is designed to be heel friendly, slip resistant and comply with regulatory standards for bicycle and wheelchair access and mobility.
Interestingly, a higher slip-resistance rating isn't always the better solution. A trip hazard may occur when a grate has a higher slip resistance rating than the surrounding floor surface. It is advisable that designers specify grates with a slip resistance rating similar to the adjacent pavement.
Find out more about public walkway drainage solutions.
ACO's free project design service, complete with DIY drainage calculators, provides immediate and accurate solutions tailored for specific projects.